Saturday, Oct. 15: Ogden's
Junction City Roller Dolls
closed out their 2011 season with a double-header at Layton's Davis Conference Center; one bout against Idaho's Treasure Valley Rollergirls, the second a showdown for the JCRD '11 Championship.---
After an impromptu retirement speech from veteran Utah roller-derby announcer Johnny Crass ("You can't fire me, because I quit"), JCRD's Trainwrecks lined up against TVRG—and could barely get by them for the remainder of the bout. Treasure Valley's defense was too tight for even some of Junction City's most skilled jammers to penetrate; Malibu Harpy, Killa Patra and Tic Tac Flo averaged one point to Udaho, Dawn of the Shred or Cherry Effbomb's four at every jam. Score at halftime: TVRG 62, JCRD 21.
The ratio slipped even further in the bout's second half: Within 10 minutes, Treasure Valley was up 96 to Junction City's 23 with no signs of slowing their roll. To their credit, the Trainwrecks put up a better fight against TVRG than they did in September against Salt Lake City's Wasatch Roller Derby, when they were strategically taken apart in a 260-31 blowout (and that's pretty much the recap of that bout). But Treasure Valley, frequent competitors against Utah derby leagues, seem to get tougher and quicker every time they travel south. Final score: Treasure Valley Rollergirls 159, Junction City Roller Dolls 67.
Shots from Saturday's first bout (TVRG in white, JCRD in blue):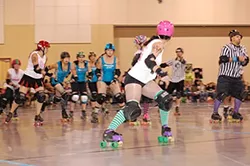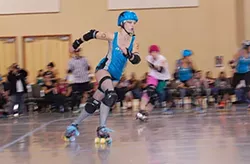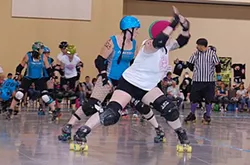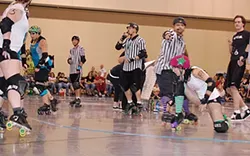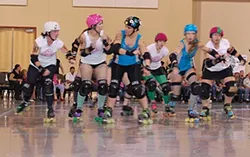 The double-header's second bout was for the 2011 Junction City trophy, with home teams Railway Banditas and Hilltop Aces matched almost dead-evenly in strengths. That is, until star Aces jammer Malibu Harpy went down hard in the fourth jam and was too badly injured to return to the game. The Banditas were soon up, but remaining Aces jammers Miss Take, Violence Vicksen and Lez Zepplin, stepped up and soon stole the lead back from the Banditas in a defense-heavy first half. Score at halftime: Hilltop Aces 51, Railway Banditas 25.
The Hilltop Aces continued their streak into the second half, when anyone was actually scoring: Several jams went completely scoreless for either side, a sign that both teams were playing excellent defense—maybe they were taking notes from Treasure Valley earlier in the evening. Even with a grand total of six skaters taking turns wearing the jam star (five after Dominique Trix was ejected or removed herself from the game; evidence is inconclusive), the Banditas couldn't catch up to the Aces. It's unspoken knowledge in the sport that a really good roller-derby bout never cracks 100 on the scoreboard, and the Junction City Roller Dolls didn't let their fans down in a hard-fought season finale. Final score: Hilltop Aces 96, Railway Banditas 56.
Shots from Saturday's JCRD Championship Bout (Hilltop Aces in blue, Railway Banditas in red):