To coin a phrase from one of the band's tunes, Devil Makes Three--after a delay in Wyoming that forced their sold-out show at The State Room to move to Monday night--sure knows how to do wrong right.---
Before talking about the headliner, it is worth mentioning the Rhode Island-based duo Brown Bird. The male-female combo opened the set with surprising and refreshing vigor, decanting their acoustic brew in a way that, perhaps, stole the show. They are touring in support of their recent release, Salt for Salt, an effort that fuses backporch folk with Balkan influences. Their tunes are simply laid out with guitar, bass drum, wood block, and either violin, upright bass or cello.
Thusly, the crowd was sufficiently ready for the Devil Makes Three. The trio was obviously thankful that the crowd had patiently waited an extra day for the show, and hammered out their tunes with big grins during the entire show.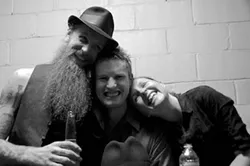 Live is the best was to experience the band, as they spin out their brand of old-timey house-party acoustic dance tunes. As such, the crowd responded and moved to the groove with a mix of knee slaps, foot boogying, head nods and body jukes.
The band is touring in support of the 2011 release Stomp & Smash, which highlights the best of their smallish repertoire. While, of course, they didn't play this album verbatim, they did provide a bit more than an hour and a half's worth of music. The band consists of are guitarist Pete Bernhard, upright bassist Lucia Turino and guitarist and tenor banjo player Cooper McBean (all pictured throughout this blog)
They banged out songs like "Help Yourself," "Black Irish," "All Hail" and every whiskey drinker's favorite, "Old Number Seven." All compliments aside, something just seemed to be lacking at the show this evening (and it could very well be that I was just tired). One friend, put it best, "They remind me of Santa Cruz [where the band initially began] people: good but no bite."
Photos by Brian Parcells