One of the stranger, yet productive, trends we've been noticing in town is the Married Creative-Duo movement. --- Yeah, that phrase may not roll off the tongue but it's an actual occurrence that's been gaining ground in both the print-works and craft circles -- husband-and-wife teams taking on both the creative and business ends to form small creative companies that thrive off the interaction and cooperation between the two.
Case in point: Sycamore Street Press, run by the wedded team of Eva and Kirk Jorgensen, have been producing professional works together since early 2008. Works from their illustration and letterpress studio run out of Heber City (along with a small staff of local designers) have become a must-see at localized craft fairs and the studio has steadily risen online as a source for original prints and designs. I got a chance to chat with co-owner Eva about her career and the company, along with her thoughts on local art and craft.
Eva Jorgensen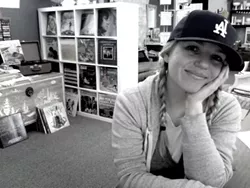 Gavin: Hey, Eva. First question: When did first meet Kirk and what eventually led to you both marrying?
Eva: In December of 2003, Kirk's sister, Kari, had a photo of Kirk on her fridge, showed it to me and told me I should marry him. I just laughed, but secretly I was intrigued. Kari was so awesome, I figured her brother might be, too. She introduced us a week later, and that was that.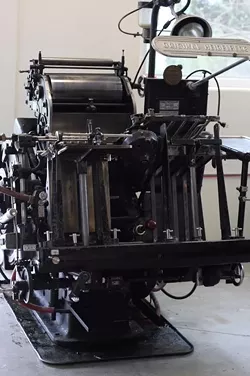 Gavin: How did the interest in printmaking and letterpress come about?
Eva: I've loved drawing and painting my whole life, but I didn't fall in love with printmaking until college. I loved the communal aspect of the print-shop -- the loud music, late nights and friendly chats -- and the way that printmaking often seems to walk the line between fine art and design. I really wanted to take letterpress as an undergrad, but wasn't able to, so when I got to grad school, I made a point to take it. I fell in love with the tactile quality of it right away. And it just seemed like such an enjoyable and useful way to use my art degrees out in the real world.
Gavin: As the story goes, about a week after you moved into your home in Ohio you acquired a 1,000 pound letterpress. How did you find the press and what was it like getting it into your home?
Eva: I found our Vandercook through Don Black Linecasting out of Toronto. I cannot recommend them enough. I was terrified of asking friends to help us move it. I was convinced that if I did, someone would break their back. So we hired piano movers instead. They used a piano board and a dolly to move it into the first-floor dining room of our townhouse.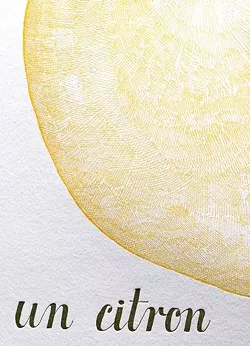 Gavin: What were your first creations like with it and what was it like for you learning how to work with it and take care of its many parts?
Eva: Since I'd been printing on a Vandercook at school for a couple of years already, beginning to print on my own Vandercook wasn't a big transition. I kept printing limited editions and began designing paper goods, as well -- gift tags, greeting cards, etc. On the other hand, learning to care for a letterpress was pretty intimidating. I took a workshop at the U by Paul Moxon on Vandercook maintenance, but it was still quite a learning curve to learn how and where to oil the press, how to make adjustments, where to get parts, etc. I lived in a constant state of worry for the first couple of years of owning the press.
Gavin: What originally brought the two of you to Utah?
Eva: I originally moved here as a sophomore in high school with my family for my dad's work. Kirk moved here in his early 20s to attend school. We moved back here -- after our stint in Ohio -- because both of our families have ended up adopting Utah as their home state, and we wanted to be near them as we started a family of our own.
Gavin: Eva, you attended the U and received your MFA in printmaking. What made you choose the U and what was its program like for you?
Eva: I actually chose the U because Kirk was attending school there and I didn't want to make him transfer. I could have waited until he was done and applied elsewhere, but patience is not my strongest virtue. Luckily for me, the U ended up being a great fit. Justin Diggle, the head of the U's printmaking department, is the most involved professor I've ever had. He organized all kinds of shows, visiting artists, trips to conferences, etc. And then there's the Book Arts Program. Marnie Powers-Torrey is a fantastic teacher, and the U's collection of presses and type is amazing. I also liked that the MFA program is small, so my fellow students and I really got to know each other and were able to work closely with our professors. Although I graduated four years ago and lived in Ohio for two of those years, I still hang out with my core group of friends from my time at the U.
Gavin: Where did the idea come from to start up your own letterpress business?
Eva: The idea to start my own letterpress business didn't come at one particular instant. It grew in parts and pieces over the years. My dad has always had his own business, and so I grew up thinking that was a normal and desirable career path. In grad school, as I started getting more and more into letterpress and mentioned the idea to him, he was really supportive. And when I saw letterpress-printed cards in shops here and there, I thought, "I could do this, and I would love to do this."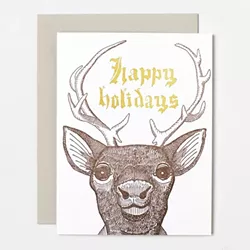 Gavin: What was it like starting up the business and what issues did you run into during that first year?
Eva: Exhilarating. Terrifying. Rewarding. Exhausting. Fun. In the first six months, I jumped through all the hoops and piles of paperwork that come with starting a business. Then I started designing, sourced materials, looked into shows, and worked at a stationery boutique to make ends meet. After the first six months, I quit my job, and Kirk and I started traveling to craft shows throughout the Midwest and East Coast. That's how we started meeting other makers, bloggers, shop owners, etc. From there, we started actually selling things in our Etsy shop and to the wholesale trade. During this time, I was doing the business by myself. Kirk would come with me to shows, but he was in grad school and teaching, so he didn't have much time for anything else. Leading up to a show, I'd be working 18-hour days for weeks on end. With the kind of money I was making, and the hours I was putting in, I figured I was earning less than minimum wage. But I loved what I was doing and I loved not having a boss, so it was all worth it.
Gavin: What's the process that goes into creating your works, from initial concept to final press?
Eva: I can't speak for our other designers, but I'll try and explain how my process usually goes. I have some ideas rolling around in my head -- sometimes for months at a time, sometimes as I begin drawing. I start with rough sketches in pencil, then move on to detailed pencil drawings. Next, I do the final artwork in pen and ink on paper. I scan it, turn it into a simple bitmap in photoshop, then upload it to our platemaker's Website. We usually get the polymer plate back about a week later, and then Kirk puts it on the press to print. Once in a while, when we see something printed, we decide to tweak the design or the color some. If we do, there's a lot of extra work involved, so we try and avoid it. But the most important thing is getting it right.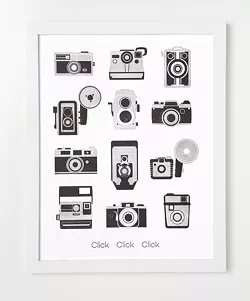 Gavin: Considering the traditional fashion everything you do is printed in, how difficult is it to get the process correct, and how much of it becomes trial and error?
Eva: Most things are pretty straightforward. Because we've been doing this for so long and are familiar with the process, we know how to design with letterpress in mind. But once in a while, we still get stumped and have to experiment to get the color, impression, or ink coverage just the way we like it.
Gavin: Since you started, you've brought on extra team members to help with the work and create designs. What was it like for you to expand the business and who currently works with you on the team?
Eva: We actually brought on the other designers within the first six months of starting the business. I wasn't looking to bring on any other designers, but they were friends who approached me. Since I liked their work, and I liked them, I said yes. It was completely unplanned, but that's sometimes how the best things happen. Since then, we've had three separate lines under the SSP line, each with a different designer. I design the Folk line, Stephanie Ford designs the Pop line, and Kristin Mills and Amy Shaffer design and write the Lark line. For the first year and a half, Kirk only worked with me at shows, and with shipping when he had the time. But as soon as he finished grad school in June of '09, he joined me full time. Just this summer, we began having student interns, and this fall, we hired Kirk's brother Karl to help with shipping. Our growth has been slow but steady, and we're happy with the way things are turning out. We'll be launching our new Website this week, and we're hoping that will help us reach the next level.
Gavin: Over the past couple of years, you've become a highlight of craft events like Craft Lake City and the Beehive Bazaar. What was it like for you breaking into those events and what's the public reaction been to your work?
Eva: From the spring of '08 to the summer of '11, we did dozens of craft shows in 10 different states. We loved seeing our customers in person, meeting other vendors, seeing different parts of the country, etc. Doing these shows was also great for the blog coverage we happened to get. We did get turned down from a few shows, and although it was a little blow to our egos each time, we always figured there would be another show. Overall, the public reaction has been great. We have done one or two shows that weren't a great fit, however -- the wrong demographic. Oh, well. You learn. The Craft Lake City show this summer was actually our last, though. Although we loved craft shows while we did them, we've decided to start placing our efforts elsewhere.
Gavin: You also teach classes on the side for small groups wanting to learn letterpress. How did that idea come about and what can people learn at these classes?
Eva: Kirk and I both taught while we were in grad school, and we really enjoyed it. Teaching letterpress workshops once in a while lets us get a little of that back. We love being able to talk about something we love so much to other people who are equally enamored by it! In our classes, students learn the basics of letterpress printing on a flatbed press, how to make envelope liners, as well as a little letterpress history, and a little bit of our own story. Right now, we're not scheduling as many workshops as we have in the past, but we are booking private workshops of groups of 6-10 people.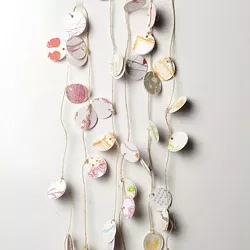 Gavin: Do you have any plans to expand beyond what you're doing now, or are you good with what you've got going on?
Eva: We plan on debuting a line of letterpress wedding invitations and baby announcements next year. We are also contemplating branching out to different areas -- not necessarily all letterpress. Wrapping paper, notebooks, and baby onesies are all things we've discussed. We've always got to have new ideas hatching -- that's where the fun is!
Gavin: Moving on to local things, what's your take on our local craft scene, both good and bad?
Eva: From what I've seen, there are a lot of talented local crafters, artists, makers, but not enough people who appreciate these things. A friend of mine recently moved to Melbourne, Australia, and she has been pleasantly surprised at how much the people there appreciate the local, the seasonal, the handmade. Everyone seems to shop at local businesses, farmers markets, etc. They make a point of searching for local, handmade options and only hitting up the big-box stores as a last resort. Hearing this was so inspiring to me. I'll be honest -- I shop at Target and Ikea like everyone else. But I'm trying to be better about buying handmade and local when I can. And I do think that more and more people here are trying to do the same. I just hope we keep it up!
Gavin: Is there anything you believe could be done to make it more prominent?
Eva: I don't know. I think it has to be a grass-roots thing. I think it has to come from individuals deciding for themselves to be creative, to support other makers, to make that a priority.
Gavin: Who are some other print artists and crafters you believe people should be checking out?
Eva: There are so many! Here are just a few -- all local. Freshly Picked/Susan Petersen: handmade leather and sewn goods. Roxy Marj: hand illustrated dishes and more. Claire Taylor and her art prints. Friends Make Prints: Nic Annette Miller's art prints and design, and Honey of a Thousand Flowers by Sarah Winward: Flowers.
Gavin: While we're on the topic, what are you thoughts on the local art scene and the work coming out of it at the moment?
Eva: To be honest, I don't feel qualified to say. When we lived in Salt Lake and I was attending grad school, making art, having shows, etc., I felt very connected to the local art scene. But that was over four years ago. Now we live about an hour's drive away up in the mountains, have a little one to care for, a business to run, and designs to create and print. I'd like to be making and showing and mingling in Salt Lake's art scene again one day, but for now I'm too busy and that's fine. There's a time and a place for everything.
Gavin: What can we expect from you both and Sycamore Street Press over the rest of the year and going into next?
Eva: First, our new Website! It should, hopefully, be up within the week. We've been working on it for the better part of the year --it'll have a brand new SSP logo, retail and wholesale shops, hand-drawn illustrations, mood boards from all our team members and more. We are so excited! Second, we've partnered with the popular online-card company Tiny Prints to create some photo holiday cards, baby announcements, etc. You can find our collection for them here. Third, we're going to the National Stationery Show in Manhattan next May; it'll be our third time at the show. In the meantime, we're crazy-busy getting a slew of new designs ready. Fourth, 2012 is our year to launch a line of wedding invitations and baby announcements. Although we've done a lot of custom work like this in the past, we've never had a portfolio of customizable, ready-made designs for clients to choose from. It's been on our to-do list since the beginning, but I think we'll finally get to cross it off. And finally, conquer the beast aka the Heidleberg Windmill, our new letterpress. We bought it this summer, and are still working to get it in tip-top production mode.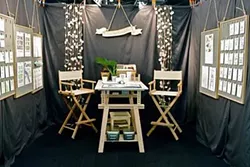 Gavin: Aside from the obvious, is there anything you'd like to promote or plug?
Eva: Kirk's brother Karl, and SSP's new shipping clerk, is a local musician who goes by the name OK Ikumi. If you haven't heard his music already, you should check it out. It's awesome.
| | | | |
| --- | --- | --- | --- |
| Follow Gavin's Underground: | | | |