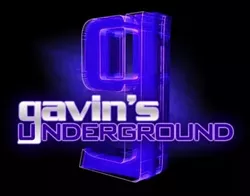 This Saturday, we'll be seeing the return of the most chaotic and creative competitions you'll see all year: Charette! --- The annual RDT fundraising showcase divides up the company's 40 dancers between five teams comprised of two choreographers, who then create short pieces that must contain certain themes and other "ingredients," to be performed on stage later in the evening. Audience members can check out the rehearsals and bribe judges with "funny money" to help any particular dance win or lose at night's end.
Before the events kicks off, we'll be chatting with RDT dancer and the competition's creator, Nick Cendese, as well as studio choreographer and Charette judge Janet Grey, about the history of the performance and this year's competition, plus a few thoughts on local dance. (Photos by Mickey Hoelscher)
Nick Cendese & Janet Gray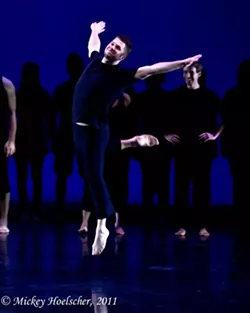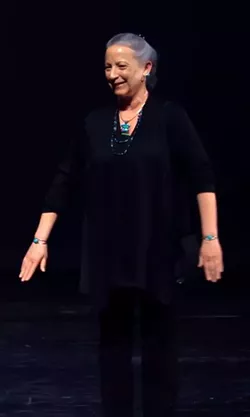 Gavin: Hello, everyone. First thing, tell us a little bit about yourselves.
Janet: For the last 30 years, I have made my living entirely in the dance arts as an entrepreneur, teacher, mentor, concert choreographer, musical theater choreographer, University of Utah adjunct associate professor teaching jazz, tap, and musical-theater dance techniques, guest lecturer, and now serve on Southern Utah University's National Fine Arts Advisory Board.
Gavin: How did you each take an interest in dance and what influenced you to start performing?
Janet: My interest in dance blossomed as a pre-teen. I was fascinated with William F. Christensen and the Utah Civic Ballet's --now Ballet West -- magical presentation of The Nutcracker, and totally obsessed with the dance movement in the movie West Side Story. Remember, this was a NEW movie in the 1960s! I have also been a fan of RDT for 45 years, and remember watching and being inspired with their first year of performances in 1966, and still inspired to present day.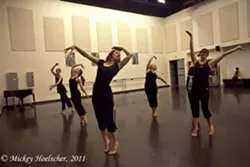 Gavin: How was it growing up learning the craft, and how did the decision come about that you wanted to make a career out of it?
Janet: While I was pursuing my science degree in psychology, I became passionate about jazz dance and musical theater. I realized the advanced training I needed was in Los Angeles and New York. A few well-respected teachers/choreographers I met in these cities encouraged me to pursue my choreographic ability. Thanks to their mentoring, I have had consistent work opportunities.
Gavin: Nick, you came up with idea for Charette. How did the concept for this show first come about?
Nick: I was stuck in a traffic jam with Nathan Shaw and Natosha Washington and we started talking about dance and dance-related topics. I mentioned to them that I thought it would be really fun to do a dance version of Iron Chef with a special dance-related secret ingredient that several choreographers would have to use to create a dance. They would be shown to an audience and the audience would decide who the Iron Choreographer -- for lack of a better title -- was. We had so much fun talking about possible secret ingredients and brainstorming who would be great as competitors. A few weeks later, when Linda asked for ideas about possible fundraisers, I brought it up.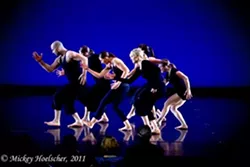 Gavin: What was it like for you pitching it to RDT and having it added to the regular season?
Nick: Linda and the dancers were very enthusiastic about the idea. From the beginning, Charette seemed to get a lot of people really excited, really quickly. I think, at its core, it's just a fun idea and a fun event that people really enjoy. While there may have been some worry or concern the first year we put it on -- what are we doing, how things work, etc. -- the audience reaction and enthusiasm just seems to grow with each year. I've heard many people say it's their favorite event of the year.
Gavin: What was the first production like and what lessons did you learn along the way?
Nick: The first year's production was possibly the most simple form we've done. We have very traditional secret ingredients. One major difference between Iron Chef and Charette is that on Iron Chef, each contestant creates dishes based on the same secret ingredient. The judges compare two people's use of the same thing to see who did/used it better. Linda felt very strongly that this wouldn't work for Charette. She didn't want to see five dances all with the same secret ingredient; each dance had to be different. Over the years, the secret ingredients have changed and gotten more 'abstract.' We haven't done anything with a traditional dance approach for a while. I don't know what the plan is for this year, but I'm sure it will be fun.
Janet: Nick pitched the first Charette as a parody to the edgy reality TV show Iron Chef. He asked me to be one of the first judges because he wanted the ingredients of my sarcastic, brutal honesty and warped sense of humor on the panel -- reality theater! What a great opportunity for satire with real-time non-edited dancer/choreographer successes, embarrassments, perhaps even the possibility of NASCAR human-body crashes. I was an enthusiastic first judge, and I proudly reign as the only judge to be invited back for every Charette.
Gavin: For those who are unfamiliar with the concept for Charette, give us a brief synopsis of how the performances are created and the work that goes into putting them together for opening night?
Nick: Charette is an evening experience that allows you to go behind the scenes and see how a dance is made. You can walk into the studio, sit down, and watch the creative process unfold. No one takes themselves too seriously and, usually, the funniest or most irreverent dance wins. If you've never seen the choreographic process in action, this is a real treat. You get to hear what the choreographer says, see what they do with their bodies, how they coach the dancers, etc. On the evening of Charette, over 40 dancers get together, work with five different choreographer duos for one hour and perform a two to three-minute work. There is nothing like it all year – it's a one-of-a-kind thing that can't really be imagined unless you come!
Gavin: What made you decide to turn this into a competition rather than just a showcase like other performing arts companies have done with their own versions?
Nick: Charette is a competition in the very loosest sense of the word. From the very beginning, we knew that we wanted everyone to get some kind of award. No one should go home empty handed. There is no cash prize. The winners get small -- very small --medals. No one, to my knowledge, has ever really taken it seriously enough to put it on their resume or brag about it to people!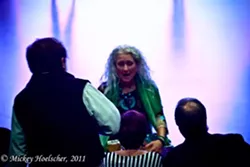 Gavin: Janet, you're involved with the local dance community in your own ways. Briefly tell us about your own career and the work you currently do.
Janet: I currently manage my 10-member Janet Gray Studios faculty. I recently completed a month-long choreographic residency at St. Paul's School in Concord, New Hampshire. I am involved with local theater and just finished The Fantasticks at the Egyptian Theater in Park City, and Miss Ever's Boys at The Grand Theater. I also adjudicate and do dance workshops for Utah Shakespearean Festival's High School Competition.
Gavin: How did you become involved with the judging process for Charette, and what's kept you coming back every year?
Janet: I was a former jazz-dance professor of Nick's at the University of Utah. I believe he first invited me because he needed my personality qualities -- "my bark and bite, tell it like it is" honesty. Because Nick pitched Charette as a parallel to Iron Chef, my gimmick is to describe all the movement with foodie terms. For example: As the dancers took their poses and created the dramatic beginning, it was as if they had been marinated in savory salty brine. Their pulsating, syncopated movement was as if a giant whisk had begun to emulsify them into a wonderful, sticky cohesion. Why do I keep coming back? This is the best party in town!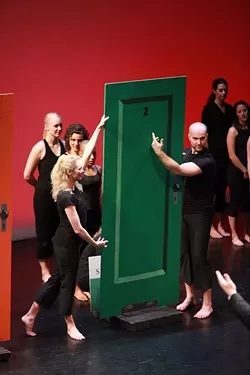 Gavin: As a judge, what do you both look for in these performances and in the dancers themselves?
Janet: I absolutely cheer the choreographer who understands their craft, dance elements and choreographic devices. The tribe of volunteer dancers needs to understand dance techniques, have a highly developed sense of improvisation, confidence, spontaneity and great sense of play.
Gavin: As part of the evening's festivities, guests are given "funny money" to bribe the judges into voting for a particular piece. How much of a role does that actually play in your decision making, and what's the strangest bribe you've received over the years?
Janet: Bribery! That is the GAME! Remember, this is a fundraiser, and corruption of the usual norms is fun and exciting. The strangest, most successful bribe I remember is when the nefarious Peter Christie was one of the competing choreographers. Peter is highly competitive and arranged for one of his assistants to deliver an envelope bulging with cash to secure his win as "Iron Choreographer." It worked!
Gavin: Who have some of the previous winners been over the years, and what kind of work have those people gone on to do since?
Nick: Our most successful competitor has been Natosha Washington – winner of Charette 2005 and Charette 2009. She's told me that since her wins, she can't leave the house without being mobbed by adoring fans. She can't go to the grocery store without being asked for an autograph, and her award-winning choreography is currently being performed by the Bolshoi Ballet in Russia. I hope you get my sarcastic tone!
Janet: One of the past winning pieces I remember was a piece whose choreographic theme was "reduce, reuse, recycle." I don't remember the choreographer, but the final dramatic image was RDT's own Chara Huckins-Malaret buried under a mass of old newspapers. She became an organic Mother Earth -- or was it Medusa? -- rising from the trash, weaving, spiraling, and reaching for her spotlight.
Gavin: Who will be participating in this year's competition, and what are all your thoughts going into it?
Nick: I am excited to work with my partner in crime, Natosha, as one of this year's dynamic duos. I have such a great time working with her, in ANY capacity, that I'm sure this year will be a blast. As they say at the Oscars, it doesn't matter who wins, it's just such an honor to be in the company of so many great artists.
Janet: I am excited to meet and watch this year's choreographers and judges. I am researching up-to-date descriptive foodie terms for the evening.
Gavin: Going local, what's your take on the Utah dance scene, both good and bad?
Janet: Utah, and especially Salt Lake City, has a wonderfully diverse dance-arts scene. Look at all the companies using the Rose Wagner Performing Arts Center: You can experience RDT, Ririe Woodbury, SB Dance, include Samba Fogo and other community dance programs. Then look at all the University dance opportunities from Weber State, U of U, SLCC, UVU, SUU and BYU. We can also experience other professional local companies like Ballet West and touring companies booked into the Capitol Theatre and Kingsbury Hall. We are saturated with dance arts. Who cares about good and bad, just get off the couch, buy a ticket, and make your own judgment!
Gavin: What's your opinion on other local dance companies and the work they're doing to promote the art?
Janet: I appreciate the community-outreach programs offered by our local performing arts companies. These opportunities expose elementary school-age children to another realm of performance possibilities. Community out-reach provides the opportunities for students to experience dance, theater, symphony and opera productions. It also creates a future audience base.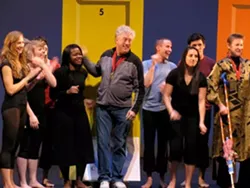 Gavin: What advice do you have for anyone looking to get into professional dancing for a career?
Janet: My advice for anyone considering a professional dance career is to get a liberal arts education. Take care of your instrument -- body -- and diligently train your instrument. Be curious about everything, from literature to science. Pay attention, observe and interpret the rhythms in life.
Gavin: What can we expect from both of you over the rest of the year?
Janet: My motto and expectations for the rest of the year: Get up and go to work everyday because something wonderful might happen!
Gavin: Is there anything you'd like to promote or plug?
Janet: Here is what I would like to promote. GET OUT OF YOUR COMFORT ZONE, GET OFF THE COUCH, TURN OFF THE DIGITAL DEVICES. GO BUY A TICKET AND ATTEND A LIVE PERFORMANCE!!!
| | | | |
| --- | --- | --- | --- |
| Follow Gavin's Underground: | | | |