One of the difficulties when grilling whole chickens is that certain parts (like the wings) tend to burn before the others are fully cooked. This recipe, which calls for butterflying the chicken first, solves that problem. ---
Butterflying a whole chicken requires removing the backbone from neck to tail with poultry shears, then flattening the chicken out by breaking the breast bones. It's really quite easy to do and the butterflied chicken cooks much more evenly than a regular, whole chicken would. To see video instructions on how to butterfly a chicken, click here.
This recipe calls for a marinade of lemon, garlic, shallots and herbs. It's really quite versatile, and you could easily substitute other herbs (such as thyme, tarragon, etc.) for the rosemary suggested here. You could also add a splash of white or rose' wine to the marinade, as well.
Ingredients
1/2 cup olive oil
2-3 garlic cloves, peeled and minced
2 Tbs. minced shallot
2 Tbs. fresh rosemary leaves, minced
juice of 1 lemon
zest from 1 lemon, minced
1/2 tsp. crushed red-chili flakes
1 whole 3-4 lb. chicken, butterflied
Salt and freshly ground black pepper.
Method:
Place the olive oil, garlic, shallot, rosemary, chilies, lemon juice and lemon zest in a large baking dish or Zip-Loc plastic bag.
Whisk or mix the ingredients together thoroughly.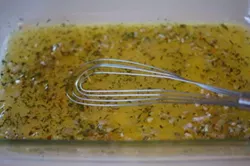 Place the chicken in the marinade, turning to coat both sides. Then put the chicken and marinade in the refrigerator for at least two hours and up to eight hours for the marinade to penetrate and flavor the chicken.
Heat a grill to medium heat.
Remove the chicken from the marinade and season well on both sides with salt and pepper.
Place the chicken on the grill, skin-side down, and grill slowly with the grill cover closed until the skin is golden brown and crisp, about 15 minutes. Watch for flare-ups!
Turn the chicken over and continue to cook another 15-20 minutes with the cover closed until the chicken is done and nicely crisp and browned on both sides. Undoubtedly, there will be flare-ups and the chicken skin might burn in spots. Keep a spray bottle filled with water handy to extinguish flare-ups.
Remove the chicken from the grill and allow to sit for about 10 minutes, covered with foil before cutting.
Cut the chicken in half or into pieces and serve with your favorite sides.