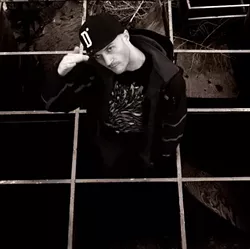 We've got seven albums to talk about, a few we need to play catch up on and a couple of releases set for the next few days. --- We're going to start with the latest from SLC pop folk group Summerteeth. The band had a decent showing last year, first with their debut full-length self-titled album in July and then the follow-up EP, How I Got Into The Room, in December. You'd think they probably would have taken some time off or gone on tour, but instead the group headed back into the studio for their second full-length album Lurking Danger. The album came out on their Bandcamp page with little fanfare late last month. It shows real progression from the group, where if the first album were a test and the EP an experiment, this one shows they've learned what it takes to put together a great album. Now if only they'd play more live shows. This one is definitely worth checking out.
Moving on to early March, we've got the debut EP from the band Amman Radio, a four-piece band of light-alternative performers, all proudly laying claim to being current BYU alumni who all know each other from an Arabic program at the college. The band is lead by Jordan Haddock, whom you may remember with his June 2011 solo release, Odihna. The rest of the band are a bit of a mystery, so we can only guess that Haddock got bored playing alone and decided to form a band. I'd tell you more but it seems they haven't played much off-campus. The group released their aptly titled EP Out Of The Desert earlier this month very quietly on Bandcamp. You can snag a copy for $3.
Next up is the debut EP from the Saratoga Springs punk band Chapter 11. Yeah, that's right, Saratoga Springs. The four-piece group have been around about a year and a half playing gigs here and there with their own brand of pop-punk, and now they've got their first release out for the masses -- a little six-track EP that came out last week going by the name Demolition, which you can snag for just $5 off their Bandcamp page. It's worth at least a listen.
While we're still around Utah County, The Vibrant Sound have been pretty busy as of late. We haven't really seen much from the group since their 2009 release, Downtown, hit with a fury on the Provo scene. In fact, their first new release didn't come until September 2011 in the form of the "Goldigger" single. But in the past two months, the group have released a new single titled "Raise Your Glasses," a free album of instrumental beats properly titled Free Music Mixtape, and now a brand-new EP called Waiting: Acoustic Sessions. You can probably guess what that album is comprised of. TVB just headed out on a western U.S. Tour, so until they return you can snag all these off the group's Bandcamp page.
Moving on to more recent material, this past Sunday saw the debut release from SugarTowne. There really isn't a proper description to pin down this four-piece band; even the term eclectic doesn't really do them justice. The band mix blues, jazz, gospel, soul, samba and a bit of rock to come up with some catchy dance numbers and soulful grooves. See, right there, that doesn't even really describe a live show, which you need to see for yourself to properly get the gist. The group released their debut EP simply titled EP1 this past Sunday at a surprise release show at Jed's Barber Shop. There's no online version that we can find, so you'll need to see the band live and buy a physical copy in person.
Getting to release shows, we head down a little farther south than usual for the release from Cedar City-native Austin Joesph. An SUU student currently seeking a bachelor's in music, the classically trained guitarist has mainly been an opener for groups around the state -- which is the curse of not living in SLC, Provo or at least Ogden; out-of-the-way musicians usually take first spot. But that really hasn't daunted the man, as he's become pretty well known in his hometown and that's all you really need to push your work. His debut album, Early Years, will see a formal release after an early iTunes drop, accompanied by a release show at The Busta Crab Shack in Cedar City. Playing alongside him will be Buddy Blank, Rumble Rumble and The Princess Experience. Tickets are just $5; show starts at 8:30 p.m.
And then this coming Wednesday, we'll see the debut release from experimental electronica artist Mazaibuzai. The stage name of producer and composer Benjamin Margetts (seen above), this is probably a name you haven't seen much of but you'd recognize the music. Aside from being a part of the Warped Tour last year as the keyboardist for The Suicide Denial, he's made a big effort to be a part of the club scene both here in SLC and out in L.A. His debut album, Horse Here Not Here, is a collection of original low-tempo works that sound more suited for a film soundtrack than the dancefloor, but it hasn't stopped people from grooving to it at parties and major club nights in town. Mazaibuzai's formal release show (and birthday party) will be Wednesday, March 28 at The W Lounge, along with DJ's Jason David and Mr. Gizmoe.
Head out, love music, buy local!