First times are either epic or a complete letdown: First kiss, home run, sex, weed, trip abroad -- or South by Southwest -- there is no middle ground. Losing my virginity at the latter was, well, epic.---
It's almost like a right of passage heading to the annual music, film and interactive conference in Austin, Texas. Music nerds, writers and industry gurus convene for five days with an uncountable number of bands at venues that range from massive to dive, elegant to front yard. It's a feast for every sense.
In some small way, I wish I would have counted how many bands I saw -- a rough guess would be 100-ish. It might be a carry-over from my days trading baseball cards, but I have a collector's mentality when it comes to music festivals. There's a checklist in my head: I need to see this band and this band, and to see one would be a trade to see another. That's actually not completely necessary at SXSW, because it is a marathon for bands, as they play three, four, five times each day -- so, I didn't miss much that I had on my list. However, it would have been great to have another day, but in truth, that would have wrecked me.
That said, there were still some musical standouts and some first times that were inadvertently the cream of the crop. Without digressing into every epic moment in this blog, here's a list of some of my "firsts" at my first SXSW:
1. Rubblebucket: As good a place to start as any, Rubblebucket was the first band I caught in Austin, just an hour after getting off the plane. This Brooklyn-based dance-rock band played at an arcade (seriously, there was skeeball and pool tables), and they certainly know how to get a crowd riled up: dancing robots.
2. Locals Take Over: I kept trying to catch some of the Utah bands that were down there, but it's just too damned hard. I finally managed to see the Utah County-based crooner Joshua James, and he was the first (and only) Utah band I caught. I might be a little biased, but James put on one of the best shows that I saw. At 5:15 p.m., I walked into the Thirsty Nickel and James was on his knees howling. James and his band put it all out there at this show.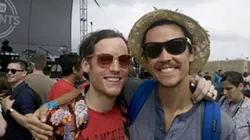 Joshua James (right) and Brinton Jones of The Devil Whale at the Google Rooftop Stage.
3. Apathy Kills: Stephen Merritt is a god. Yeah, I went there. I've been wanting to catch Magnetic Fields for-freaking-ever, and I'm pretty sure they won't be heading to Salt Lake City any time soon. They headlined the National Public Radio day show, and with a little luck and the right e-mail, I got to jump line and get right in. Sa-weet! A mix of charm, wit, apathy and really amazing short, quippy love songs are the recipe for the best show I saw during the weekend.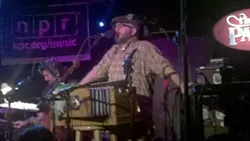 Stephen Merritt singing in his apathetic, operatic way at the NPR day party.
4. Sam's BBQ: The sign out front reads: "You don't need no teeth to eat my beef." Yes! And it was true. Sam's cooked up the best ribs I have ever eaten; and the brisket is to die for, too. A lot of out-of-towners go nuts for Franklin's, and, subsequently, wait in line for three hours. I tried that, and quickly gave up. Sam's is the place. Coincidentally, the second place I ate barbecue was at a buffet from Ruby's, which promptly poisoned me, and I spent the flight home furiously vomiting. Rock. And. Fucking. Roll. (or something like that).

Nuf said.
5. Whistling into the Wee Hours of the Morn: Another first time seeing another genius, Andrew Bird and, of course, the best whistler in rock music. This was hour-one of 24 of being awake on the first day, after a long flight and a very early morning. I had intended to go to bed, but Bird was on the way home, and sitting on a lawn listening to him whistle was totally worth the lack-of-sleep repercussions that lingered throughout the weekend.
6. 6th Street: It's like a pilgrimage. Some people walk Camino de Santiago for spiritual enlightenment. Others trek to 6th Street to pay homage to the Music Gods. During the day, I loved 6th Street. It was manageable and walkable. At around 9 p.m., it became a place for people less interested in music and more interested in making a ridiculous scene and hooking up. I would intentionally bike (yeah, I had a bike, which was amazing and highly recommended) around the street or see shows off of 6th.

6th Street around noon -- beer as the first meal of the day. Oy!
7. Panels: Yawn, right? Not so fast. Most people don't make it down to the convention center to listen to some folks yammer, but I find these sorts of things fascinating. I caught a couple of panels mainly about publicity and bloggers -- not really noteworthy here, but it is something that will help me down the line. And it was nice to sit and chill out for a minute during all of the mayhem.
8. New Bands: Yes, I see lots of bands every week, but SXSW is the best time to catch a wide swath of little, itty-bitty bands that will probably be playing Kilby Court in a year or two, some international acts and some awesome, bigger acts that don't come around all that much. Here are a few of my faves: Zola Jesus (pictured below) Gardens & Villas, LP, Kimbra, Grimes, Lee Fields & the Expressions, Spank Rock, Spoek Mathambo, Races, Plants and Animals, Great Lake Swimmers, and !!!.

Zola Jesus
This list could seriously go on and on, but like many first times, I'll keep it brief(ish). The weekend went by too quickly. It was educational, engaging, emotional and overwhelming. Amen and hallelujah.