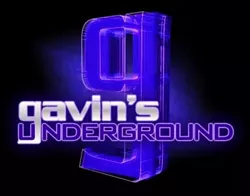 Hello to all you vote-counting, award-rallying, competition-digging, cry-babying, nail-biting, surprise-winning, Best of Utah 2012 enthusiasts! --- Yes, the awards are this week. And no, I don't know who won what -- stop asking! The only way you're going to find out is by patiently waiting until Wednesday when the issue officially hits the Web and downtown newsstands. Until then, you'll just have to practice one of two emotions: acting surprised and humble if you won, and acting like you don't give a shit if you didn't. In lieu of a 337 Wall update (it's been three months -- anyone?), here's a random picture from the grand opening of City Creek Center. Look carefully and notice that it takes three cops to monitor a guy with an upside-down American flag asking for signatures. Money well spent!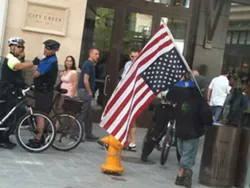 One of the biggest notes of change coming out of the scene this week is the departure of editor Amy Spencer from Now In Salt Lake. This change didn't really leave the Trib's offices and was a complete shock when it came out on Monday to the public, but it became official and was very clear this week when the masthead of the paper showed only two writers remaining. It would be very easy and predictable for many writers to take this development and run with it in downward direction, but I'm actually saddened by this. It doesn't matter which side of the City Weekly/Now battle you wish to side with, there's no denying that Spencer busted her ass on that publication week after week. I've been fortunate enough to know Spencer on an occasional professional level, and the discussions we had in the very early days of this blog were an absolute treat. We may not have seen eye-to-eye on a number of things, and there has been strife that probably could have all been fixed in a phone call or two, but I've had nothing but admiration and respect for her and what she's done over the years, and it sucks to see her leave that gig. Best of luck on the new venture, Amy! The edamame was always delicious!
Moving to past events, did you join us for the St. Patrick's Day Parade? No? Why, because it was a little windy? You didn't want to stand in the growing tumbleweed village that is The Gateway? Well, for those of you who couldn't brave the mild cold last weekend, I've got over 130 pictures for you to check out from my slightly tilted and out-of-focus perspective in this gallery here. Check out pics of the setup before things kicked off, and the six-block journey that was the parade.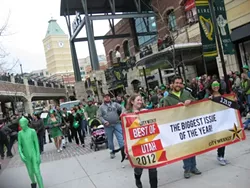 Speaking of events you may have missed out on, last night Poor Yorick Studios held its one-night-only 10th Anniversary Show featuring many of the artists who reside within its walls. A few new names have taken up shop, but many of your favorites are still plugging away in their studios to bring you some of SLC's finest pieces of art. For those of you who couldn't come and check it out, you can browse the over 200 photos of the event in this gallery here.
Jumping into current events, at the time this blog is being posted, SLC Nerd is in full swing at The Complex. You can read up on the event with Big Shiny Robot article here -- which incidentally, you can catch novelist, Big Shiny Robot founder and City Weekly columnist Bryan Young down there now with his books. Say hi to him and remember to say "Star Wars, Bryan, Star Wars!" $10 to get in!
Meanwhile, down in Spanish Fork is the Festival Of Colors being held by the Sri Sri Radha Krishna Temple. For two days, the temple will celebrate Holi with the traditional throwing of colored chalk. These events are a blast, and if you've never been a part of one, it's something you have to experience just once. Today's events go until 8 p.m., with tomorrow's going from noon to 4 p.m. Head down and check it out!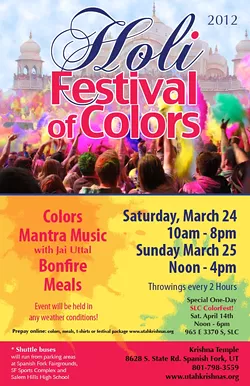 Tomorrow night over at the Jitterbug Coffee House you'll be able to see the latest installment of When She Speaks I Hear The Revolution. You can always browse this blog entry for more information, but basically, it's an event that celebrates the written and performed works of local women from our community. They're currently taking signups for the free open mic; you can find more info on the Facebook event page, and I would highly encourage you to go.
Speaking of written performances, on Monday over at Mo's Neighborhood Grill we'll see Salt City Indie Arts put on the latest round of Put Your Mouth Where The Word Is. This one won't be an open mic like ones in the past; this will actually be the 2012 National Poetry Slam team finals to decide who goes to North Carolina to represent Utah! Ten people will compete for that privilege: JoKyR, Jesse Parent, DeAnn Emett, Adam Love, Brian Frandsen, Karlee Berezay, Willy Palomo, Brian Gray, Lullabelle Ma'ilei and Rebeca Mae. Just $5 will get you in to see the event. Head over and support your local poets!
On Tuesday, we'll see the formal return of Dr. Sketchy's Anti-Art School. The event took a brief hiatus for a couple of months while they reorganized and got things back in order, bringing their first event of 2012 to The Metro. For those of you who don't know the drill, you come with some drawing material and sketch the models who will grace the stage. The event is just $5 and kicks off at 7 p.m.
This Thursday will have a couple of events, starting off with Q Clothing's Girls Night Out. This is an RSVP event that will feature the latest spring-fashion wares and accessories to come out, along with refreshments and giveaways. This is a must-attend for the fashionably aware. Check out the info below and reserve your spot today.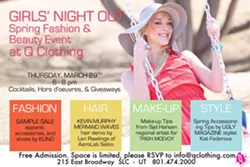 Meanwhile across town, the World Horror Convention takes over the Radisson for three days. If you're into horror literature and the genre in general, you might wanna go check this out, as many of the finest in the business attend this three-day event to talk about their work. We'd give you more info, but the WHC people are very uncommunicative. You'll just have to check out the website and see it for yourself.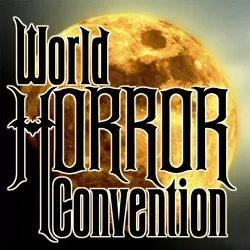 Next Saturday, as we talked about last week on the blog, will be the UCW-Zero 10th Anniversary show. Go see the finest in local pro wrestling perform live for you at The Complex, with several special guests from WWE Tough Enough coming in to take each other on. Head back in the blog archive to read about co-owner Martin Casaus, and be sure to drop in and support your local territory.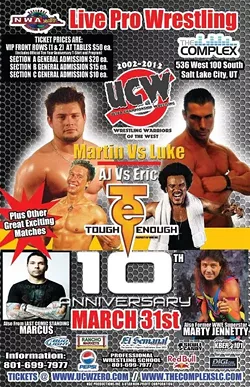 Next Sunday, we'll see the next installment of Craft Sabbath at the City Library. City Weekly will be there in full force, of course, along with dozens of local artists and crafters putting their best work forward. This month brings about the annual Easter edition, so expect to see a lot of bunnies and eggs, as well as any number of Peeps-related items.
The week gets kinda dull aside from concerts. Moving to next Thursday, we'll see the latest addition to Stoneground's art displays. If you haven't been by the second-floor restaurant, it's been making a point for the past couple years to highlight local artists on the walls. Usually when we find out about these openings it's too late to formally promote it, but its recent work with The Hive Gallery has started to bring real attention. This month, the work of photographer Bethany Fischer of Patiri Photography will be lining the walls with all new works. Head in and grab a bite and enjoy her works.
And then finally, in two weeks the Bboy Federation will be holding the next round of their competitions. The fourth round of the 2012 battles will present open-entry 2-vs.-2 battles (for $100 prize), as well as formal 3-on-3 federation battles, with DJ Munk on the turntable providing the night's music and background noise for these exciting matches. It's just $5 to attend at the P.A.L. Boxing Center starting at 6 p.m. Trust me, go check it out!
As for the blog ... we'll chat with another local geek podcast who got an unusual start, explore the latest all-ages venue, check out a show from the weekend, head into a new recording studio, chat with the latest theater making an impact, and talk with an extra-skimpy-fashion designer. At least that's the plan -- who the hell knows? Good luck to all of you hoping for a Best Of award this week, and as always, we'll see what happens.
| | | | |
| --- | --- | --- | --- |
| Follow Gavin's Underground: | | | |