For a nice change of pace, I like to cook up a batch of Thai curry now and then; even the kids love it. Here is a very simple recipe utilizing store-bought curry paste. --- I use red curry, but you could easily substitute green or yellow curry. Or, if you're ambitious, you could even make your own curry paste from scratch.
You can find ingredients like fish sauce (nam pla), coconut milk and Thai curry paste in Asian food markets and many regular grocery stores. 
Ingredients:
1 Tbs. canola or vegetable oil
1 Tbs. Thai curry paste (I use red here, but green or yellow would work, too) 
1/2 cup chicken broth 
1 14-oz. can coconut milk 
1 Tbs. brown sugar
Cayenne pepper, to taste (optional) 
1 lb. boneless chicken, cut into bite-size pieces (or you could use pork, beef, duck, shrimp, scallops, extra-firm tofu, etc.)
2-3 cups assorted vegetables, such as bell peppers, jalapenos, sugar snap peas, snow peas, onion, scallions, carrots, zucchini, or any of your favorites.
2 Tbs. fresh basil, julienned (Thai basil is preferable, but any fresh basil will do.) 
Method:
Heat the oil in a large skillet or pot over medium heat. Add the curry paste and stir fry for a couple of minutes. This step allows the curry to release its flavors.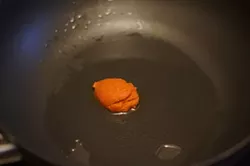 Add the chicken broth and coconut milk to the pan and bring to a simmer over medium-high heat. Whisk in the fish sauce and brown sugar until well-blended.
Stir in the chicken and allow the chicken to simmer gently for about 25 minutes. The chicken will actually cook in 5-7 minutes, but I find the longer simmering time tenderizes the chicken.
Add the vegetables and continue cooking until al dente: still crisp; not too soft. 
Depending on the spiciness of the curry paste, I sometimes like to kick up the heat of the dish a notch by adding 1/2 tsp. or so of cayenne pepper.  
Remove from the heat and stir in the basil.  
Serve with cooked jasmine rice.