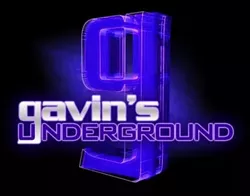 This past Friday night, among the dozen events I walked into to say hi, I made room for a show over at Burt's Tiki Lounge. --- When I walked into the joint, the first thing I noticed was the lack of light. It turns out that the hot, silver stage lights that look like they were constructed in 1962 had finally died! The only light left in the room was a three-way lamp above the band with one of the bulbs burned out. This meant two things: I'd be using a flash, and the bar is now a candidate for LCD lighting.
For this showcase, we were visited by Boise-native group Hillfolk Noir (seen above), who were visiting Utah as a duo on their way back from SXSW, followed by the harmonic folk group The Folka Dots and the country-rock stylings of Triggers & Slips. We chat with the two locals for the blog today, and include photos of all three acts that you can check out in this gallery here.
The Folka Dots (Brock Onion, Marie Bradshaw, Kiki Sieger, Corinne Genrty and Brian Maneck)
(For this interview, the band have chosen to answer as a group.)
Gavin: Hey, everyone. First off, tell us a little about yourselves.
FD: Among us, we have back-country dwellers, tea drinkers, nature enthusiasts, dog lovers, thrifting experts, photographers, graphic designers, cowboy-boot collectors, writers, vinyl hoarders, jewelry makers, plant and garden specialists ... and we play music together and love it.
Gavin: What got each of you interested in music, and who were some of your favorite acts and musical influences growing up?
FD: One thing we all have in common is we were born with an inherent affection for music. All of us coming from musical families, we each spent much of our childhood sitting on the laps of our parents or grandparents while they played and sang music; anything from jazz to folk-country to bluegrass. Musical influences growing up? Flying W Wranglers, Allison Krauss, They Might Be Giants and everything else -- which may or may not include early punk bands, MC Hammer and the Spice Girls.
Gavin: How did you all come together to form The Folka Dots?
FD: We met at the intersections of folk, blues, country, Americana and bluegrass, where we tripped over each other. Some of us are really clumsy. When we realized what we had, we went for it.
Gavin: While the band is folk and bluesy, a lot of the music is focused squarely on the three-piece harmonies that you've put together. How is it building songs more around the vocals rather than the music behind them?
FD: It may sound like our harmonies are the foundation, but interestingly, some of our songs don't even start out with melody or lyrics, but as a unique guitar riff, and we build it from there. Our focus is to produce well-crafted music. Vocals are one aspect of that, but they develop right along with all other parts and instrumentation of the song. And because we can trust each other's voices so much, it is a very natural process.
Gavin: As a relatively new band, what was it like for you going around town and establishing yourselves with local audiences?
FD: Such a rewarding experience. SLC has a really supportive community. We put in a lot of hard work establishing the band; in turn, we've been amazed with how many people contact us offering support, advice and experiential knowledge. Our local fans want to help us progress, and that's so encouraging.
Gavin: Last year, you recorded your debut album Down Below. What was it like going into the studio and putting that album together, and what was the experience like overall?
FD: The day we went into the studio marked our three weeks we'd been playing together. We were so new to each other, and that's part of the beauty of the album. Down Below is evidence of the rare musical chemistry the five of us feel and share. Being in the studio, realizing what we had together ... it was one of those unearthly experiences, where you sense the beginning of something greater coming on, and it feels real.
Gavin: What did you think of the public reaction to it once it was released?
FD: We're so happy people like it. We've found that it appeals to a vast audience, and we love that. The album is doing well internationally as well as locally. And it's not uncommon for us to have a generational gap of 50 or 60 years, and everything in between, among our show-goers and listeners.
Gavin: This past February, you were a part of the CWMA's. How was it for you being invited so quickly after that first album, and what was the experience like for you?
FD: We were honored. City Weekly holds a high standard. Being such a new band, to be considered by CW as one of the top local bands came as a huge compliment. Also, we really admire many others nominated, and have admired them for much longer than we've even been a band. To see our name among theirs, people like Ryan Tanner, Holy Water Buffalo and the Trappers ... very humbling.
Gavin: Do you have any plans down the road for touring, or will you be staying in Utah for now?
FD: We're currently on the lookout for some sort of band vehicle -- anyone selling a bio-diesel VW bus? if that gives you a hint. Our local fans are very important to us, but we know we have all their support in getting out on the road. Currently, we're planning a short September tour through Arizona, and, hopefully, New Mexico and Colorado.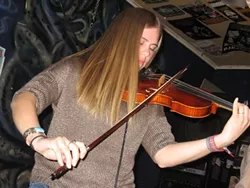 Gavin: Going local, what are your thoughts on the music scene, both good and bad?
FD: One thing Utah doesn't lack is musical talent. There is so much good music being played in our very neighborhoods. We feel lucky to live and start out in a place that fosters such a thriving musical scene. We have a lot of friends here in the industry who have moved out of state to pursue music careers, and end up being able to return to Utah to continue those careers because the music scene is so rich.
Gavin: Is there anything you believe could be done to make it more prominent?
FD: That's hard to say. We've been really impressed by many of the associations, venues and sound engineers we've worked with. They're really on top of things, very supportive and helpful. One thing we love to see in the community, and would love to continue seeing, is parents exposing their kids to music. It's so cool to play shows at venues like Kilby, Velour or the Downtown Farmers Market and see kids getting into the music. It cultures them and instills a within them a sense of community that will pay off.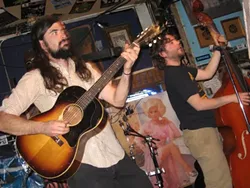 Gavin: Not including yourselves, who are your favorite acts in the scene right now?
FD: Locally, Bueno Avenue Stringband's monthly square dance is a favorite of ours. The Trappers have been doing some really cool revivals of some of their older material and our new local band favorite is Bullets and Belles — cool instrumentation there and great vocals. Nationally, we're all loving Gillian Welch and Dave Rawlings -- all but one of us went together to see them at Kingsbury last fall. The gals can't wait for Brandi Carlile at Red Butte this summer, and the boys just saw David Grisman at the State Room in February and said it blew them away.
Gavin: What's your opinion on the current airplay on community radio and how it affects local musicians?
FD: Local radio has a loyal following and a captivating draw that local artists cannot access any other way. We owe community radio so much, and think many local artists would say the same. Around here, people can and do trust in community radio to play local music that they are proud of and believe in, and community radio works hard to do this, and exceeds expectation.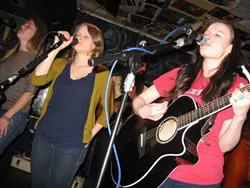 Gavin: With so many sources out there to get music off the Web, both for publicity and sharing, what are your thoughts on putting out free tracks for anyone to listen to?
FD: As far as our band putting out our own tracks, free to download, we believe in it. It gives us the power to promote ourselves without having to belong to a record label, so it's a good way to get our music heard as an independent band. Recently, we offered a free song-download online and ended up with some fabulous new fans because of it. It gives people exposure to something they wouldn't have otherwise heard; when they connect with it, they become, and remain, very supportive.
Gavin: What can we expect from you guys over the rest of this year?
FD: We've got a really exciting year ahead. We'll be recording our second album this summer with the dream machine, Scott Wiley at June Audio, and we're thrilled. We'll also be working on a gospel album with the Trappers, recorded by the very talented Dan Buehner; it'll be all sorts of boot-stompin' fun. Then, of course, we've got our "Four-Corner States" tour coming in September.
Gavin: Aside from the obvious, is there anything you'd like to plug or promote?
FD: We've got some great shows coming up; you can always check our Website for details. On April 3, we're playing with a touring band, JPJ and the Paper Planes, at Kilby Court; Brady Parks & The IndiAnns are coming up from Provo that night to join the show. And you won't want to miss our second annual Bob Dylan Birthday Bash at the Garage on May 24. We'll have plenty of local, talented bands covering Bobby D all night long — it will be a huge event.
Triggers & Slips (Zach Griffen, Morgan Snow, John Davis and Wil Grimshaw)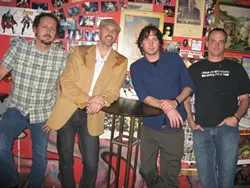 Gavin: Hey, everyone. First off, tell us a little about yourselves.
Morgan: We're a four-piece band that call Salt Lake City home, except our bass player lives in Magna. That is how you know we have earned at least one "country as fuck," point, along with our ability to grow facial hair and avoid the fiery pits of relationships.
Gavin: What got you interested in music, and who were some of your favorite acts and musical influences growing up?
Morgan: Music came to me later in my life after my dreams of being in the baseball hall of fame were shattered one summer while living on the beaches of South Carolina. I had a few friends who could play a few songs, and it inspired me to start playing, too. I had a lot of time on my hands to fill, so I had a huge gap of time in my day that needed to be filled. I grew up listening to outlaw country as a kid, and let's be honest, Mr. Garth Brooks was pretty much the shit when I was starting to get into my own music, as well as Boys II Men, of course.
Gavin: How did you all come together to form Triggers & Slips?
Morgan: I met Wil when I was just starting to take music somewhat seriously, and I was terrible, so it doesn't really say much about his taste in music, but luckily, I could drink beer and had good timing when it came to making fun of people and telling jokes, and ended up being able to keep him around while I got some legs under me. Wil was playing with Zach in another band at the time, and we eventually needed him to fill in on some gigs, and the two of them have known each other since high school, so it was a really solid rhythm section. I remember seeing John while he was playing with one of my favorite local bands, Ulysses. I ended up needing a new guitar player and asked him to sit in on a few gigs, and we just never stopped playing music together since.
Gavin: As a band, you've got a bit of a country rock sound with some southern bluegrass in there. What inspired the sound you've crafted out?
Morgan: My life sometimes feels like it is playing itself out like a country song, so a lot of times when I write it seems to fit, however, I am lucky enough to have guys around me that are pushing my songwriting into other directions than just country. John brings a whole different energy to the table, and is the person we lean on to rock out a lot. I think that one of the best compliments we have received is that we sound like Triggers & Slips. It is us, and we hope it stays that way.
Gavin: You've been going for about a year and a half now. How has it been playing around the state and gaining audiences on the festival circuit?
Morgan: We have had to fight and scratch and sometimes bitch slap our way into the festival circuit, so we are grateful for any opportunity to participate in some of the most incredible musical experiences happening locally. Being a part of a local music festival that brings in national acts in unique backdrops is great. It is also great to share the experience of those festivals such as Uncle Uncanny's, Desert Rocks and Powellapalooza -- not just as a musician, but also as a fan, and a family. But, really some of the best music locally doesn't happen on the stage, or at venues, but in living rooms and campfires. Playing at a more personal level has helped us to bridge the gap between festivals and venues alike, and given us an opportunity share our music with some really great people.
Gavin: Over the past year, you've been recording material while playing around. How has it been in the studio and what issues have you dealt with along the way?
Morgan: We are releasing our first EP on May 11 at Garage on Beck Street. It has been a challenge to get everyone in the same room together. We have a Blackhawk Helicopter Pilot, a local sound engineer, a cook at a sorority house, and a therapist all trying to play gigs, maintain relationships, and gain some sanity from time to time. Luckily, though, we have been able to write another set of songs that we are ready to record now too, and hope to break some ground on that in the next month or so.
Gavin: What made you choose to go with Salt Lake Recording Service, and what's it been like working with Brad McCarley?
Morgan: We chose Salt Lake Recording Service after Brad McCarley confessed his undying love for me. I told him I just wanted to be friends. Shit got weird, but we are the charitable type, so we figured, let's help this poor bastard out and give him a shot. He is still in love with me even though he knows that I don't feel the same. Awkward. That, and they have one of the better live-recording rooms in town, so it is able to capture a lot of raw, room sounds.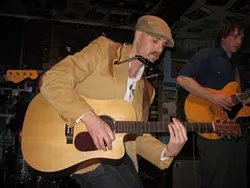 Gavin: The latest news from last month was that the album was in the mastering phase. What can you tell us about the album and when can we see it released?
Morgan: The album captures Triggers & Slips, and the songs that started the band. They are songs that helped me get through some rough parts of my life, a time I refer to as my twenties. It has been a long wait for us, but we feel like this album represents the best we have to offer at this point. Greg Midgley, from the bands Bronco, and The Rubes, laid down honky-tonk piano for three tracks, and Matt Winegar did a great job with the mastering. Both helped us sound way better than we should. We are ready to head back into the studio soon to capture some of the other songs that we play live.
Gavin: When the album comes out, will you take it on tour or will you stick to home for now?
Morgan: The road is calling this band, so yes, we will be getting on the road somehow, someway. Festival season is almost here, too, and will keep us busy.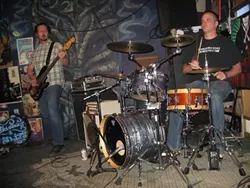 Gavin: Going local, what are your thoughts on the music scene, both good and bad?
Morgan: I love Salt Lake's music scene. One day, I think people will realize how amazing our music community is, but for some of us, we have known for a long time now. I like that we are Salt Lake City, and not something else. I think if you haven't found it here yet, it is because you should probably be the one to start it. I love how we are starting to have a local scene where you have a chance to catch a good live and local show almost seven nights a week. I think we need the listeners to work a little harder, though, and seek out good music, because music is a pretty big deal, and some of the most powerful times in history had some of the most powerful music to accompany them. Look around, it is happening right now, and has been for a while.
Gavin: Is there anything you believe could be done to make it more prominent?
Morgan: We still need to work harder as musicians, venues, and as listeners. The best thing about our scene is that it is still getting better, and hasn't hit its potential yet, whatever that may be.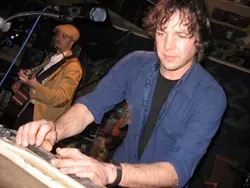 Gavin: Not including yourselves, who are your favorite acts in the scene right now?
Morgan: Our buddy Luke Benson just put out a really cool album, and he also plays mandolin with us sometimes and a band called The Pour Horse, and Junior and the Transportation from time to time. Joshua Payne Orchestra is awesome, and I really enjoy Tupelo Moan, and Drunk and Hungry, as well. Just don't tell Brad I said that. Watch out for Red Dog Revival, and The Low Keys guys. Also, The Folka Dots, and The Trappers are good, too.
Gavin: What's your opinion on the current airplay on community radio and how it affects local musicians?
Morgan: I like how local radio is putting local music out there -- who else is going to do it? They are doing musicians and listeners a service by facilitating an outlet that will take some pride in what is coming out of Utah.
Gavin: With so many sources out there to get music off the Web, both for publicity and sharing, what are your thoughts on putting out free tracks for anyone to listen to?
Morgan: Take it, buy it, or borrow it. You are going to, anyway -- just make sure you are giving something in return if you like it. If you can't respect that then you probably wouldn't like our tunes anyway; seriously, though.
Gavin: What can we expect from all of you over the rest of this year?
Morgan: We will be recording soon, and will be playing around town and at Desert Rocks, Uncle Uncanny, and Powellapalooza music festivals. Keep an eye out. We will be showing up at random places, too. The end is nigh, so we are setting short-term goals, and focusing on the months ahead.
Gavin: Is there anything you'd like to plug or promote?
Morgan: Our EP release show that is on May 11th, also there is a new Artist Showcase at the Garage on Beck St. on the first Sunday of every month that showcases local singer/songwriters from local bands. Salt Lake Recording Service. Check out the above mentioned festivals, --and Layne, I love you, buddy.



| | | | |
| --- | --- | --- | --- |
| Follow Gavin's Underground: | | | |