What a fantastic Best of Utah party! ---
My favorite moments include:
* Chatting with Adam Sklute and Christopher Renstrom -- I'm not sure what those two trimmed and well-dressed A-list gentlemen must have made of Dave and me, hairy hippies that we are, but we all had a fun conversation.
* Hearing Stephen Dark's hilarious and urbane art critique -- engaging with Dark is always a pleasure, particularly when he's in an expansive mood and not buried as usual under a ton of arcane research.
*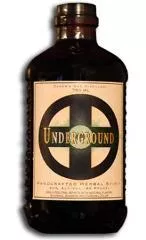 Talking to the gentleman who heads up Ogden's Own Distillery, home of Five Wives vodka and
Underground herbal spirit
-- although by that point, I had sampled enough of his wares that unfortunately his name whistled right through my ears, and I just kept grinning, happy fool that I am. He's a great, enthusiastic creative genius, though, with an eye for good package design (see picture). And, N.B., that circle-cross design (minus the lettering) is
tattooed right on his arm!
Very impressive.
* Meeting D.P. Sorensen for the first time. I copy-edited his satirical "Deep End" column for years, and I'm a huge fan, but this was the first opportunity we had to talk face-to-face. We ended up in a fascinating conversation about the Elizabeth Smart kidnapping and its aftermath.

Also, kudos to CW Marketing Manager Jacklyn Briggs, and her staff and volunteers, as well as the staff at the Leonardo, for making the event such a success. These things can easily turn into stiff, overly formal schmoozefests, but this one felt relaxed and exuberant -- it was like going to a party with several hundred of my closest friends.

This is the first year the Best of Utah party has been held at the Leonardo -- indeed, as far as I know, it's the first year the Best of Utah party has been held anywhere outside a bar or nightclub. And having a party in a museum is tres chic, non?
The Leonardo people performed their duties with dispatch and aplomb -- which is even more admirable considering I'm not sure they knew what they were in for. The Best of Utah party has grown into a big annual event with the most diverse guest list imaginable: Fine artists rub elbows with street artists. Celebrated TV reporters mingle with nerdy bloggers. Young hipsters bump hips with elderly hip-replacements.
And yet, somehow, everybody happily gets along.

At one point, as the hour was drawing late and people were milling around getting sozzled -- as one does at a City Weekly party -- a very polite Leonardo staffer approached me and asked, "Excuse me, but do you know when the award ceremony is scheduled to begin?" I think she was expecting an Oscars-type deal where people would ascend the stage and deliver long-winded acceptance speeches.
She was so attractive and well-dressed that at first I took her for an award winner, so I laughingly assured her that, no, there was no formal ceremony -- winners simply retrieve their plaques from a designated table while everybody parties and has a good time until 10:30 p.m. or so.
To this woman's credit, I must say that her professional demeanor did not betray for even a moment the slightest amount of worry. So it wasn't until later that I realized the obvious concern that must have been circulating among the Leo staff was, "When are these people going to get on with it? How long will the speeches take? Don't they realize we have to stay and clean up afterwards?" (At least, this is what I would be thinking had I been in their shoes.)
I imagine they were just as glad as any of the guests to learn that City Weekly knows how to throw a party. First rule: No tedious acceptance speeches. Second rule: Rock on!