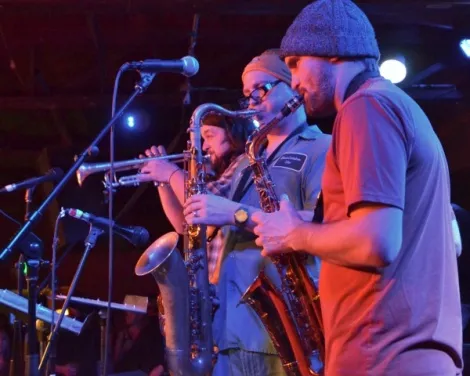 As part of a blog series to check in with some of Utah's finest bands, here's what's happening with a couple of funky bunches.---
I've asked each of the 24 bands from the 2012 City Weekly Music Awards to send us a paragraph or so about what they have going on in 2012. Here we have The Chickens and No-Nation Orchestra droppin' some knowledge.
The Chickens (pictured above):
Let's see, since the CWMA's we've recorded a Primus tune (listen to it below), and we've been working on a few new original tunes as well. Hopefully, we'll be doing some recording this summer. We might be doing a compilation album with Tupelo Moan, which should prove to be a good time. Also, we've got some gigs coming up: May 5 at The Garage, the Moab Arts Festival at the end of May and the Utah Arts Festival in June. Also, we're hoping our guitar player Page gets back from saving the world in time for most of these gigs. The military can be really inconvenient sometimes.
To read an article on how "supergroup" The Chickens formed, go here.


The Chickens cover of Primus' "Jon the Fisherman"
No-Nation Orchestra:
Expect a new EP sometime this year. And we are playing the Utah Arts Festival this summer.
No-Nation Orchestra playing The Urban Lounge CWMA showcase.
To read an article about frontman Stephen Chai's creative vision, go here.

"More, More, More" off of the 2011 EP of the same title