Closing out the month of April, we headed into what was a busy weekend packed with shows in every venue, but inevitably ended up at Kilby Court --- If you haven't been to the all-ages venue in a while, you may have noticed some changes, like the movement of the green room, the sound board, added sound proofing and various additions being put on to the place to spruce it up for future shows. The iconic garage venue has certainly become more than what it once was.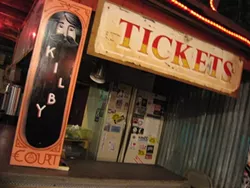 For this show we were going to interview Golden Sun, but they canceled, so instead we'll be chatting with solo acoustic songwriter Tyler Evans, as well as the six-piece indie-folk rockers L'anarchiste, along with photos of the show, which also featured Mason Jones & The Get Togethers and Michael Gross & The Statuettes for you to check out in this gallery here.
Tyler Evans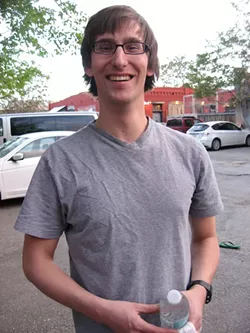 Gavin: Hey, Tyler. First off, tell us a little about yourself.
Tyler: Well, I am 28, I grew up in here in Salt Lake, married last year and have always enjoyed living here. I love the Utah Jazz, traveling around, Hawaiian slack key guitar, and plan to study history at the U this fall.
Gavin: What got you interested in music, and who were some of your favorite acts and musical influences growing up?
Tyler: I think my mom got me into music a bit in elementary school with The Beatles. I used to love old radios and had a big '70s Aiwa setup in my room and I fell in love with Jazz on KUER in fifth grade. Then I took a real interest in music with Radiohead's OK Computer in 1997. That was it for me. I wanted to rock and roll. Ha!
Gavin: What was it like for you first breaking into the local music scene, and how was it for you performing your first year?
Tyler: I was in a band I started in high school. We lasted a couple of years, had fun, but didn't take it too seriously. We played at random venues, house shows, but it's hard when you sound like a bad Nirvana ripoff, especially when you don't really listen to Nirvana.
Gavin: People may know you best from the project Egg & Dart. How did you come up with the project, and why did you choose to do that rather than play under your own name?
Tyler: Egg & Dart was a project our bassist RMac and I kept doing after our band from high school ended. It was, and still is, comedy stuff. It's still a work in progress, mostly because I never want it to actually end. I picked the name because we were a duo and it was a weird kind of name that seemed to fit.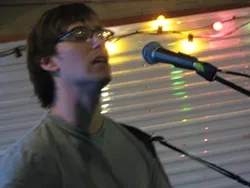 Gavin: What was it like for you during that run and becoming one of the more respected indie solo performers around the scene?
Tyler: Egg & Dart was, and is, interesting for me as a performer because people love those comedy songs more than anything serious I've tried to do, and I think that's great. It seems to surprise people; I guess they figure I'll sing something a bit more serious but then I start singing a song about the Dream Team or whatever and then they realize it's a joke. Although I've never thought it original, I wanted to just be funny like Weird Al, but still getting a point across about a subject like bicycle safety or nuclear weapons. But the unexpected humor is, I think, a big part of why people enjoy it.
Gavin: For a period of time you also played under the project Partial. What made you decide to start up a second one and what was it like playing with that project.
Tyler: The serious music I've written, the non-comedy stuff, has always been important, so being able to keep writing and playing those songs for people, that has been gratifying. I wanted to just say, "Hey here's some joke songs, and oh, hey, here's a real song I wrote, too." It's helpful mentally to be able to share that with people; just brutal honesty, like Mike Tyson's new show.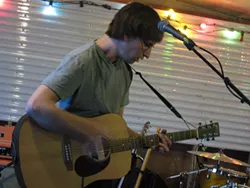 Gavin: How has it been working with Chthonic Records over the past few years and getting your releases out on a smaller local label?
Tyler: Chthonic Records -- oh, man. Tucker is the best because he loves music; he knows way more about music than I do. I never see him in real life, but he always wants to know what I am doing with my music. He cares, he's passionate, but at the same time I could do whatever I wanted and he's going to put it out there. I like the idea of being on some crazy random local-record label -- it's great. It's like the Double A Mud Dawgs of Salt Lake music.
Gavin: Tonight, you're doing a quick solo set under your real name. Are you looking to do a different kind of project or are you just trying stuff out for now?
Tyler: Nothing really different, just playing songs. Easier to just say I'm Tyler Evans, I guess now. Ha!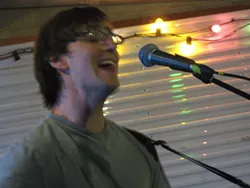 Gavin: Are there any albums or EPs in the works at this time?
Tyler: I am going to be recording a new album over the next couple of weeks. And I also hope to actually finish the Egg & Dart comedy album after far too long.
Gavin: Moving on to local stuff, what are your thoughts on the local music scene, both good and bad.
Tyler: The local music scene is enjoyable. There are great bands, old and new, and shows aren't far away given Salt Lake's size. We have good talent, and you can have a good time and see people you know. I cherish music from local bands because of how it feels; it feels and sounds like Salt Lake, like memories from childhood.
Gavin: Is there anything you believe could be done to make it more prominent?
Tyler: I smile because I really don't know. I think continuing to combine a sort of radio variety with the Internet will continue to help exposure. But you never know what they'll think of next.
Gavin: Who are your favorite acts in the scene right now?
Tyler: Palace of Buddies and Tolchock Trio. I love those dudes, they are my heroes. Matt Crane of Man Crane. And Forest World, RIP.
Gavin: What's your opinion on the current airplay on community radio and how it affects local musicians?
Tyler: Community radio is absolutely great. I grew up on that and continue to love it. Circus Brown should have a whole day. Seriously, a whole day of local music. That would be incredible. KRCL, KUER, KCPW -- let's do this.
Gavin: With so many sources out there to get music off the Web, both for publicity and sharing, what are your thoughts on putting out free tracks for anyone to listen to?
Tyler: I completely understand the hard work that other bands put into touring, recording, everything, and I am just happy to have people show up or listen at all. For a lot of bands, it is a job; me, it's just a hobby, really, but I think now it should be easier to put the money into the musicians' hands rather than record-company big wigs. It's ever-changing and interesting, though; it'll be interesting to see what happens in the next few years.
Gavin: What can we expect from you guys over the rest of this year?
Tyler: The rest of year, I am going to keep recording and writing. My big plan right now is to cover the entire Congos album Heart of the Congos. That just sounds like a lot of fun. And some ambient stuff -- I want to just try and see how that goes. Might start rapping again. Not surprised that never took off, though -- ha.
Gavin: Aside from the obvious, is there anything you'd like to promote or plug?
Tyler: My website and everyone at The Rock Salt. You guys are seriously the best. I love you all. Thank you so much!
L'anarchiste (Alex Gilvarry, Erik Maloy, Rob LeCheminant, Melissa Lapray, Jake Burch & Jacob Hall)
Gavin: Hey, gang. First off, tell us a little about yourselves.
Rob: Hmmm, let's see. L'anarchiste started in my basement; just a personal recording project, but grew into what it is now over about a year's time. There are now six of us: Alex Gilvarry, Jake Burch, Melissa Lapray, Jacob Hall, Erik Maloy and myself. It's kind of like herding chickens sometimes, but it's a lot of fun. We all get along well and that helps out a lot, not to mention we all enjoy playing the music.
Gavin: What got each of you interested in music, and who were some of your favorite acts and musical influences growing up?
Rob: I grew up with a lot of funk and disco via my dad among other things. I also had a love of classical growing up, and jazz once I started learning the trumpet in school ,and I've loved soundtracks for a long time now. I also started composing midi songs when I was about 15, way back when I wanted to be a film composer. I think just having an eclectic range of music I listened to really helped me have a varied and wide perspective musically. Some of my favorites right now are Grizzly Bear, Sufjan Stevens, White Denim, Arcade Fire, Local Natives, Here We Go Magic, Menomena, Bowerbirds, Bon Iver, Andrew Bird, and a ton of others. Also, seeing Sufjan Stevens in November 2010 changed my life. That concert was incredibly powerful and moving and I've never been the same since.
Alex: I got into music and wanted to learn bass to be in a band with Rob and our friend Aaron of Dangeroos. As far as bands go, Menomena was the first band I ever saw at Kilby and it changed my life.
Jake: I played a lot of jazz in high school and grew up loving stuff like the Mars Volta, AFI, the Shins and Death Cab.
Erik: Eddie Van Halen got me interested in the guitar. My dad putting the jazz station on at night for me to listen to was a great influence, as well. I also used to watch and listen to a lot of opera on PBS. When I heard Django Reindhardt the first time, I nearly cried. Philip Glass, Stravinsky and Danny Elfman have also influenced how I think about music.
Melissa: For music, it was my mom and dad. They made our home a musical one 100% of the time, with their own musical groups and musical pursuits. I really fell in love with music when I heard The Beatles. They would play old Beatles records every Saturday afternoon when I did chores, and eventually I knew every song and word. They were, and still are, one of my all-time favorites.
Gavin: How did you all come together to form L'anarchiste?
Rob: As I was working on this music in my spare time in my basement, I got the performing itch and decided I wanted to play it, so I started searching around for musicians. I ran into Jake at the Twilight Concert Series; I knew him from the jazz program at the U and joined up with him. Erik came via Jake. I knew Jacob from playing in Summerteeth with him. Alex I've known for years, so that was easy. And Melissa I met in a business class at the U and quickly became friends and brought her on board.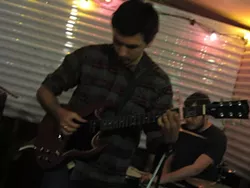 Gavin: What inspired the more eclectic indie-folk music you play, and what's it like for all of you you composing these pieces as a group?
Rob: It's hard to really nail down influences, but I should first say that on this EP, I actually wrote all the music so we're only now starting to write things as a band. I've been fairly solo for a while in my writing, so it's a good exercise for me to work with other people and it's starting to sound pretty awesome with everyone else's input. But back to influences ... I'd say it could be anything ranging from Led Zeppelin to Miles Davis to Sufjan Stevens, Bon Iver, and other more recent acts, and even composers like Prokofiev, Debussy, and Stravinsky come into play for me. I couldn't give any specific instances of when I wrote something with another writer/composer in mind. My honest answer is I just write. I absolutely love to play around with sounds, and do until I like what I hear and then try to make something out of it. I can't tell you how many hundreds and hundreds of sound files I have on my computer of ideas I've had. I go with what I feel is strongest despite the genre it's most closely related to, though I guess folk was the biggest influence on the EP.
Gavin: Being relatively new, how has it been for you to travel around the Wasatch Front and build an audience?
Rob: It's been surprisingly awesome for us. We've found a lot of support from many different people and the responses have been amazing. We're just having fun playing shows, really trying to get people into what we do and I hope we're doing ok with that so far!
Gavin: Late last year, you released your debut self-titled EP. What was it like for you to record that album, and what difficulties did you deal with along the way?
Rob: I know I mentioned I recorded it in my basement, but I should also say I was working a full-time job, as well. I was mostly just trying to figure out what kind of music I wanted to write and I eventually decided that the style didn't necessarily matter, so I just went with whatever came out, and what came out happened to be the EP, with only a couple songs falling by the wayside along the way. It was tough at first because I'm only a novice recording engineer, but I think the struggle with the lack of equipment -- not to mention lack of good equipment -- was good for me. It forced me to really try and make everything sound as good as possible with what I had and I learned a ton because of that.
Gavin: What did you think of the reactions you received when it was released, both from fans and the press?
Rob: I was completely blown away. I'll be completely honest in saying that I didn't expect it to be even close to as good as it was. Hearing sincere praise from both fans and press is such a humbling and empowering feeling and it just makes me want to write better and better music every day. I hope everyone who's heard and likes us knows that we are so highly appreciative of their kind words and support for us! On top of that, being asked to perform at SXSW and be a part of several compilations and be asked to open for highe- profile bands, well, it's just so, so awesome. I'm loving every minute of this experience so far.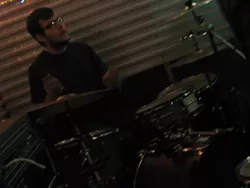 Gavin: Word has it you're currently working on a DIY full-length album. What's the progress on that and when can we expect to see it released?
Rob: We are! I've got a lot better equipment now so not only is it easier to record, it'll also sound much better. I'm working hard on writing the songs, though I've been slowed down by school and work a lot in the last few months. Recording will resume full time in a week and a half and I couldn't be more excited! We're incorporating so many more sounds, genres, and influences in this album and I think it'll definitely surprise people in a really good way. The way it's working this time around is I write the songs like I did before, but then I've been sending them around to the band members, asking for as much input and as many ideas as they have and adjust them from there. I do tend to be really strong-willed when it comes to writing, but the band has been super-patient and understanding with me; it's been a really fun process and I'm really excited for these next few months working with the band. I have a feeling that we'll be having to cut songs from the album rather than have to stretch for material, and all in all, the album is coming together really nicely. We're hoping it's done by the end of the summer.
Gavin: Do you have any plans to tour yet, or will you be sticking to home for now?
Rob: We're definitely looking into it, though we're not going to rush into too much yet. Money is hard to come by, but, hopefully, the album will give us some good leverage to get out there and play more outside of Utah! Maybe things'll work out in the fall, but definitely by next summer we hope to be touring extensively.
Gavin: Going local, what are your thoughts on the local music scene, both good and bad?
Rob: There is so much talent in this state, it's unreal. It amazes me that there aren't more nationally prominent bands from here. However, talking to a friend a few days ago, we were talking about how we were amazed how it seems that there is such an every-man-for-himself mentality in music here. There are bands that work together, but I notice that more in Provo than Salt Lake, but that could also be because it's hard to book shows in Salt Lake. We've been incredibly fortunate in this group so far, in that with the good press we've been getting, it's been so much easier to book shows, but in general it has been quite difficult in the past.
Gavin: Not including yourselves, who are your favorite acts in the scene right now?
Rob: I've loved Michael Gross & the Statuettes, Desert Noises, Tolchock Trio, Sayde Price for a while now, and I think there are acts that I'll be looking into a lot more, like Gothen and Salazar, that sound really great.
Alex: My favorites right now are Jay William Henderson, Seafinch, Golden Sun, Michael Gross & The Statuettes and Tolchock Trio.
Jake: Sayde Price and Uzi & Ari.
Erik: I really like the Trappers and The Red On Black.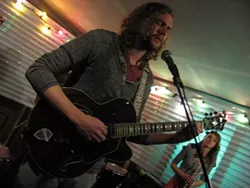 Gavin: What's your opinion on the current airplay on community radio and how it affects local musicians?
Rob: You know, KRCL is such a fantastic station. I can't tell you how many bands I've discovered because of that station. They also seem to be fairly friendly to some local bands and I've often heard local music on the station. That's never a bad thing.
Gavin: With so many sources out there to get music off the Web, both for publicity and sharing, what are your thoughts on putting out free tracks for anyone to listen to?
Rob: Well, with our EP, we knew that no one knew who we were aside from our friends and family, so we figured that if we had free material that we thought was pretty solid, people would be more inclined to listen. So far, that's worked pretty well for us. I mean, we've gotta start somewhere, so I think free is good. It just takes work and time to market ourselves, so why not get a head start?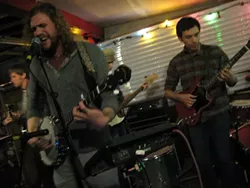 Gavin: What can we expect from you guys over the rest of this year?
Rob: Aside from the album that we're working on, we'll be playing more shows and hope to break into a bigger audience through eventual touring.
Gavin: Aside from the obvious, is there anything you'd like to plug or promote?
Rob: We'll be opening up for Here We Go Magic at Urban Lounge May 23 and for Ramona Falls -- also at Urban -- June 22. Both of those bands are just killer, so completely disregarding the fact that we're opening, I highly recommend those shows. Also, tell all your friends about us.



| | | | |
| --- | --- | --- | --- |
| Follow Gavin's Underground: | | | |