Throughout the evening, Delta Spirit frontman Matt Vasquez said, "This is the best Monday ever." There's no denying the validity of that statement.---
Just shy of midnight, in front of a jam-packed and very balmy crowd, and wasting no time,Vasquez and the band took the stage, ripping and roaring like every great rock performer should. With the foot heavy on the pedal, they opened up with "Empty House," the first track off their new self-titled album,.which has received mixed reviews since its release this March. In most cases, the long-time fans always get the "going mainstream" bug, but, in reality, isn't it the band's job to become something? So, instead of paying attention to what others say, I always just let the show do the talking.
By the fourth song, Delta Spirit had hit tunes from three albums: Ode to Sunshine (2008), History From Below (2010) and their new one; the mix opened the door to hear their diversity -- one of the band's strengths. They also played "Tear it Up," which on the album version contains some stoke-worthy beatboxing. Unfortunately, they just rocked right on through that section; not that it mattered in this 300-person-capacity venue. The crowd was still very much alive during the gut of the set.
Full throttling through 13 songs, Delata Spirit played an array of material, and just when you thought they couldn't crank it up any more, they played "Bushwick Blues" -- an absolute crowd pleaser off of History of Below. But they weren't exactly done just yet: The opening guitar riffs of their most popular song began streaming through the speakers, and it was "go time." About 30 seconds into "People C'mon," the energy on stage matched the crowd's. Closing the set out with "California" was somewhat of a surprise, because it's a chill and relaxing song, but it was very fitting for what was about to happen.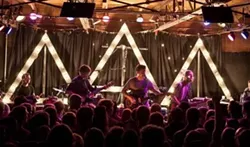 With a great set behind them, it was the encore that stole the show. Coming out swinging, Delta Spirit went into "Devil Knows You're Dead," another raging single off their History from Below album. The special treatment wasn't over just yet, as the multi-instrument keyboardist Kelly Winrich and Vasquez switched positions as they played out this amazing encore. Closing out the show with their 16th song, "Trashcan," the fans were in for one final delight: Vasquez, after taking off his guitar, hung by the rafter with three limbs and sang while swinging about the audience below.
All photos by Dom Darling