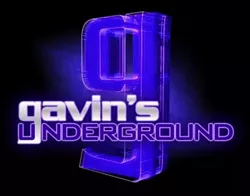 While a lot of the stand-up comedy coming out of Utah is focused on downtown and big rooms in select cities, there are still areas where comedians are honing their craft before attempting a bigger stage. --- One of those places is K-Town Komedy, a monthly showcase of stand-up performances held at Club DJs in Kearns, where many of SLC's rising names have a chance to put their material in front of an audience, while at the same time bringing the comedy-club vibe to a part of town without a central hub of entertainment.
Today, we chat with K-Town's founder and stand-up comedian himself Steve McInelly about his career and starting up the showcase, along with his thoughts on the local comedy scene in Utah and the talent we have today.
Steve McInelly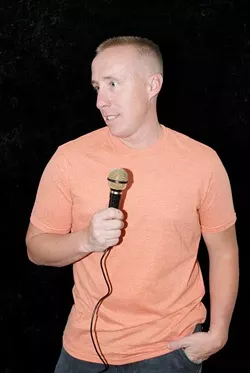 Gavin: Hey, Steve. First thing, tell us a bit about yourself.
Steve: I was born in Idaho, and at the tender age of 3 moved to Utah in the middle of the night and eventually lived in Kearns to do most of my growing up. I am happily married for almost 21 years now, with a 21-year-old son and an 18 year-old-daughter.
Gavin: What first got you interested in stand-up comedy, and who were some of your favorite comedians growing up?
Steve: I became interested in comedy as a kid; I enjoy laughing and seeing others smile and laugh, as well. My favorite comics who had a big influence to me ar George Carlin, Bill Hicks, Sam Kinison, Eddie Murphy and Lucille Ball. I would rent VHS tapes or buy the records to listen to as a kid -- yes, I am that old. After seeing how these guys could tell a story and make an entire audience laugh and forget about their everyday troubles, it made me want to see if I could do this.
Gavin: What officially brought on the decision for you to attempt it as a career, and how was it for you breaking into the local lineups and getting gigs?
Steve: I had always wanted to be a comic since I was probably about 8, but I had only dreamed of that. My decision finally came for me to try stand-up after I was finished coaching my son in youth sports. I dedicated all my free time to my wife and kids and comedy would not fit until they were older and doing their own thing, so after watching a few open mics and realizing it is a dream I had to attempt, I sat for about a month and did nothing but write about my life and what I had experienced, then it was time.
Gavin: What were some of the lessons you learned about performing when you first started?
Steve: The biggest lesson I learned is that it takes time to find your stage persona and realize the comfort level you need to get the audience to listen to you and buy into the stories and jokes you are about to tell!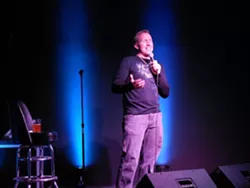 Gavin: What's it like for you personally coming up with material and deciding what works and doesn't?
Steve: My material is mostly based on life experiences and just watching the world by stepping back to enjoy the mistakes and mishaps that bind us all as humans together, and trying to find a way to laugh about some of our embarrassments we all encounter.
Gavin: How did the idea come about for you to start up your own comedy showcase?
Steve: The idea actually came from Club DJs; they had seen me perform at the local club and knew who I was, so they asked to see if I would be interested in trying it out. I was very excited that someone believed in me enough to give that opportunity. In all honesty, I was flattered and nervous, but I said YES.
Gavin: Why did you decide to hold it in Kearns as opposed to other more entertainment-centric areas of the city?
Steve: Being that I grew up in Kearns and know the area quite well, I was more than happy to do it there. The suburbs do not have many clubs or nightlife unless you head downtown. During the week, it's cool for people to head to the closest place and have a drink and a few laughs.
Gavin: What was the first showcase like, and what was the reception like from both comedians and the crowd?
Steve: The first showcase of K-Town Komedy was in February of 2010; the sound was not fully adjusted for comedy on the first go 'round, but a few minor fixes and the show went off actually quite successfully. Our first show had about 150 people show up for support and amazing as it is, we still have some of the original people who come to almost every show.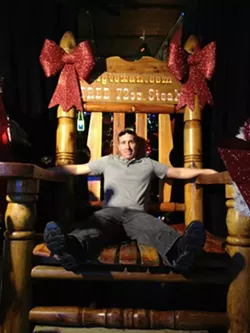 Gavin: How do you go about picking who will be involved with every showcase?
Steve: I pick the local comics I feel are funny and great to work with, the comics who are willing to help make it a success for everyone. By that, I mean just help spread the word about the local talent and the alternative shows we have here.
Gavin: K-Town has been viewed more as one of the underground showcases for comedians to hone their craft and learn the ropes.
Steve: Our show has been the longest consistent underground comedy showcase, running going over two and half years now, and in an uncensored format that is the best way for a comic to still express the joke the way it was intended.
Gavin: Are there any plans to expand the showcase from what it is now, or are you good doing what you're doing?
Steve: I am good doing what I am doing locally right now, but my wife and I are looking to relocate to Arizona soon and I will try to find a great replacement to help keep this show going. And, of course, I will come back to my hometown to visit and tell jokes; I love this area and, hopefully, more people can see it and enjoy stand-up comedy!
Gavin: Going local for a bit, what's your take on the stand-up scene, both good and bad?
Steve: The local scene is strong; many venues to perform open mics at, including the Complex on Tuesday nights, the Kafeino Coffee house on Wednesday nights, the Green Pig on Thursdays and Mo's Neighborhood Grill on Sundays. I do not see any real bad in the local underground scene.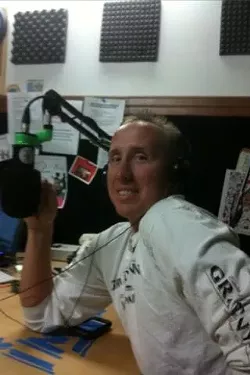 Gavin: Is there anything you think could be done to make it more prominent?
Steve: To make the scene more prominent is just help spread the word that Utah's underground comedy scene has great talent and it's a cheap fun date; we can all use a little humor in our lives.
Gavin: Who are some of your favorite stand-up comedians you like to check out around town?
Steve: My favorite locals are John Hilder, Key Lewis, Melissa Merlot, Christopher Stephenson and Scott Bennett -- all great people to work with and learn from. I have done more shows with these guys, and each time I still laugh at their jokes because of how well they tell them.
Gavin: What are your thoughts on the clubs that provide comedians a forum to perform and the work they do to help bring in audiences?
Steve: The clubs that give us the stage are great; I am lucky that Club DJs will help advertise me and my show on radio and in City Weekly. The clubs that help their talent generally have a better following and repeat customers.
Gavin: What's your opinion of national stand-up comedians coming through town and what that does for the local scene?
Steve: The national touring comics are great when they come here. with all the misconceptions that Utah is bland and has no sense of humor or a place to drink, the touring comics generally change their opinion when they realize Utah has a great group of comedy fans. I had the pleasure of meeting Lisa Lampanelli after a show and she was one of the nicest people to me and my wife.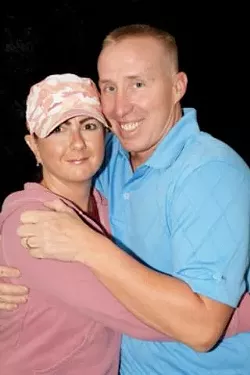 Gavin: What can we expect from both yourself and K-Town Comedy over the rest of the year?
Steve: The show will go on and I will be around for a bit until our move becomes reality -- hopefully, before the end of the year -- but K-Town Komedy will live on and continue to grow.
Gavin: Is there anything you'd like to promote or plug?
Steve: I would like to promote a few things. Tuesday May 8, I will be at The Complex to host The Roast Of John Hilder. Thursday May 10, K-Town Komedy will be hosting John Hilders' farewell to Utah show. I would also like to promote my 21st wedding anniversary on July 6; I will be celebrating that with my greatest supporter and best friend, my wife, Carla. I would love to see everyone fill these shows up and enjoy the love from Utah's underground comedy. If anyone wants to follow my career, just hit me up on the Facebook and come see me and enjoy the show.



| | | | |
| --- | --- | --- | --- |
| Follow Gavin's Underground: | | | |