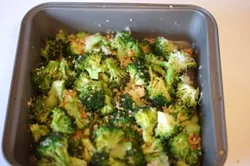 At our house, it's often a struggle to get kids (and sometimes, adults) to eat their veggies -- especially healthy stuff like broccoli. Here, however, is a broccoli side dish that is so scrumptious one of our kids actually went back for seconds the other night! --- The key to the recipe is in making the broccoli a little crispy by adding pre-toasted bread crumbs and a little cheese, which every kid seems to love.
This recipe makes 4-6 side dish servings.

Ingredients:
1/2 cup panko bread crumbs (available now in many supermarkets and most Asian markets)
1 lb. broccoli florets and stalks, trimmed and chopped into bite-size pieces
2-3 garlic cloves, peeled and minced
2 Tbs. olive oil
1/2 tsp. kosher salt
freshly ground black pepper to taste
1/3 cup finely grated sharp cheddar, parmesan or pecorino cheese
pinch or two of red-chili flakes (optional)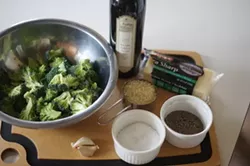 Method:
Preheat oven to 425 degrees F.
Place the panko in a shallow metal baking pan or pie plate.
When the oven reaches 425 degrees, place the pan with the bread crumbs in the oven to brown slightly.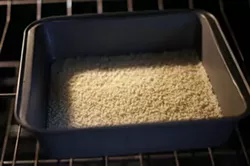 Toast the bread crumbs for about 2 minutes, until lightly toasted. Careful: Don't burn the panko! Remove from the oven.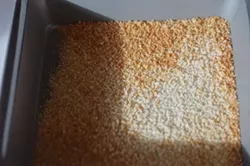 In a mixing bowl, toss the broccoli, panko bread crumbs, garlic, olive oil, salt, pepper and chili flakes (optional) until well mixed.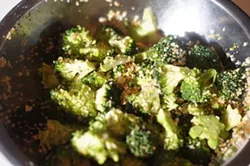 Transfer the broccoli mixture to a baking pan (you can use the same pan you used to toast the bread crumbs).
Place the pan in the oven and roast until the broccoli is tender, but not mushy -- about 8 to 10 minutes.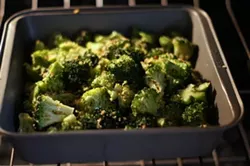 Remove from the oven, toss in the grated cheese in and serve.