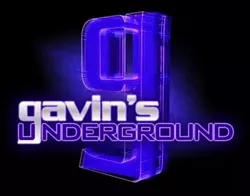 As we gear up for the Utah Pride Festival happening this weekend, several of the state's clubs and organizations have been stepping up big time to make LGBT issues a priority, while extending a hand to those who may not have known their help existed --- One such group is the 1 To 5 Club, an outreach program that offers support to the bisexual, pansexual, omnisexual, sexually fluid and asexual here in Utah. The group has been meeting weekly for nearly seven years, steadily growing in numbers as they strengthen a section of the community that sometimes may not feel fully represented. Today, we chat with the founders and several current members about the club's history and impact on the LGBT community, along with their thoughts on the local issues today.
Shauna Brock, Andrea Martin, Danielle Watters, Stephanie Novak, Jason Haber & Erica Head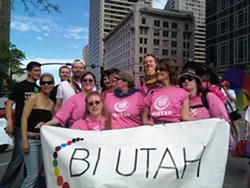 Gavin: Hey, everybody. First thing, tell us a little bit about yourselves.
Shauna: My name is Shauna Brock, I am a writer and activist who hails from SLC. I am absolutely obsessed with the idea of the modern fairy tale. No, not the princess and her frog prince, but the heroes and heroines we have created for today's mythology. Our sports idols hold the same fascination for us as Zeus held for the Greeks. Our musical legends hold Christ-like status. To pay the bills while I write and ramble, I work with the Utah Independent Living Center. Every day, people a lot cooler than me come together to teach each other independent-living and peer-mentoring skills. In addition, I am the writer and editor of the Wasatch Scope, the Utah Independent Living Center's quarterly newsletter. Over the course of my time in Utah, I have also been lucky enough to be involved with a number of activist movements, including working with the Utah Pride Center to create the 1 to 5 Club, a social and networking group for adults who identify as bisexual, pansexual, omnisexual, fluid, and asexual. In addition, I am the moderator of the Salt Lake City Writer's Group. My words can also be read on a regular basis over at utahjazz360.com, where I espouse my views on the state of Utah's NBA franchise. I was also lucky enough to be a part of the creation of pageantzine.tumblr.com, a music and pop-culture webzine. All of my past articles and interviews are archived.
Danielle: I am the director of community support and wellness services at the Utah Pride Center. I moved to SLC in December, after living in Boulder, Colorado, for five years. My work experience and passion lie in social justice, with a special emphasis on movements that work to dismantle gender and sexual oppression. I have a partner and a dog, with whom I spend all of my time, preferably outdoors.
Andrea: I'm Andi Martin, Shauna's sibling. We formed the 1 to 5 group together.
Erica: I'm Erica Head, Andi's girlfriend. Like Stephanie, I'm pretty new to the 1 to 5 Club. I joined when I moved out here with Andi, who is a founding member. I had no second thoughts about joining the group because it is something I really believe in supporting, as I feel it is a strong part of who I am.
Stephanie: I'm Stephanie Novak, and in the relative scheme of things, I am one of the newest members of the 1-5 Club. I've been a part of it for about a year or so, though even back in the darker days when I lived in Utah County, I was definitely subscribed to the e-mail listerv. In some ways, that listerv acted as a beacon in the darkness, reminding me that I wasn't alone and that all I had to do was pack up and move and I'd find a group devoted to bisexuality and sexual fluidity.
Jason: I'm Jason, and I moved here from Boise after graduating from college, primarily for the skiing and also to live in a larger metropolitan area where more opportunities were available. I became somewhat active in the bisexual community for a couple of years then had to drop out when I returned to school. Since graduation, I decided to become active again and gain experience in activism, education and community organizing. I am one of the four moderators and I have been in this position for about six months.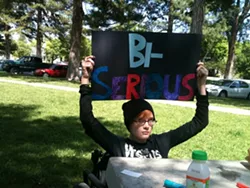 Gavin: How did each of you take an interest in becoming active members of the LGBT community?
Danielle: I grew up in Massachusetts with very progressive parents. I attended Boston Pride Festival since I was a little kid! So yeah, I think it started there.
Erica: LGBT rights were always something I supported. When my younger sister became an upperclassman in high school, she began identifying as bisexual, which only encouraged me to show my support more. I myself had friends in the LGBT community growing up. When I met Andi, my own identity began to change and I became an active part of the community.
Jason: I wanted to become a part of the greater LGBT community, but more specifically, the bisexual community. From my experience, bisexuals have largely been ignored, marginalized and discredited from not only the L and G community but also from the heterosexual community, as well.
Stephanie: When I moved up to Salt Lake, I immediately became a volunteer with the Utah Pride Center, and had a great time getting to know people within the community and the Center's amazing force of volunteers. Finding a community has always been important to me, because it's where you meet people – which is extremely important when you're new to an area – and also because being involved with the LGBT community means that I have the chance to get stuff done and ensure that dialogues about the issues I care about are happening throughout the city of Salt Lake and beyond.
Shauna: I was raised with a knowledge of the HIV/AIDS crisis and how unfairly the LGBT community was treated during it. When I was in high school, Cottonwood High was fighting for its gay straight alliance program and so rights came onto my radar screen again. But my interest in personal rights came when I went to college in Austin, Texas. I came out as bisexual and started attending socials and support groups. This was at the same time the Lawrence v. Texas case was starting to make its way into the national conversation. I started working with Bi-Austin's leadership and helped to organize protests and marched with the group.
Gavin: Prior to the club, what had each of you done in the community and with other programs?
Shauna: As noted with my time in Austin, I also participated some in some minor activism for marriage equality in Chapel Hill, North Carolina. In North Carolina, I was on the leadership group for the Pagan Pride Festival, as well.
Jason: I volunteered briefly with the UMFA; however, school consumed most of my time.
Andrea: Not too much, to be honest. We formed the group on my first real venture into Salt Lake's LGBT community.
Erica: I have been a member of Human Rights Campaign and GSA since when I was in school.
Danielle: I'm new to Utah, so most of my community work was in Colorado. I worked for a sexual-health clinic with a focus on reproductive justice. I've also been a volunteer HIV tester for five years.
Gavin: Where did the idea of the 1 To 5 Club come from, and what's the meaning behind the name?
Andrea: The name comes from the Kinsey Scale, which is a scale created by Alfred Kinsey to measure human sexuality. The original version of the scale ran from 0 to 6, with the numbers 1 through 5 representing various levels of bisexuality. The idea for the group came from a town hall meeting my sister and I attended with former mayor Rocky Anderson, which was facilitated by the Utah Pride Center. A lot of ideas were thrown around, including a community group for bisexuals and bisexual allies.
Shauna: I remember being at a town hall meeting in 2005, right after I'd moved back to Salt Lake from North Carolina. I was with Andy and we were in a round table with Jennifer Nuttall, who was then the community programs director at the Pride Center. Andy and I asked if there were any bi-focused groups at the center and it went from there. At the time, the bi community was working almost exclusively with the Utah Polyamory Society but unfortunately, the two groups were not reaching each other well. With the separation of the groups, the two now work very closely together, as many of the conversations each group has flow around things such as sexual fluidity.
Danielle: I defer to those who came before me! What the name communicates to me is the understanding that people cannot be defined by merely a box. Our attraction, relationships and identities are unique and often fluid.
Gavin: Before the club was formed, was there a perception that people who weren't exclusively homosexual weren't being properly represented? Or was it more the idea that their voice was already represented and others needed a voice?
Stephanie: I can say that the B in LGBT element is often left out of the larger conversation, things like "gay" marriage and slogans like "legalize gay," so having a group like the 1-5 Club is incredibly important, because it gives all of us who identify as bisexual, pansexual, asexual, sexually fluid, or any other identity other than explicitly gay or lesbian a place to call home, a place to connect with others who don't quite fit into the 100% gay or 100% lesbian picture.
Danielle: I don't know about the history specifically, but I do know that biphobia is very real and present, even within the queer community. As with many marginalized populations, creating a separate space is important for strong communities and voices.
Erica: What I can say on this topic is a lot of times people who don't identify as either gay or straight are often overlooked. When it comes to LGBT rights, we hear a lot about "gay marriage," for example. Only recently have we started to hear statements about "marriage equality." It seems that people not identifying as gay or lesbian often times get overlooked.
Andrea: I had a perception that there wasn't a bisexual voice in the community, in that I had looked and not found a place that specifically welcomed bisexuals, though there were certain many LGBT groups that welcomed all.
Jason: Typically, clubs and organizations are formed by and for those who feel they are not represented.
Shauna: Both. The truth is, people who aren't exclusively homosexual are often maligned in the gay community. I think I'm just going to link you to some of the articles I have written regarding the issue. Also, I am including a link to a report that was released a couple of years ago that details the issues the bi community faces. It is only 42 pages long but a very frightening read, especially when looking at mental-health statistics. Bisexual Invisiblity – Impacts and Reccomendations, A Call To Action: A Letter to Rachel Maddow (written in response to her use of "gay marriage" rather than "marriage equality"), Call To Action: Why Language Matters and My Thoughts on Culture.
Gavin: How big of a community is there in Utah for people who fall into that 1-5 scale?
Danielle: I imagine a lot more than we know!
Jason: Not sure. Last I heard, 4% of Americans identify as LGBT, and bisexuals apparently make up 1.8 percent of that figure, according to ABC in April 2011.
Andrea: There's a huge community of people who fall somewhere in the 1 to 5 range. The original Kinsey reports listed almost 10% of both men and women as being squarely in the middle of the scale at 3. And of course, our group is not just for bisexuals, but for any and all who want to participate. Our doors are open for people identifying as bi, straight, gay, pansexual, asexual and any other identity that can be experienced.
Shauna: I'd like to think we're bigger than we are. I think part of the problem is that there is a gay community, but it at times can be very exclusive. This is part of a larger, national problem. People know we exist, but there is a fear of coming out, so to speak. Often, places where the gay community gathers have felt isolating in the past. But I think the community is there and wants to embrace themselves as sexually fluid beings; the question is logistics.
Gavin: What was it like first forming the group, and what were some of the early meetings like?
Andrea: The early meetings were a lot of fun. We had a lot of interest right away, and we had some great people get involved immediately, many of whom are still involved today.
Shauna: We have full support from the Pride Center. Early meetings were small, and often academic in nature, as a lot of the founding members were working with Lisa Diamond's classes at the time. We talked a lot about phobia and perception of bisexuality.
Gavin: What kind of support do you offer the community and how much of an effect has it had over the years?
Danielle: I refer all sorts of community members to the club – people who are looking for support and healthy social engagement. The members of the club are so welcoming and affirming. I feel very confident referring folks to the club because I know they will have a positive, fun experience!
Andrea: I'd like to think that we offer a place where all are welcome, that gives people a chance to meet and be with those they can identify with; a place to ask and answer questions about orientation and identity, about myths and realities of bisexual living. I can never be sure what kind of effect we've had, but judging from some of our members, it's been a positive one, and I hope to keep that going for years to come.
Erica: As new leadership, we are trying to approach things from a couple different directions. We offer meetings to talk about various important topics and offer support to anyone who may be interested or needing a place to go to talk about certain issues. We also offer a social aspect in monthly coffee groups and various social events where people can come and meet others.
Stephanie: The 1-5 Club is great because we offer both social gatherings on every first Monday of the month, and our official meetings where we talk about issues affecting the B in LGBT. Topics can range from "how do I come out as bi?" to conversations about the myths and misconceptions about bisexuality that are consistently thrown around -- bi now, gay later for example -- and how to make sure that bisexuals continue to be part of the larger LGBT conversation through various forms of activism.
Gavin: What was your relationship like with the Utah Pride Center early on, and how was it interacting with the organization to utilize its facilities?
Andrea: Though I was involved in the formation of the group, I never interacted with the Pride Center in those early years, so I can't speak to that. I know that since assuming more of a leadership role in the last few months, the Pride Center has been a great partner to have and we couldn't ask for better support.
Shauna: Again, we had full support and often were key volunteers at Pride. Our only issue was a consistent rescheduling of meeting times due to other groups wanting our time and space, but that is part of the nature of the business.
Gavin: How has it been for you interacting with other organizations and groups in the state, and what kind of projects have you worked on with them?
Shauna: Our closest allies have been the Utah Polyamory Society and TransAction. Both groups tend to fall on the sidelines of mainstream gay and lesbian culture and as a result, we not only form strong bonds but many members are part of multiple groups. There have been socials, potlucks, panels, etc.
Andrea: We've had some really great experiences with Transaction, a local transgender community group, and with the Utah Polyamory Society.
Jason: I am not sure of other groups that we have worked with other than the support we have received from the Transaction group in coming to our meetings, supporting and participating in our events and getting the word out about our group.
Gavin: The club has been around for nearly seven years. How have you grown both as an organization and as individuals since joining it?
Erica: Since I have joined, I have been able to meet and work with some great people. I feel like one step at a time we are striving to make a difference. Every time we bring people together and work on important issues, we're growing as a group.
Andrea: The club has changed over the years. It has functioned as a support group at times, and at others it has been more of a community social group. In recent months, we have been discussing bringing more of a focus on activism and bringing awareness of bi issues to both the LGBT and straight communities.
Jason: I have really only been active for the past seven or so months, but I feel I have grown in learning the mechanics in organizing and moderating a group.
Stephanie: In my short time as one of the core leadership members, I'm learning that every meeting, every coffee, every opportunity we have to bring people together is a chance for us to grow, and I'm very much enjoying this opportunity to learn more about what we can do.
Shauna: Speaking as a founding member, I burned out. Sometimes, we work just too hard and get too invested and I needed to step back. But what I have found is that more and more people are not afraid to speak the word bi, and we are more able to have conversations about being pansexual, omnisexual, asexual, and fluid. I think also the core members have found that we do have a political stake in what happens with our community, and that our focuses should not just be on things like marriage equality but equality in relationships, in health care, and in the discussions of bullying. As for me, I've found right now my "activism" comes in my writing. I am also not afraid to piss off leaders in the community who don't want their ideas of "gay" culture challenged. While I hate burning bridges, at the same time being nice doesn't always work. I am looking forward to eventually returning to the fold, though, new ideas in hand.
Gavin: What kind of an impact do you hope the club will have on the LGBT community, and what's the overall goal of the 1 To 5 Club at this point?
Danielle: From my standpoint on staff, I hope that the club gains more visibility to increase participation and garner community support. I hope the club continues to be a supportive presence to individuals and takes advantage of opportunities to educate the community, like during Bisexual Awareness Month in January. Farther down the line, I would love to see them host workshops for our age-specific programming and for the public.
Stephanie: The overall goal is to build a community where people who identify under the B in LGBT have a place to go. We also strive to make sure that the larger conversations included bisexual/pansexual issues and that we're not a forgotten element in the quest for equality.
Erica: I'd like to see groups reaching out to each other more, offering each other support. I'd like to see support coming from new directions in the LGBT community. I'd like for other groups to see that we have something to bring to the table. And I'd definitely like our voice to be heard.
Shauna: I'll let the current leadership comment on current goals, but my hope is that we can eventually do away with the letters and embrace the word queer. We are lesbian, gay, bisexual, pansexual, trans, and everything in between and beyond, and when we hold tightly to our individual letters we isolate our conversations. It isn't about "gay marriage" but equality for all relationships – heterosexual, homosexual, polyamorous, etc. It's about being able to be comfortable as a community with ourselves as sexual beings, no matter how we identify.
Andrea: Hopefully, the club will serve as a way to bring the bi community closer to the rest of the LGBT community as a whole.
Gavin: Moving on to local stuff, what are your thoughts on Utah's LGBT community as a whole at this time?
Andrea: I've traveled all over, and there are few local LGBT communities that seem more devoted to supporting each other and creating safe spaces for all.
Sephanie: One of the most striking things to me when I moved up to Salt Lake was how prominent the LGBT community here was, and it was definitely something I appreciated. Visibility makes it harder for us to be ignored, and ultimately, we are all human, all striving to be treated fairly and justly. I think we are definitely making great strides and it will only get better from here.
Jason: I haven't been as active as I would like to have been, but from reading about the community I am impressed with the solidarity and activism of the community.
Shauna: This is a link to the manifesto I wrote after last year's Pride Festival. I don't see much has changed. A Call To Action: Looking At You Through the Glass.
Erica: Salt Lake has a very prominent LGBT community, and it's a great thing to see. I will second what Stephanie said, and say that visibility is super-important. The more the community can come together, the better.
Gavin: Is there anything you believe could be done to make LGBT issues and needs more prominent in the public eye?
Shauna: I think we need to just keep talking and keep writing. President Obama's statement that he favors marriage equality was important not just for marriage but for the conversation. The LGBT community comes in all races, levels of ability, religions, political parties, etc. We need to have the conversation. That changes things.
Erica: Just be out there as much as we can, both in the LGBT community and our group. Be open about it, tell people we are here, and bring people together to get our voices heard.
Jason: Shift the discussion from LGBT issues and needs and equate it to human issues and needs.
Andrea: Get mainstream media to take an interest in LGBT issues. When LGBT issues show up in the mainstream community, from news media to entertainment and everything else, then the broader community will be able to get to know us better.
Gavin: What's your take on the way local media, both print and broadcast, have reported on stories involving LGBT issues?
Erica: Specifically involving bisexuality, I feel like we're not recognized enough in the media. When it comes to LGBT issues, gay issues are getting the most recognition. I personally would like to see bisexuality as well as other identities take a more active place in the media. Even portrayals in the movies and on TV are very much focused on gay characters. It'd be nice to see some bisexuals and trans people recognized.
Jason: I don't pay attention to television media. However, what I have seen overall in print media, radio and the Internet I feel has been decent. The papers I do read are the Salt Lake Tribune, City Weekly, Q Salt Lake, SLUG and Catalyst. I'm an avid NPR listener and I stay away from Deseret News, local papers and anything from Fox.
Shauna: I tend to get my hackles up at all local reporting, but that's partly because it is so focused on the word "gay." I'm not gay, and while I get that sometimes a word is just a word, it turns me off. I think though that the media is more willing to embrace the conversation, which is the best start. I remember when I was a kid -- watching what happened with the Gay/Straight Alliance fight and how it was couched in the media to how it is today, I think we've come a long way.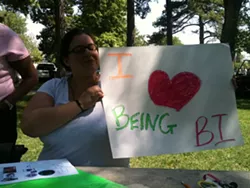 Gavin: What's do you think about the current conflicts between the LDS Church and the LGBT community at this point, and what do you believe could be done to help resolve them?
Jason: The conflicts are between made-up beliefs and real life. Most adults I know outgrew Santa Clause and the Tooth Fairy. People simply need to outgrow religion, where the discrimination, intolerance and hatred stem from; conflicts resolved.
Shauna: I think it's the same as in any predominant religious culture. Look at what just happened with North Carolina. Fear breeds ignorance, and the LDS Church is still frightened of reality. But, also, as with the Catholic Church and its politics, members often do not reflect leadership positions. So again, it goes back to being willing to sit at the table and have a conversation.
Andrea: Religious issues are difficult from all sides. I've seen a lot of people hurt deeply because of intolerance that stems from religion. But some of our staunchest allies are deeply religious, and many of them are LDS, as well. I think that no harm can result from keeping dialogue open, and always trying to achieve understanding of those you differ from.
Gavin: What can we expect from all of you, as well as the 1 To 5 Club, over the rest of the year?
Stephanie: In addition to our coffees every first Monday at Coffee Connection from 7-10 p.m. and meetings every third Monday at the Utah Pride Center from 6-8 p.m., we also expect to have a great presence at Pride, some great events in September for Bisexual Awareness Month and more! We'll definitely have some more bar nights, movie nights, and social events. If we know how to do anything, it's have a great time, so keep an eye out for our Facebook page for the most up-to-date notifications.
Andrea: We expect to have a great presence at the Pride Festival, we'll be marching in the Parade, and we have some great events brewing for Bisexual Awareness Month in September!
Erica: Aside from the usual monthly meetings and coffee socials, we're going to have a great presence at Pride this weekend. We are planning on making September Bi Awareness Month and will have some great stuff planned for that. Also, expect other fun social events throughout the summer.
Danielle: I hope that the 1 to 5 Club will have a strong presence at our annual Gender Conference in November -- save the date!!
Shauna: I'm taking the year off. I'm not even going to be at Pride. I will ,however, be there next year, bells on. I do know that plans are underway for Bi Awareness Month festivities, so talk to the current leadership structure about that.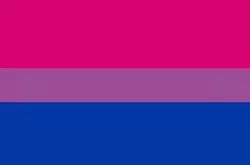 Gavin: Aside from the obvious, do you have anything you'd like to promote or plug?
Shauna: My first novel, which is about gay and bisexual rockstars, is available for pre-order at PubSlush.com! I need to get 1,000 pre-orders to get a deal, and I'd love to see my numbers go up. Find out more here.
Jason: Come to our monthly social/support group, our monthly coffee socials and join us at Pride. Also, the Bisexual Awareness Month this year will be in September. So, come out to any or all of the events, learn about the group and socialize with others whose orientation does not fit neatly in either polarized end on the sexuality spectrum; hence, 1-5.
Danielle: THE 1 TO 5 CLUB!!!!! Oh, I suppose that's the obvious. I encourage folks to look to our website for updates, www.utahpridecenter.org . I also invite community members to submit suggestions for events and programming to us at any time. We are always looking for feedback from our community! Oh, and be sure to attend the Gender Conference in November!
Stephanie: In addition to my work with the 1-5 Club, I also run the When She Speaks I Hear the Revolution open mic, and I frequently host LGBTQ-themed open-mic nights. The next open mic will be Saturday June 9 at Jitterbug Coffee Hop (1855 S. 700 East) at 7 p.m. and will be a chance for everyone to share their pride and art, all at once!
As far as the 1-5 Club goes, make sure to look out for us during Pride. Pink-purple-blue -- we have the best colors! And join our Yahoo listery if you'd like to get monthly reminders about our events. If you ever have any questions for us or want to get involved, please do! We're an ever-expanding group and we would love to hear from you! The best place to get in touch with us is through Facebook.
| | | | |
| --- | --- | --- | --- |
| Follow Gavin's Underground: | | | |