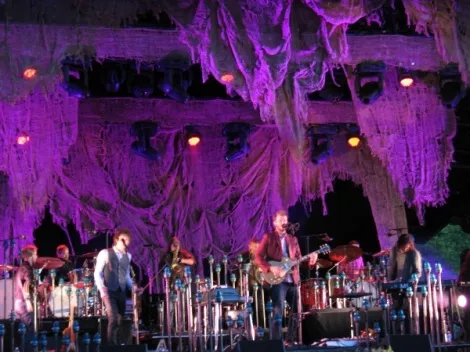 People have either absolute love for Bon Iver's music -- the product of Justin Vernon -- or they vehemently hate it.--- I think I'm the only person who's just OK with it. And that essentially sums up the band's Tuesday-night concert: It was OK.
I get it -- if you're going to sing in a high tenor like that, you'd better be as cool as Prince, and, if you are going to have over 10 members in your touring band, it'd be nice if everyone were as strung out and entertaining as Edward Sharpe & the Magnetic Zeros. Justin Vernon et al landed in some pleasing, semi-euphoric middleground ... although his beard was almost as trance-inducing as some of the space-y numbers from the set. (In fact, Vernon's dashing Midwestern good looks have been the catalyst for many a sultry piece of erotica). Good thing I was in the back.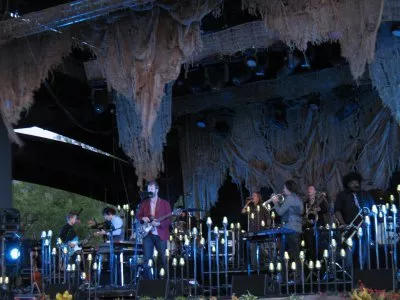 Whoever designed this set is welcome to remodel my desk area.
Back there, the sound was clear and the locale afforded a fine view of the waving burlap hanging from the rafters that swung like underwater algae in the breeze and the staggered rows of tiki candle-like decorations. I was surprised to find nary a yoga mat on hand (as assumed prior to the show by CW writer Colin Wolf to look kind of like this). But upon running into Center City Yoga's D'ana Baptiste, I was reassured that half of the crowd were her patrons. So, it wound up being more like this.
A yoga-free Red Butte crowd.
But the background yoga music of Bon Iver only accounts for the more experimental, ethereal jams. One such example was the set's third song, "Beach Baby," which Vernon admitted wasn't popular, but was really pretty. Then followed "Michicant," with its building sound and lack of a solid melody. These type of doodles do account for enough of the catalog to make me wonder how this band has garnered such mass appeal. Or were everyone gathered here tonight to listen to "Skinny Love?" Maybe.
Well, maybe not the people poaching the music on the hill, whom Vernon acknowledged several times throughout the evening. Red Butte Garden issued a statement last fall that the hill would be closed for land restoration and would be gated of f-- apparently not yet.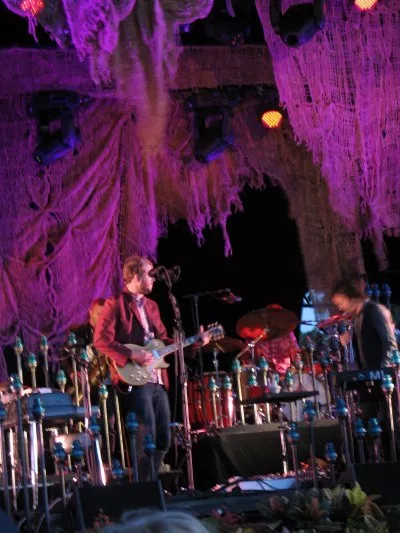 Vernon leading his band and arousing the front rows with his Midwestern swagger.
There were times, though, when the newer material from the critically acclaimed 2011 self-titled album just killed it. "Holocene," a tune that Bon Iver recently played on Saturday Night Live, rose and abated like a sea of sound; with its massive harmonies, it was touching in a sort of ecclesiastical sort of way.
As the set wound down, Vernon said he had a surprise: "Creature Feat (part 1)." It overtook the crowd, and couples and strangers were kind of doing this. It was hard to top that, but Vernon introduced the next song, "Regarding Stack," by saying it was written regarding the Dead Sea Scrolls, which "shattered a lot of shit for a lot of people."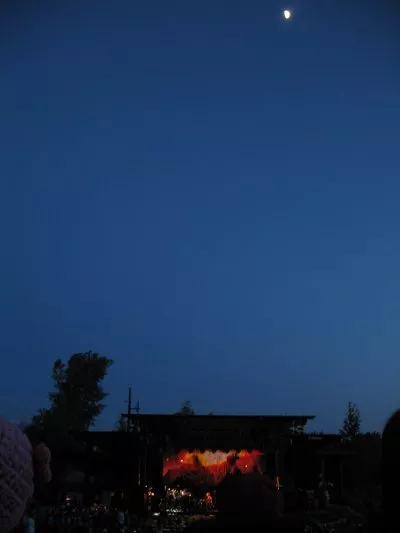 A view of the waxing moon from the back.
With the half moon high in the sky, and the burlap still flapping in the breeze and changing colors with the stellar lighting, the encore made believe in the beautiful melancholy that is Bon Iver. Those who weren't in a trance or already packing up their coolers and leaving helped Vernon sing "The Wolves (Act I and II)," and their collective echo howled into the foothills surrounding Red Butte Garden.