Hello to all you freak-flag-waving, equality-supporting, parade-prepping, festival-walking, remix-listening, are-you-ready-to-get-your-Pride-on enthusiasts! --- We'll discuss the 2012 Utah Pride Festival later this week with the usual array of photos and interviews, and in case you missed it, might I suggest going back and reading about the 1 To 5 Club from my post last Thursday. In lieu of an update to the 337 Wall, here's some random artwork from downtown SLC.
The one item of entertainment news to discuss today is the recent changes over at KRCL; specifically, its programming and the music. I know, this sounds like we're doing a time warp back to five years ago when the station implemented the changes we're now familiar with, but this one has a slight twist that's apparently pissed off listeners and staffers to a whole new level. KRCL recently purchased NPR programming to air on the weekday schedule: the show known as World Cafe, the over-20-year-running program from Philadelphia's WXPN hosted by David Dye. Along with this change, the music has been watered down to a more contemporary sound, and on-air staff have reportedly been told to avoid music that isn't "commercially acceptable."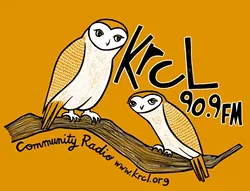 The blame for these changes is being laid directly at the feet of new general manager Vicki Mann, who implemented the changes a short time ago, with little warning to listeners. While no one wants to officially go on record, the attitude over the decisions seems to be split between staffers and hosts as to whether or not they are a good decision. On the one side, the effort is being made to bring in wider listenership, which the station has struggled with for years, even at successful points. On the other side, these changes are very opposite the principles KRCL was built upon, using community resources to turn a unique platform into a mundane and by-the-numbers version of its former self. In any case, a petition has been started online via Change.org, urging people to sign their names and express their discontent over the changes to the station. Click this link here if you'd like to read the petition or sign it. And please, feel free to leave comments below and tell us your thoughts either way on the new changes at KRCL.
Moving on to events, with Pride in full swing there are a lot of places around the city offering alternatives to those who just can't afford the ticket price. For example, Nightfreq and The Metro Bar are teaming up for a 14-hour dance party, completely free to the public! From noon until 2 a.m., you can jam out with SLC's finest DJs like Cobol, Freqsho, Secret Peter, Lowpass, Jesse Walker, DJ/DC and RoboRob. Party your ass off throughout the day, or split it between the fest and the club just by taking Trax.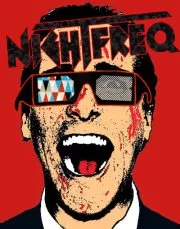 If you're looking for more artistic stuff happening during Pride, just across the street will be Craft Sabbath in the Main Library. This month, they'll be having a vinyl-record fair, teaming up with Man In Decline Records out of Arizona to ... you know, I really don't know what that means, and they're not being all that descriptive. You'll just have to head over and check it out, and be sure to say hi to the City Weekly booth while you're there for free junk!
Skipping ahead to Thursday, the long-awaited Desert Rocks Music Festival will take place down in Green River. I'm not going to bother pimping the festival itself, especially since they've already done a better job at it than most. I'm just going to give you reasons to go: Beats Antique, Holy Water Buffalo, Burnell Washburn, George Life, Dumb Luck, Afro Omega, Spell Talk, Max Pain & The Groovies, Scenic Byway, Funk & Gonzo, Triggers & Slips and Puddle Mountain Ramblers will be some of the locals on hand. If you've never seen these guys play an outdoor fest, you NEED to go.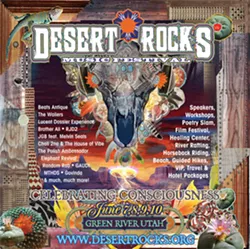 On Friday, the Salt Lake City version of the 48 Hour Film Festival will kick off at the Megaplex in The Gateway. If the title and previous coverage of this event didn't tip you off, let me explain: You and your team of filmers have 48 hours to make a short film, with certain criteria implemented within the film. You turn your film in, where it's divided into four screenings, and winners are voted upon by jury and panel voting. As a former participant and frequent spectator, this is one hell of an event for the film community, and one of the few competitions where competition takes a backseat and you see more creativity than you normally would from this artistic end of the scene. You can still register to enter as this is posted; good luck to all involved!
Meanwhile, just a few shorts blocks away will be the 2012 Dark Arts Festival. Yet again dominating Area 51, the three-day festival will feature three brands of music and art each evening: Goth Punk on June 8, Steam Punk on June 9 and Cyber Punk on June 10. Aside from dozens of artists and vendors lining the walls and set up outside, the event will feature music by Arsenic Addiction, Tragic Black, Redemption, Synapse, Zombiedance, Imagedown and more. It's $10 a day, or $25 for all three days. If only just for curiosity's sake, you need to attend these events to get a look at the art.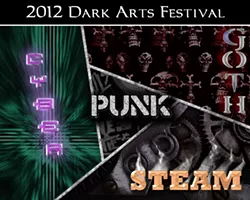 On Saturday, we'll see The Urban Arts Festival at the SLC Arts Hub. Last year, the fest took over Pierpont Avenue with a large attendance, and they're hoping to double that this year with the new locations offering almost triple the space and opportunities. This year, there are three stages of live music and DJs, including a circus tent to feature performance art such as breakdancing and poetry. Should be a really interesting time; I highly suggest you go check out the festivities and the new Art Hub while you're over there.
Next Sunday will be a monumental event in SLC, as The Heavy Metal Shop celebrates its 25th anniversary! That's right, the shop has been peddlin' evil for a quarter of a century, which has included several location changes and about three-dozen new genres of metal music climbing through the CD racks and merch on the walls. To celebrate in style, the shop will have live music from 4-8 p.m. including Michael Dean Damron of I Can Lick Any SOB In The House, Micah Schnabel of Two Cow Garage, The Kottak & Kleveland Akoustic Attack! featuring Stephanie Smith & James Kottak, and an acoustic set by Jake Johnson. Head on over, pack the tiny location and celebrate the shop's vitality.
Kicking off in Provo next Monday will be Velour's annual Battle Of The Bands. Twice a year, the venue picks 20 of the area's finest bands to feature in a voting competition over five days. The winners of those five days go on to battle in the finals on Saturday to be crowned the winners. Previous winners of this event include Neon Trees, Holy Water Buffalo, Fictionist and Lady & Gent. Hit up their website for a complete schedule, and pick a favorite to root for all the way to the end.
The rest of that week is kinda dull except for a few shows here and there, so we'll close out the week in rather odd fashion: the Bonneville Classic. Hosted by the Bonnevillains Speed Shop (which we'll discuss later in the blog), this free showcase will display some mighty-fine vintage cars and bikes.This isn't a competition for prizes, just a chance to show off some classic metal. Those who own both are encouraged to bring your own and display with the showcase. There will be food on hand along with live music and some giveaways; go check out the new shop and what some of your neighbors are driving.
As for the blog -- over the next couple of weeks, we'll chat about a new art walk in town, check out the latest from Plan-B, explore a studio down in Provo, get the details on an Ogden film festival, visit an art studio before Gallery Stroll and, of course, provide coverage of Pride. At least, that's the plan. I'm actually uncertain if it's all going to come together, but that's half the fun. As always, we'll see what happens.
| | | | |
| --- | --- | --- | --- |
| Follow Gavin's Underground: | | | |