We've got a few new releases to discuss that didn't get a proper sendoff, and since we've already discussed Thunderfist (who celebrated their official release show at The Garage last night), we've got one other show happening next week. --- First up is the debut album from Dopethought & Worth. The SLC hip-hop emcee-and-producer duo have had some moderate success on their own -- Dopethought with a solo album in late 2010 titled Life Elevated Pt. 1, and Worth as a self-made producer creating beats for many of Utah's underground performers. The two found their way to Portland label Heaven Noise to collaborate on their fresh new album, We Our Environment. It may have hip-hop lyrics, but there's more experimental jazz to this album than some actual jazz albums, which has set itself apart from the rest of the field in some respects. It's definitely worth buying. You can download the whole album for a "name your price" tag on Bandcamp.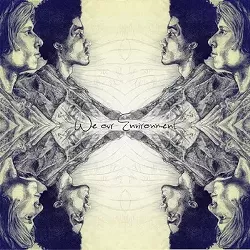 Next up is the debut album from Aquatic Ghost Colony, the acoustic-experimental project of Provo-based musician Jacob Haupt. There's not really a lot to write about this one, as Haupt has very little online presence and not many shows to speak of outside of Utah County. The guy doesn't even have a Facebook page for this project, just a blogspot page that really wasn't worth the trouble of posting. He released a two-song single called "Wolves" back in February, a precursor to this debut full-length album, Pen Pal. The album was written, recorded and mixed by Haupt himself with some additional support in a few areas. You can download a digital copy off his Bandcamp for $9, or a physical version for $10.
Speaking of acoustic projects, that brings us to the debut release from Commodore Azalea. This is another one of those "what the hell is this?" kind of bands, where they claim to have several members but it's clearly just one guy playing his heart out to tinny-sounding strings in the key of emo. Yeah, there are some backing vocals, but you can tell this was recorded just for the sake of having something recorded. The six-track EP called Postponed doesn't even total 10 minutes in length, but for fans of the genre it'll be a nice addition to their collection. You can download it for free off Bandcamp.
Bumping up from acoustic to a bit of Americana, last week saw the debut release from The 95 Slide. In what's become the trend of bands these days, they literally made their existence known on the date their album came out. I kid you not, May 28 was the day their Facebook page was launched. At least, that's what they'd like you to think. Actually, the band had a previous incarnation under the name Kaplan, who had a decent debut album last year called Living By A Compromise, but failed to capitalize on it with any touring or radio play. Now, they're back with a new name and an EP under the same title, which is just five tracks taken from the old album. Normally I don't crap on a band's work unless they really deserve it, but considering that all they've done is change the name and rehashed their old works to look new, I'm going to advise you to don't go to Bandcamp and save the $3.
Next up on the "we don't know much" list is Hectic Hobo. Well, that's not entirely true. The six-piece gypsy-folk group have been around for nearly four years, playing very random shows from Ogden to Provo, but they seem to take hiatuses from playing, which keeps them fresh but also keeps them out of the public eye. The band released their debut album Preachers, Paupers & Pimps to mild acclaim, but infrequent playing has become their detriment in a scene where gypsy music is actually in high demand for showcases. The band just released their second full-length album this week with the lengthy title, We Lost Our Legs In The War, We Just Can't Remember Which War. You can download the entire album from their Bandcamp page for free at the moment.
Finally, we move on to the only release show during this week, as we see the latest from I Am The Ocean. The "depth metal" band from SLC have had a pretty good run over the past few years; their debut 2007 album ... And Your City Needs Swallowing and the 2009 follow-up, Escapist Fiction, received indie praise from online reviews, and they're one of the few Utah bands to successfully tour. And by successful we mean they left with no money to fund it, and came back with more money than they started with. Now, the group (seen above) have joined up with the semi-local label Sound Vs. Silence and are back with a new EP, Overhead. This album doesn't really fuck around -- it gets right in your face from the start and nearly beats the hell out of you on every track. It's only fitting that an EP like this sounds like the best the band had to offer for the time being until they can start work on a third full-length. You can officially buy the album through the label, or you can snag a copy in person when they play their release show this Tuesday, June 5, at The Urban Lounge along with Jesust, Stranger Beside Me and The GreenHaus; just $5, starting at 10 p.m.
Head out, love music, buy local!