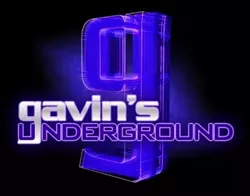 Hey, kids, there was this festival happening downtown all weekend that you may have heard of called Pride. --- The three-day, rainbow-clad event ruled Washington Square with DJ's and bands, specialty lounges, tons of information and nearly 400 booths of art, business, food, sponsors and whatever else they could cram into the city block, all in celebration of equality and the LGBT community.
All of this was topped off with the annual parade, to which organizers were proud to announce on the radio Friday morning has surpassed the Days Of '47 Parade in size and participation. The parade was led by grand marshal Dustin Lance Black, but the highlight of the day for many came in the form of the 300 faithful LDS folk who marched proudly under the banner of Mormons Building Bridges at the head of the festivities. A surreal moment for myself, being born and raised in this state, was hearing the group prayer for the parade, the participants and the patrons watching before it kicked off.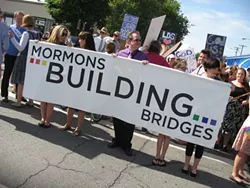 But this is an entertainment blog, and the entertainment we're covering today comes from two performers at this year's festival: the acoustic duo Melody & Tyler, and the rock folk explosion that is Folk Hogan -- both interviewed along with pictures taken. In fact, if you'd like to see the setup before the parade, the entire walk, the festival and both bands, check out the nearly 400 pictures in this gallery here!
Melody & Tyler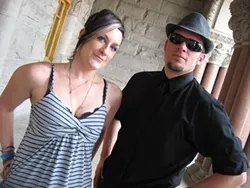 Gavin: Hey, Melody and Tyler. First thing, tell us a little about yourselves.
Melody: Well, we are an acoustic duo here in Salt Lake with a style that is a little more upbeat, rockin', with some country flavor, and unique. We have been performing together for close to five years, mostly up and down the Wasatch Front, as well as many out-of -tate shows. We have been performing nearly every weekend, often Friday and Saturday, for the past three years. Together we founded The Acoustic All-Stars Music Fest, as well as co-founded The Utah Musicians Breakfast Club. We enjoy a good time, genuine conversations, and long walks on the beach, and a nice stiff drink -- Roofies optional.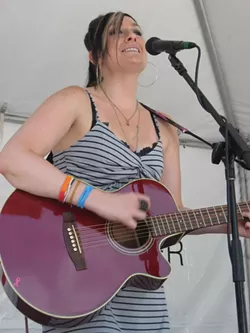 Gavin: What got you both interested in music, and who were some of your favorite acts and musical influences growing up?
Melody: I grew up singing and dancing -- badly I may add, ha -- to Whitney Houston in my driveway. I wanted to be a fierce singer but was far too shy to get out there, so instead, I'd sing in my room. The first time I sang in front of people it was like a drug and I had to have it. That was the end for me and life would never be the same. I listened to a lot of country because the only radio station in the town where I grew up, in Washington, was country but I would borrow friends' CDs and listened to everything from Green Jello to Nirvana to Guns N' Roses -- a personal fave. I later got into Foo Fighters -- all time #1 -- and even Sara McLaughlin and Jewel. I also have an unhealthy love affair for John Mayer.
Tyler: Music for me was always a part of my life. My grandfather, mother, and sister played piano, my dad played some guitar, and my brother played drums. The first thing I picked up was a pair of drumsticks. I would listen to bands like Green Day, Bush and Collective Soul through headphones, and practice playing drums to the tracks. Fast forward a few years of middle school band, and then I was playing in my first rock band my high school freshman year. From there, I was in and out of a lot different bands. I listened to a lot of music back then, anything from CCR, The Dead, and Hendrix to Metallica, Tool and Pearl Jam.
Gavin: Prior to forming as a duo, you both had musical careers: Tyler in a band, and Melody as a singer. What were your careers like before meeting each other?
Melody: I honestly didn't do much before Ty. I had quite a few songs I'd written and had a few close friends who I'd play for but, mostly I was scared people would make fun of me. I moved back to Washington for a bit, and suddenly one day I realized my life was passing me by and I was going to wake up one day and go, "Oh, shit, I never even TRIED!" I moved back to Logan, where my family was, and said, "This is it" and started playing at open mics. I only did a few gigs before I met Ty and we started jamming. I told him, "I'm doing this, I have to, so you're either in or you're out. Music is priority and always comes first." He said okay.
Tyler: Prior to M&T, I was playing drums in a band up in Logan called Blind Iris. We started to gain a lot of attention when our song "Drive" was chosen to be on the soundtrack of the Tony Hawk Underground video game. This was a great opportunity for a group of music-loving guys from small-town Logan, but we had five guys heading in five different directions in life. Once the band broke up, I was searching for my next musical endeavor. Over the previous years, I had been messing around with the guitar and playing in my basement or at parties. When Melody and I met and started playing music together, it lent itself as a way for me to try something different from being a drummer.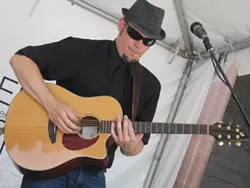 Gavin: When did the two of you officially meet and become friends, and what was the catalyst that got you started as a duo?
Melody: A friend introduced us about five and a half years ago at a classy bar in Logan called the Eagle's Lodge. Ty had heard about my singing so he wanted to jam, which I figured was just his way of coming on to me. Almost right from the beginning, it was obvious that things were clicking. Six months in, Ty was offered a job in SLC and I moved with him. We started performing, separately at first, opening for one another at alternating gigs. After a few years, we realized it was a mistake not to be a full-time duo, there was a big part of the music that was missing, and thus Melody & Tyler was born.
Gavin: What was it like early on for both of you adapting to each other's styles and writing music, and how was it performing for audiences?
Tyler: Melody was so used to writing alone that it was hard for her to really open up and let me in on the writing process. I come from bands where the writing was a collective effort. Melody and I have tried many different approaches to writing, and we have come up with the formula that works the best for both of us. Being onstage is something that comes natural to me, only because I have been doing it for so long, for better or worse. Melody took a little time to really find who she was onstage, but she has really come into her own. In the beginning, we sat at most of our performances and played mellow acoustic music, the kind that is perfect for coffee shops and basement breakups. Over the last few years, we have evolved into something that is a lot closer to where we want to be. By standing up, adding a loop pedal and a drum machine, we have brought a new twist to acoustic music and found our niche in the Salt Lake music scene. It also helps that we have played somewhere between 300-350 shows together in about four years. When you're spending that much time together, along with being a couple, you adapt quickly and on the fly. We've been quite fortunate to get along as well as we still do. There has been a lot of fun, shenanigans, and tomfoolery, and we are just getting started.
Gavin: In March 2011, you released your debut EP, I Bleed Music. What was it like for both of you recording that release, and did it help having prior experience before this group to get it put together?
Melody: Ty has recorded with many of his previous bands, and I had minimal experience knowing what it takes, the process, and what's involved, so this was a totally different experience for each of us. Ty had been in a crazy-nice professional studio with his band Blind Iris, and I had done a few tracks in Rich Bishoff's home studio in Logan. In September 2010, we went on a journey together to Redding, California, to record with musical veteran Marc Cooper. I think we each had different ideas on what to expect. It was such a great experience for us to bond while driving that distance, talking about our goals, and spending hours recording, trying to get it right. One of the songs we had chosen to record, "All Over You (The John Mayer Song)," was supposed to be on that album but was not working out well so we used "You Ruined Everything" in its place. That song was only a few days old but it fit right into the album. The whole experience really opened our eyes to a lot of things. We've realized not everything goes as planned, but we also knew what we wanted to accomplish on our next release. The EP was a great steppingstone and a big help in the direction we've taken with Breaking and Bending.
Gavin: More recently, you released your first full-length album, Breaking and Bending. How did that session differ from the EP, and why did you go with an EP first rather than this album?
Tyler: We chose to record Breaking and Bending in the comfort of our own home. We really, really enjoy and appreciate professional recording space, but this album had a need to be done at home. This was a great experience for both of us. To have the studio in the house and to be able to capture tracks when the feeling hits you rather than worry about a ticking clock was a big reason the recording came out the way it did. We purchased some minimal gear, soundproofed a closet, and started tracking. The whole album was recorded using three mics, one closet, and a whole lot of passion. This album is what we have been working on since we started playing music together; it has just taken a while to get here. In our musical and personal journeys, we have found that things happen for a reason and Breaking and Bending came along at the perfect time. We have spent the previous four years honing and perfecting our craft, somewhat lurking in the shadows of the Salt Lake scene, and now we are ready to show everyone what we have.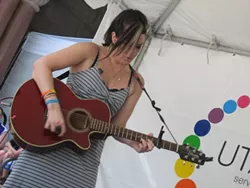 Gavin: What did you think of the public reaction to the full-length when it was released?
Tyler: We have been excited about all of the positive feedback we have been getting from fans. It always makes you feel great to have people enjoy something you've poured your heart and soul into.
Gavin: Are there any plans in the future to head out on tour or are you sticking to home for now?
Melody: We are actually super-excited to be planning our third tour in two years for August of this year. We will be doing a two-week tour through Montana, over to Washington State -- my hometown, where no one has seen me in years let alone heard me sing more than church music. From there, we head south into Oregon, California, and end in Nevada. We invested in a Subaru Outback right before our first tour, specifically for sleeping in while on tours so we didn't have to spend money on hotels. Our first tour was awesome, about a week, through Montana, South Dakota, and Nebraska. I have never been that far east, so it was fun to go out and be somewhere new where no one knew us and say, hhey, this is our music" and not get booed. Ha! Our second tour, which was in February of this year, we headed down into Arizona, New Mexico, and Nevada. People always assume that sleeping in the car is horrible. It's not; it's actually quite comfortable, and after two tours in it, we have the system down pat. As of now, we set about two tours a year in short spurts so we can have our day jobs and take some time off here and there to travel. One day soon, music will be full-time and we will spend more time on the road. It's addicting, and at the end of each tour we say, "Let's sell all our stuff and never go home."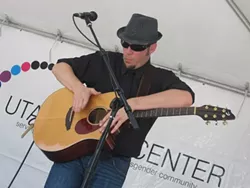 Gavin: Moving on to local stuff, what are your thoughts on the local music scene, both good and bad?
Melody: We think there is a lot to offer in Utah's music scene but it seems so scattered. For instance, Austin is known for a folksy, rockin' group of hippies. LA, is known for a pop-rock, hard-living sound. Washington is your obvious grunge. Utah seems to have a bit of an identity crisis. We don't think that's bad ,but it seems everyone is a little confused on how to help all genres thrive without making our own extinct. We also think so many talented people who are under 21 get screwed, because they can't play in bars and bars are almost the only ones who pay. Having the culture we have around here also tends to mess with the scheme of things. Again, not bad, but it affects attendance and commitment. We are in a family-values state, so a lot of really talented people stop performing to have families. It's wonderful and respectable, but it moves people in and out of the scene at an alarming rate and we think it tends to make people wary to commit to one band or another as fans or promoters.
Gavin: Is there anything you believe could be done to make it more prominent?
Tyler: Sure, there are a lot of little things that can make any scene better or more prominent, but it falls in the hands of everyone. First, the artist: As long as we are always trying to create the very best we possibly can, and give the people who choose to follow us a reason to follow us, then we are moving in a good direction. Respect the venue the same way you respect your fans. Second, the venue: Book acts according to style and talent that matches your venue. Bands are a dime a dozen, but if the venue is constantly booking quality acts, then the fans will come to expect nothing less. Third, the fans: In the technology -riven world we live in, it's harder than ever to get people to put down the remote control, mouse, or cell phone and go out and enjoy live music. When you go to see live local music, it causes a chain reaction: When you go to a gig, you take a friend; when you take a friend, you make a friend; when you make a friend, you get excited; when you get excited, you wiggle your toes; when you wiggle your toes, you shake your rear; when you shake your rear, you win dance competitions; when you win dance competitions, you go on a Bahamas cruise. Go to a gig and then go on a cruise to the Bahamas -- that's simple math!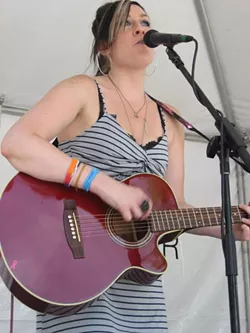 Gavin: Not including yourselves, who are your favorite acts in the scene right now?
Melody: Minx, The Suicycles, Autostigmatic, Juana Ghani, The Wayne Hoskins Band, Opal Hill Drive, Royal Bliss -- for showing us all how to do --), Brian Bingham Music, Andy Livingston, Whitney Blayne, Naarah Black, Josh Johnson and so many more. It is always changing as we are introduced to new music.
Gavin: What's your opinion on the current airplay on community radio and how it affects local musicians?
Tyler: Local music on the airwaves is always a great thing. It will give those musicians starting out a goal of recording some tunes and getting them played over the air. Hearing yourself on the radio is a groovy feeling! One of the most challenging things for stations playing local music is trying to please everyone. With so many different styles and genres, it's difficult to keep from sounding ADD, and limiting your listeners only to those who are waiting to hear their own song. It's possible to think that we will start hearing these stations playing certain genres at certain times, in order to target a wider audience and build support for groups of bands. The effect of this could be great because maybe there is a fan of bluegrass who didn't realize how many bluegrass artists there were around, and now chances are this fan starts following these other artists, and telling their group of friends about this great new band they heard on the bluegrass hour of Cool Johnny Cat's local radio show.
Gavin: With so many sources out there to get music off the Web, both for publicity and sharing, what are your thoughts on putting out free tracks for anyone to listen to?
Tyler: The ultimate goal as a musician is to put a product out there that you are proud enough to ask someone for money in exchange for pieces of your heart and soul. We also understand the importance of getting your music out there for people to enjoy. Is there a time to charge for music and a time to give it away? Yes. If someone loves our music enough to share it with a friend, we can't complain about that.
Gavin: What can we expect from both of you over the rest of the year?
Melody: We are constantly adding to our schedule. We are organizing the 5th year of The Acoustic All-Stars Music Festival, which we are proud to be holding at Fat's Grill in Sugar House this year July 20-22. We're playing the Utah State and Utah County Fairs, Highland Fling, and Park Silly, taking a quick trip back to Valentine, Nebraska -- can you believe they WANT us back?! We will be doing our northwest tour in August, our second year of the all ages Acoustic All-Stars at Rovali's in Ogden, August 11. And we will be planning our next album for the early part of 2013. We are planning a slowdown of shows, because we perform every weekend at least once, so that we can attend other shows around the state and show some more support, as well as be able to think straight for a minute.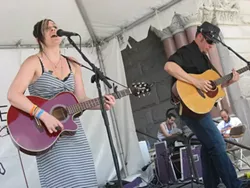 Gavin: Aside from the obvious, is there anything you'd like to promote or plug?
Tyler: As mentioned, The Acoustic All-Stars Music Festival July 20-22, and Acoustic All-Stars Rovali's, August 11. The info on all those is at acoustic-allstars.com. Also, we would like to ask everyone to listen to Utah Musicians. They're a wonderful resource for musicians ,but also there is such fantastic music on there and we think most people would be surprised how much talent there is here if they listened to that station. Last, we play a lot so come see us sometime. Our schedule is always updated on our website.
Folk Hogan (Moses McKinley, Nick Passey, Canyon Elliott, Jeremy Adams, Box & Jared Hayes)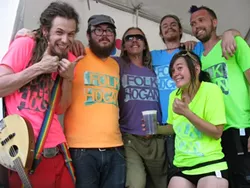 Gavin: Hey, guys. First off, tell us a little about yourselves.
Nick: We're a six-piece band of mighty souls who enjoys American whiskey. We originally hitched a ride on some comets to make it here to Earth because heaven doesn't carry whiskey. Being both a band of gods and mighty souls, we will make you wish you also had an immortal liver. We play songs about the supernatural experiences we have had, drinking, and the circus currently. We are always adding to this collection and are in process of writing a new album. We have also just released our first full-length album, Band Of Mighty Souls. It features two of our favorite tracks "Skeleton Scramble" and "Long Walk Home." In our band, we have Moses McKinley, Canyon Elliot, Box, Nick Passey, Jared Hayes, Brett Kocherhans, Curtis Stahl and Mike Lewin.
Gavin: What got each of you interested in music, and who were some of your favorite acts and musical influences growing up?
Nick: With many members comes many different styles and ideas. Collectively, we have a very wide interest in different genres, which is a huge contribution to our secret sauce, our sound. As the guitarist of the band, I take and borrow from a range of different styles. Playing and listening to everything from punk to jazz growing up, I rely on everything I've ever heard to make it though our set. An example of this is our song "Firebreather" from the upcoming circus-themed album. In the solo section, I am playing ridiculous tapping solos that resemble '80s hair metal. Yet in the very same song, I'm picking out campfire bluegrass chords in the verse, then sledging out heavy, full punches in the chorus. This all seems organic enough until I have to hit the flat seven diminished chord in the prechorus. I know this may sound weird, but each time I hit that chord I have to visualize where I was when I learned that shape. I was in the high school jazz band, trying to keep up with a very talented pianist, and I can actually see where I was sitting, like I'm looking into the room from above, watching myself struggle to read chord charts. Folk Hogan uses a lot of different influences, and at times it is a battle to squish this out of the same Fender tube amp. I've noticed, though, talking to other members of the band that there is a huge love and appreciation for hip-hop from the '90s, punk from the '80s and jazz music. What got us into music in the first place was when Canyon stole his mighty accordion from Thor. First of all, let me clear the record by saying Thor really deserved this. Second of all, he was kind of a big baby about the whole thing, and even long after the fact seems to be unsettled on it. Shortly after Canyon started playing his accordion, Moses joined him to form what was Folk Hogan. Later, the full band was added and we together became FOLK HOGAN, which is entirely different since its in capital letters, as you clearly may see.
Gavin: How did each of you first meet each other prior to forming the band?
Nick: We have known each other for what may be in human terms hundreds or thousands of "years" but to us it seems like just a little over a few years. One by one, we came to the band, like soldiers to death, like waves on to land And with our first score the bellows did roar; for the first time we felt whole.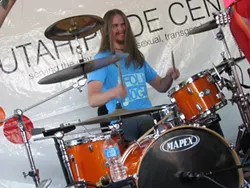 Gavin: Rather than being a straight-up folk band, you've incorporated pieces of punk and made much of your music fast-paced and raucous. What made you decide to go that route?
Nick: First and foremost, thanks for noticing we are not just another Simon & Garfunkel cover band. We are indeed a folk band, but not the kind of folk your mom listens to -- unless, of course, your mom is total badass. In either case, tell your mom we say "hi" and note we really have nothing against moms; mine likes the album just fine. We classify our music of folk/gypsy/punk. We have the instrumentation of a folk band, the heart of a punk band, and the rhythmic elements of a band of gypsies. We often are compared to bands like Gogol Bordello and Flogging Molly. I can see where people get this, but I don't think we fall into either of the categories, exactly. My friend Amy's daughter, Ramona, says we are "pirate music" being about four; I'd like to think she means well by that. In fact ,we have plans of sneaking her into bars by calling her our dwarf drum tech. We're going to get her one of the drum keys drummers always have on a necklace, some sticks, and a fake ID -- I'm fairly sure no one will even notice. It's funny, we never really considered a route or path ,but instead Canyon and Moses just added, then took away, until it was clear we had exactly what we needed in the band.
Gavin: At any given time, your band ranges from five to seven members. How is it for you working as such a fluid band, and what made you decide to add supporting members?
Nick: Our band is a shared vision and community among its members and fans. Because of a few godly restrictions we are currently under, our power is only twice as strong as our fans, which makes us the most powerful band in the Earth world. Part of the reason we are working with so many different talents is that we play a very large range of performances. A bar crowd expects a very different set than a farmers market does; we, however, play and entertain both. We feel it is important to communicate our songs from many different angles and to as many different people as possible. One reason I feel this works so well is that we are writing these songs in many different ways, practicing often acoustic, as well as electric.
Gavin: Back in 2011, you released your demo album Flight Training. What was it like putting that album together and what was the initial reaction to it?
Nick: We recorded this entire demo on a 1970's Tascam reel to reel. At the time, there were only two companies producing the reels and both had, for different reasons, ceased production. We were able to round up enough tape up to give us a total of one take for each song. This meant that whatever came out was a direct snapshot of that moment in time. No going back and no editing. The demo was a helpful tool in landing us some gigs because we were able to show it off as a true live recording of how we performed at that time.
Gavin: As you mentioned, last month you released your debut album, Band Of Mighty Souls. What was it like for you recording that album and what difficulties did you deal with along the way?
Nick: Time and money. In my opinion, everything went very, very well. We were able to pull in some incredible talent to help in the recording, mixing and mastering process. The artwork came out better than we could have hoped for. The printing process was timely and reliable.All those warm fuzzies aside, making a full album is not easy, and it was a indeed a real strain on the local beer brewers. We wanted to put out the highest-quality album we could produce. It came out even better than I could have wished or hoped for, but it was no easy process. Getting that last 10% of a big project is often just as difficult as the first 90%, and I feel this is especially true while making an album. We had to change the course of the boat at times, wrestle a giant octopus and protect some buried treasure. One of the struggles was we had to put up with Brad McCarley's changing hats right in the middle of the album, from the PBR one, which he always wears, to this other garbage hat. The entire process came to a screeching halt at this point until the situation could be diplomatically corrected. It was very touch-and-go, and Box and Moses shared the concern the album may not happen because of this. That was difficult for all of us, and I don't think Brad honestly will ever realize how much that affected this album; we almost lost it all right there. You can only imagine recording an album as process, you don't really know where its going to take you and who's going to be your Brad changing hats on you. We poured every ounce from our hearts, souls and wallets into this, and it came back to be received really well by our fans.
Gavin: What did you think of the reaction from fans and the press when it finally came out?
Nick: We are hearing back a lot of good things. We have had some good reviews and some good critiques. It makes us even more excited to get back in the studio and start recording the circus album as soon as godly possible. I mean, we will need to have our lawyer Jennifer draft some documents to protect us from people changing hats, but really I think that will just make us go in that much more prepared and stronger.
Gavin: You're currently booked around Utah for the next few months including festival shows. Are you looking to tour beyond the state anytime soon, or just sticking to local gigs for now?
Nick: YES! We love Utah, and have so many other fans around in other states. We are gearing up to take our show on the road, searching for a new dragon to ride to shows and stockpiling merch to sell. We are meeting a lot of great bands and collecting contacts like pogs and just trying to be as nice as possible so people will let us into their towns.
Gavin: Moving on to local stuff, what are your thoughts on the local music scene, both good and bad?
Nick: The local scene here is awesome! There are a lot of huge talents and hundreds of bands in Utah. We would like to see more support in all-ages venues happen. It is important to the all-ages crowd to see more shows put out there. There are some great people pushing to see this happen. The bar crowds are amazing here. We constantly have people in SLC, Utah and other counties coming out to the shows, really supporting on all levels. One thing that I feel is a huge challenge is we live in an era where people have a lot of entertainment in their home. Netflix, cable and the Internet in general all provide a lot of really easy entertainment options. Now that it is summetime, I would like to encourage people to suspend that crap and come out and play with us downtown. A huge part of the population doesn't have venues that appeal to them. Many people in Utah choose not to go to bars or think they wouldn't have fun coming out and engaging in our type of entertainment. In my opinion, for some of the same reasons people avoid bars, all-ages venues fail in Utah. We are trying to cross this barrier and play these festivals and get out in the parks and out of dark bars a bit this summer. We want to show all types of people that we can make them feel things about stuff and have a great time doing whatever that is.
Gavin: Is there anything you believe could be done to make it more prominent?
Nick: It's very difficult. Folk Hogan can't just fix the economy or convince people to not watch Netflix for six hours a day. One thing I think would help is if bands picked up and started promoting again. I know this may confuse some people, but I don't think sending out Facebook requests is alone good enough. In the summer, especially, you need to go make flyers or do something else to reach those who don't sit in front of a computer or smart phone all day. You can apply for a street-performers permit in SLC for $30 a year. Make flyers. There are so few other bands making flyers that when we pass them out, people just ask if it's "okay" to keep them or not. Put on more shows and open more venues. Create your own venue, find a common space you can rent for the night, promote your shows like the big boys do; even if your band can only draw 10 people, play like there are 1,000 there. Let them know how important they are to you, because they are. Encourage anyone, anywhere, who is doing something creative to go to Craft Lake City, Craft Sabbath, and go buy a Velo City Bag and then some stencil art from the Overstreet Brothers. There was a time growing up in Provo, where there were 3-4 solid all-ages venues within walking distance of each other. We would go from venue to venue and catch multiple shows this way. There are still a few good venues standing, but when there were more they all stood a little bit taller because people would go out to see shows, and not just for one specific band.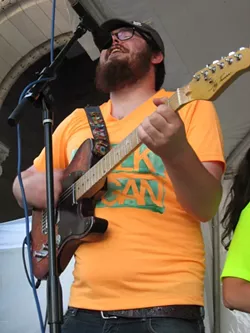 Gavin: Not including yourselves, who are your favorite acts in the scene right now?
Nick: First of all ... way, way too many to list ,so we'll indeed leave one or many out. Here are just a few who come to mind: Handicapitalist, Tupelo Moan, Juana Ghani, Hectic Hobo, Blue Moon Bombers, Mayson Lee and The Rock & Roll Space Studs, Jhon-Ross Boyce and His Troubles, What You Destroy, American Hitmen, Winters Run, The Utah County Swillers, Kiss Me Kill Me, South Of Ramona and Vena Cava. These bands all rank the Folk Hogan seal of approval.
Gavin: What's your opinion on the current airplay on community radio and how it affects local musicians?
Nick: There are some great radio stations in Utah promoting local and national music. American Musicians Radio is one great one that is based out of Salt Lake City. There are other services that allow users to create their own listening experience and be their own program directors. There have been some great events put on to help promote local music and create opportunities; more of this kind of thing would be even better.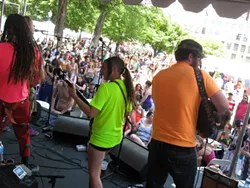 Gavin: With so many sources out there to get music off the Web, both for publicity and sharing, what are your thoughts on putting out free tracks for anyone to listen to?
Nick: We have put out, and continue to put out, a number of free tracks. We think it is a good way to get a taste of what or who we are, and if that taste makes you want more then it very affordable to get the rest of the pie. For just $4 -- a shot of whiskey -- you can feed a thirsty musician in need. For us, the best way you can support the band is to BUY the album at our website. We are label-free at the moment and all our promotion and distribution is done on a grassroots level. We will take support in any way that it can be given so our tracks are out there in many forms. We're also on iTunes, Google, Amazon, CDBaby, Spotify and about 15 other websites that are so hipster you've probably never heard of them. Making an album is very expensive, so please go buy one for $10 off of FolkHogan.com; it would help us out a lot.
Gavin: What can we expect from you guys over the rest of the year?
Nick: We will be out playing pushing our new album a lot. We are writing new songs and working on our next album already. We are working on putting together a huge event called "Trifecta" in October with Juana Ghani and Hectic Hobo; with that lineup this show is guaranteed to sell out.
Gavin: Aside from the obvious, is there anything you'd like to plug or promote?
Nick: I'd like to encourage you to support local business. Buy local beers, eat at local foods, and so on. This is very important to me, I have a lot of good friends who are business owners. I recommend you go try Union Street Eats and City Dogs -- both are food carts the whole band loves that operate in downtown Salt Lake.



| | | | |
| --- | --- | --- | --- |
| Follow Gavin's Underground: | | | |