One of my food obsessions is French fries, or frites. But, it makes me crazy that so few restaurants serve good ones, made from scratch, when it's so simple to do. The secret to a great (not just good) French fry lies in twice-cooking the spuds. --- 
Through the years, I've tried many different methods of making fries, with many different temperatures, types of oil, etc. Over time, I've settled on this one, which is really dependable and results in a perfect fry every time.
Ingredients:
Idaho potatoes, scrubbed - 1 large or 2 small, per person
Cooking oil - I prefer peanut oil
Salt
Pepper (optional)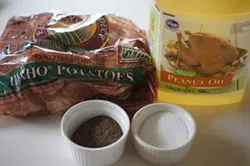 Method:
In a nutshell, making perfect fries involves four steps: Cutting the potatoes into sticks, soaking the fries, blanching the fries, and cooking the fries again.
First, cut the potatoes into 1/3 to 1/2 inch sticks. I leave the skins on and use a mandolin to cut the spuds. An ordinary chef's knife will also do just fine.
Next, soak the potato sticks in a big bowl of cold water -- anywhere from a half hour to overnight. This helps remove some of the starch from the potatoes and keeps them from oxidizing. At least one food expert -- Jeffrey Steingarten -- has done experiments and determined that soaking the spuds is an unnecessary step. It's up to you. I've tried both ways and, maybe it's just superstition, but I still like to give my potatoes a bath before cooking. 
When you're ready to begin cooking, remove some of the fries (enough for one batch) and dry them on a kitchen towel.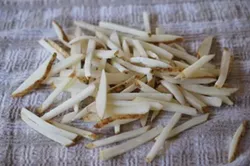 Heat the cooking oil to 280 F.
When the oil is hot, blanch the fries in the oil for eight minutes. DON'T overcrowd the fries, and move them around periodically with kitchen tongs to keep them from sticking together.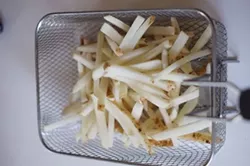 After eight minutes, remove the fries and spread them out on a baking sheet. Let them rest for at least 15 minutes, but you can also blanch the fries ahead of serving time by as much as a couple hours.
When you're ready to serve, heat the oil to 375 F.
When the cooking oil reaches 375 F., fry the blanched potatoes a second time, for 2-3 minutes, until they are golden and crispy.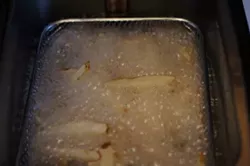 Remove the fries from the oil, shaking off the excess oil and drain them. I like to use paper grocery bags to drain the fries on. Then, I toss them quickly using paper towels to help soak up any remaining oil. At this point, I sprinkle the fries lightly with salt and (optional) pepper. 
Put the fries in a large bowl or plate lined with paper towels and serve immediately.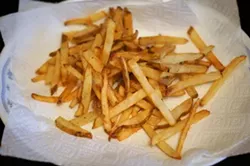 Pictured here is steak frites.