Let me begin by saying this: I don't like chocolate. At least … I didn't until now.--- It's hard not being a chocolate lover in such a chocolate-filled world. I have missed out on many friends' birthday cakes and shied away from chocolate-chip cookies. Any time I turned down some type of chocolate-filled snack, people would look at me perplexed, like I was an enigma, an alien that doesn't eat chocolate.
I walked into Tony Caputo's fine chocolate-tasting class Wednesday, June 13 ,with an open mind but low expectations. There, I was about to see the same old story: myriad women gushing over a simple candy.
I was right on one point -- the room was mostly filled with eager women giddy at the sight of their cocoa friend. Matt Caputo was standing at the front of the room about to satiate the audience with his wealth of chocolate knowledge.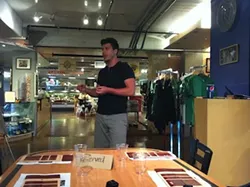 The presentation began with a crash course in chocolate history. We were taught where the beans grow (generally in tropical areas like Ecuador and Madagascar), how they were discovered (Spanish conquistadors brought chocolate to the old world after seeing it in Mayan and Aztec cultures) and the basic production of a chocolate bar (the terribly bitter beans have to be roasted, much like coffee).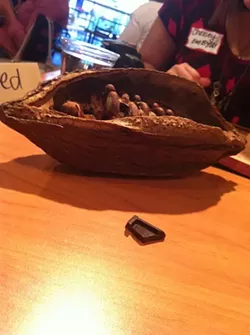 We looked at the difference between artisan chocolate and what you buy at the grocery story. I quickly learned that Hershey's is a curse word in the fine-chocolate industry. Turns out those mass produced "70 percent" dark chocolate bars really only contain about 18 percent real cocoa salts; the rest is coca butter and vanilla.
The tasting began with the average grocery-store chocolate. My only thought was, "Yup, it tastes like chocolate." I worried that the same bitter bite I had always avoided was now about to come in succession for the next hour.
Then we tried a bar called Patrick Madagascar. Caputo discussed where and how the beans were grown, and then told me the experience would be sour or acidic. Somehow, this little brown square would produce flavors of grapefruits and tart berries.
I took a bite, following the good-tasting rules outline in the pamphlet in front of me. I chewed, melted, spread and finally tasted a fruity, tangy chocolate. No, I couldn't identify specific flavors of berries or citrus, but there was definitely something there that the grocer- store chocolate didn't have: flavor.
Chocolate skeptics like me don't not like chocolate – it's impossible, with how many varieties of flavors and sensations you can have between bars. What you usually don't like is vanilla, Caputo said, and I agree; that's what most mass-produced chocolate bars are primarily made of, not chocolate.
The tasting took us through a total of six chocolates ranging from Indonesia and Ecuador to the Dominican Republic. Some featured bars were the locally made and world-famous Amano chocolate and Amedei, known by many as the best chocolate in the world. Each bar had a unique sensation, some with flavors so overpowering the taste barely resembled chocolate.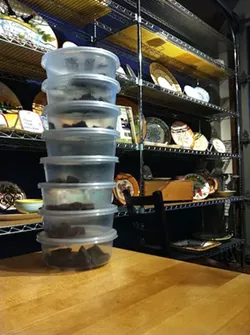 Any novice will easily find their sea legs, even if you're walking in as a chocolate skeptic, like me.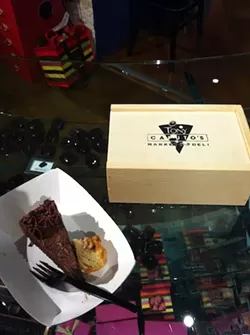 The class is generally $25, and you'll want to bring home a small box of fine chocolates that are sold at Tony Caputo's for you to impress your friends as you show them the intricacies of chocolate like a seasoned pro.