As I've written here before, a lot of the comic artists and illustrators of today can do most anything they wish from wherever they want. --- Gone are the days when you had to pack a bag and head for a coast to work for one of the two major companies or one of the dozen independent titles, as now anyone with the skillset and the talent can create works from anywhere in the world with an Internet connection and a scanner.
One of those examples would be Lee Wiley, a freelance illustrator based out of Cedar City, who has been producing works ranging from one-shoot pictures to children's books, and is currently working on a couple of comic-book titles aimed at indie release. Today, we chat with Wiley about his career and style, projects he's working on, thoughts on local comic books and a few other topics.
Lee Wiley
Gavin: Hey, Lee. First thing, tell us a bit about yourself.
Lee: I'm Lee Wiley, an illustrator who loves comics, graphic novels, and much of the like. I am originally from Burbank, California. I moved to Arizona for a bit, then ended up in Utah as a teenager. I studied art here in Southern Utah. I'm married with a wonderful wife, and two incredible boys, with another baby on the way. I've been drawing all my life, and have been doing freelance for about three years now.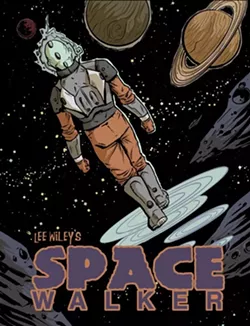 Gavin: What first got you interested in art ,and what were some early influences on you?
Lee: I can remember loving coloring books and modeling clay as a child. I remember the first comic book that I got was Batman: Death in the Family when I was, like, 6 or 7 years old, and I started getting really into comics when I was about 10 after reading through the X-Men series that Jim Lee illustrated back in the early '90s. Those comics were a catalyst that made me decide, "Hey, I want to make comics."
Gavin: What specifically drew your interest toward comics books, and what were some of your favorite titles?
Lee: I suppose what really captures my eye with comics is the dynamic storytelling and the amazing characters. I mentioned a few books already that heavily influenced me but also titles like Superman, Wolverine, Avengers, Spawn, and many others really got me hooked on comics.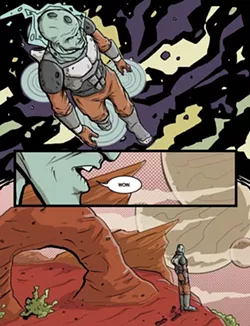 Gavin: You originally went to Dixie State College to study art. What was the appeal of Dixie that made you choose it, and what was the program like?
Lee: Well, the main appeal was that it was pretty close to home and I had earned a half-scholarship to attend there, so I figured it would be a great fit to finish my associate degree and get some foundational art classes completed, since I knew I would need to attend another university to complete my art study. I loved the art program there; I had the opportunity to work as a teacher's assistant to Del Parson and take class from all the art faculty at the time. I really enjoy the heat -- I'm a lizard of sorts -- so St. George has always been a favorite spot for me.
Gavin: You eventually switched to Southern Utah University. What made you choose SUU to finish out your degree?
Lee: Once again, location was a plus for me, but after I got to meet Ben Sowards, who heads up the illustration program there, I was convinced that this was the right choice for me and would help set me on the path to a career as an artist. Being an artist, I do not believe that attending art school in any capacity is the final step on our road of becoming an artist. I believe that we all have to continually develop and refine our talents through our personal devotion to our craft, but earning a degree in art absolutely helps with doing that.
Gavin: What has it been like for you working as a graphic designer after college?
Lee: It's been great. I started right out of graduation with a job doing graphic design and animation for LearnKey, an eLearning software company. I've been there for just over three years now, and I currently lead the design team for all the post production. I work with a group of extremely talented artists that really make what we do amazing.
Gavin: What made you decide to become a freelance illustrator on the side, and how is it for you balancing out the two jobs as an artist?
Lee: Well, two reasons. First, I want to be an illustrator full-time, and so in order to do that, I knew I had to find freelance work on the side and do personal projects in order to build my portfolio as an illustrator. The second reason is that the economy is tough right now, so it helps to find extra projects that can help generate additional income.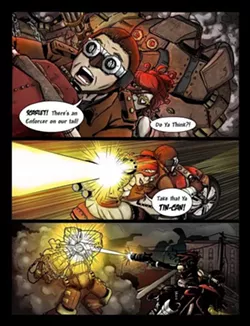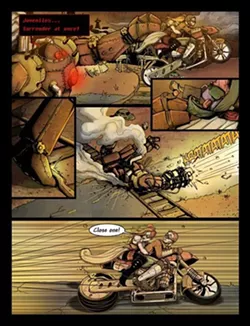 Gavin: What's the process like for you in creating a new illustration from the initial concept to final design?
Lee: I usually begin with inspiration, finding the things that will help me create this piece. That can be inspiration from my experience, from nature, and certainly from other artists. At that point, it's time to go to the drawing board and rough out ideas. When time allows, I like to share those concepts with family and friends to get feedback. It's always good to have a "circle of trust" that you can take your ideas to, to get honest feedback. This is where having other artists as friends is certainly helpful, so be sure to network with artists. From there, it is on to the final execution of the piece, whether it is a digital or traditional illustration.
Gavin: Being a freelancer, how hard is it to be a sustaining artist these days, and what advice do you have for those looking to get into it?
Lee: It's tough. Don't be an artist if you're hoping to make lots of money. If that comes, it usually does not come till much later. I count it a success if I am able to do what I love and provide what we need as a family. So, I feel that I've been able to achieve some success; my goal is to be able to do what I love as an illustrator full time. I'm not quite there yet, but I'm working on it.
Gavin: You've worked on a couple of children's books such as My Little Devil and Bradley's Crayons. How did that opportunity come about?
Lee: Those opportunities came through networking with other artists. A friend of mine, Mark Harmon, who I went to school with, told me about another artist who wanted to get a group of artists together to create an anthology of children's stories. This artist was Christopher Tupa, Chris gathered together 12 artists, originally which soon became eight. Out of those eight, we created 8: A Kid's Book Anthology. We gathered on an art forum called Illopond.com that was created by one of the contributing artists, Ben Powis. From then, we have gathered more artists into the 8 books and produced four anthologies, with more to come in the future.
Gavin: Last year, you started work on your graphic novel, Expiration Date. Where did the idea for the book come from and what made you decide to finally put it to print?
Lee: Expiration Date was created by Robert Zappia; he is actually my step uncle. He has worked in the film and television industry for over 20 years and wrote for Home Improvement, and Thunder Alley. He wrote the Sci-Fi Channel mini-series 5ive Days Till Midnight, and most notably is known for penning Halloween H20. Robert has been a supporter of my art for as long as I've known him, and in spring of 2011, he approached me about adapting his movie script, Expiration Date, as a graphic novel. After reading it, I was convinced, and the journey began to create this graphic-novel series.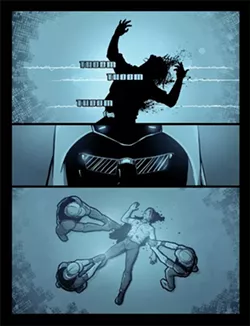 Gavin: You launched a successful Kickstarter campaign to help fund the book. How was it for you appealing to an audience who didn't know your work prior, and then succeeding at gaining the funds?
Lee: The experience was a rollercoaster, ups and downs, but the outcome was a thrill! It was tough to start with little prior known work, but between many friends and family helping to spread the word and the great help of social media, Robert and I were able to get things going with a bang, thanks to people's enthusiasm and pledges for the project.
Gavin: How far have you developed the title since that point, and when can we expect to see it?
Lee: We've finished the first issue of the five-part series that will make up Expiration Date, and I am currently illustrating the second issue. It is hard to say how long it will be until the whole series is complete; it really depends on how well it continues to perform to help fund it, and if we are able to get a publisher involved at some point. But, we are working hard to complete the entire story.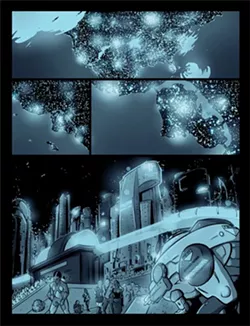 Gavin: Moving on to local stuff, what's your take on the current local comic scene and the titles coming out of it?
Lee: I don't know a lot of local comic creators, but I know a lot of small independent artists around the country who are doing the same thing. There is a market for comics everywhere -- it is just a matter of finding your audience, and that "niche" that you fit into. I know another comic-book artist here in Cedar City, Chad Hardin, who has done work for DC, Marvel, Digital Webbing, and BOOM Studios. He is a phenomenal artist, and has really shined doing books for those companies.
Gavin: Who are some local artists and writers you believe people should check out?
Lee: As I mentioned, check out Chad Hardin. Also check out Mark Harmon, Ben Sowards, Chris Bodily, Kiel Whitaker, Jemma Young, Jeremy Wilson, Michelle Lamoreaux ; there are many more, but those ones are a must.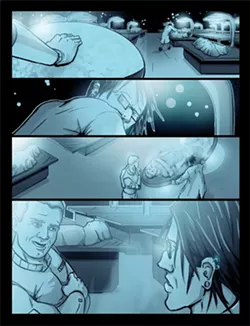 Gavin: Going national, what's your take on the comic-book industry as it stands right now?
Lee: The market is there, and much of it is going digital, but print is still popular; people will always want a print version. The market is more open to creator-owned, independent material than ever. The challenge is to stand out among the crowd and bring a story that is fresh and yet familiar enough that people will latch onto it. The use of the Internet, social media and the like has revolutionized the industry and created opportunity for anyone who wishes to put forth the hard work to do so.
Gavin: What would you say are some of the best series in print right now?
Lee: As of late, I have really gravitated more towards graphic novels and graphic-novel series. Many who know me know how I rave about what Archaia Entertainment is doing; they have some amazing books out there. Last year, Royden Lepp released the first book of his series RUST with them, and the second book comes out later this year. RUST is an absolute breath of fresh air -- stunning yet simple art, fascinating story, great pacing; just an all-around treat for any reader.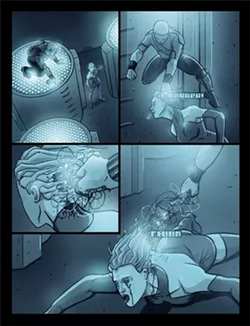 Gavin: What are your thoughts on where digital publishing is at now, and how do you see the state of comics over the next couple of years?
Lee: Digital comics will continue to rise in popularity. There are many companies producing apps for digital comics, so it is yet to be seen if there will continue to be so many apps or if one or two of the most popular will dominate the market. Comics have become so much of our society; they are like the "myths" of our day. Comics cross over into so many markets -- film, TV, merchandise, etc., so they are here to stay, as always. I think the less mainstream titles are going to get more and more attention as the years go by. Readers do want more than only superheroes in their comics, so the market is very diverse.
Gavin: What can we expect from you over the rest of the year?
Lee: I recently finished a short story for the 8 In Space anthology titled Space Walker, so I would like to also get that out in individual print this year. As I mentioned earlier, I am currently working on Expiration Date issue #2. We plan to have that available in September. I will be attending Stan Lee's Comikaze in Los Angeles in September, as well, where we plan to premiere the latest issue. I have dreams to continue my comic Exodus in the form of a Web comic, and hope that the process for that can start later this year.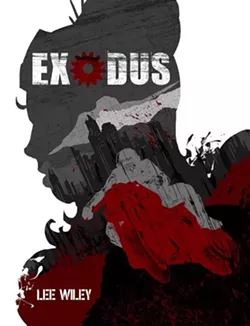 Gavin: Is there anything you'd like to plug or promote?
Lee: Come check out YourTimeIsRunningOut.com for the latest on Expiration Date, and where you can purchase your own print or digital copy of the book. Stop by Illopond.com to network and share your own art if you'd like. Check out PaperWingsPodcast.com, where my friends Chris and Lora share so much about how artists can "elevate" their comics.



| | | | |
| --- | --- | --- | --- |
| Follow Gavin's Underground: | | | |