"We plan to rock your faces off today. Are you with us?" singer-songwriter Brandi Carlile testified on Sunday night to a sold-out crowd. And she sure followed through on her promise.---
Carlile took command of the stage with her crystal-clear voice and punchy lyrics as she, sporting white suspenders, was sandwiched between her original band mates, twins Phil and Tim Hanseroth, and the rest of her crew. The show opened with a bang as each member of the six-person band jammed on a fiery intro before jumping into "Raise Hell," which ended with a solo from drummer Konrad Meissner.
It was obvious that the over 2,500 people in attendance were in love with Carlile's talent and personality --everybody was gushing all night long. As she would simply smile (OK, maybe a little flirtatiously) to a section of the audience, those pearly whites would induce roaring screams. Her connection to the female-dominated audience ran deeper than merely with the music, it seemed.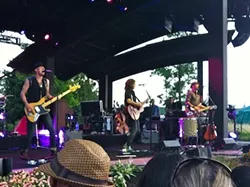 Carlile's wit came through during her in-between-song banter; she discussed playing with a symphony for the band's 2011 album Live at Benaroya Hall with the Seattle Symphony. Carlile told of her love of the symphony saying, "I think it's the most dramatic way to play music … without having feathered hair."

Carlile then played a comical 30-second version of "Total Eclipse Of The Heart" prior to settling into "Before It Breaks," which left the crowd with goosebumps, before revving up the set list again and jumping into "100." Carlile's impressive vocal cords were surrounded by an orchestra of stringed instruments including acoustic and electric guitars, cello, violin, mandolin and stand-up bass.

There was no way to leave Red Butte Garden without feeling Carlile's love for Salt Lake City. She continuously commented about the energized pack, saying, "I've been excited about the show for the whole tour. It's one of the best crowds in all the world." She later continued the thought: "We should have had two nights here …(screaming crowd) four nights here … (more screams) ... one night for each album and then add a fifth for covers (crowd goes wild)."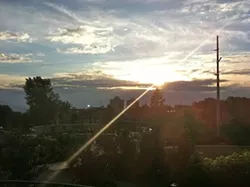 The band then found their way to the center of the stage for a ragtime version of "Caroline." Carlile said that was how they wrote and recorded most of Bear Creek, her latest album released in June.

The band members took a break as Carlile picked up the guitar and performed a solo "Looking Out." After that pleasant set highlight, the band joined her for a cover of Queen's "Bohemian Rhapsody," which turned what was in one instance a mellow concert into a full-on rock show the next, complete with flashing lights and electric guitar solos performed by both Tim Hanseroth and Carlile.


Closing the set with her 2007 hit "The Story," Carlile dedicated the song to the audience and emanated more feeling from her powerful voice than the audience could handle, leaving everyone with chills -- and some in tears.

Carlile and the band jumped back onstage for a five-song encore, which began with Paul McCartney's "Oh! Darling," and then the original tune "Pride and Joy," off of the 2009 album, Giving Up The Ghost.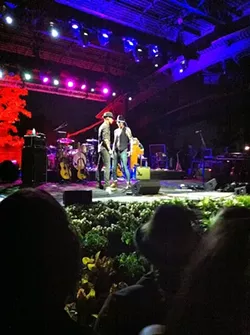 Three members left as Carlile and the fedora-fashioned twins played "That Wasn't Me," which garnered large applause as they walked off the stage. Carlile was left with just her guitar when she led the audience in singing happy birthday to the twin's other brother, Jeremy -- who wasn't introduced despite the celebrations (and probably heard the song over the phone). The evening ended with her solo version of Leonard Cohen's classic "Hallelujah," blowing the audience away with probably the most amazing display of her vocal talents of the night.
Photos by Savannah Turk