This weekend, I've got six releases to talk about, from the already released to those due on Tuesday. --- The first one on the list quietly came out a few weeks ago, and that's the latest from OK Ikumi. The solo project from Karl Jorgensen, he really burst onto the local scene last year with back-to-back full-length releases, and most recently his Aerosol EP in December 2011. It took him a little while, but now he's back with his third full-length album, Alpine Sequences. If you're looking more for the 8-bit sound, you'll enjoy this collection, as there are many parts of this that feel like a throwback to old RPG soundtracks from the SNES. You can purchase a copy in either digital or cassette format via his website.
Next up is the debut release from Mike Moran. Not a lot to really write about the Michigan transplant other than he admits to being very conservative and "too religious, probably" (his words, not ours). But since we're talking about religion and rock, Underneath This Tree will sound a little familiar to '90s rock fans with a very Jars Of Clay vibe going for it. Not much in the lyrical department, but this album was brilliantly composed by Moran and produced by Andrew Goldring. It's at least worth a listen, and you can purchase it for just $7 off his Bandcamp page.
Going into shows, we'll start with the one we know the least about, and that's Neil Myers. I'd love to tell you more about him, but Myers seems to have gone out of his way to not embrace ANY online resource or even build his own website. Seriously, I spent an hour looking; if he has something online, Google hates him. The best I could pull was the album cover for his debut release, Beginnings, Covers, & No Worries. I'm told he's folk, so if you like folk, this is probably a show you'll want to see. He'll be playing a free release show at Velour on Saturday with Stacy Stringham, starting at 8 p.m.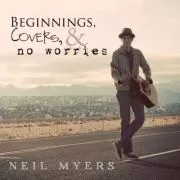 Meanwhile, in SLC, we'll see the debut release from Fat Apollo & The Cellulites. The hard-working five-piece band who cross genres like hip-hop, afrobeat and soul, to name a few, have been busting their asses in SLC since forming over two years ago. The band released the single "Party Foul" in early 2011, but have been very quiet about new material until this past spring when work leaked out of the record in the works. A Twist Of Rhyme is a mix of regular tracks and short free-form tracks with the accompaniment of tweeting birds, which makes for an interesting set on the 11-track album. It's worth at least a listen. You can hear it live and snag a copy cheap at their release show tonight at Bar Deluxe, playing along side The Chickens; just $5, starting at 10 p.m.
Moving along to Tuesday, there are a pair of "official releases," the first being the debut album from Juice Box. Not a lot to write about this band other than that they hail from Orem and have been a middle band for a lot of shows at Muse Music. The alternative rock band have produced a debut full-length album in the form of The Good Stains, which is okay as a first attempt; they have great talent but it shows that they need a lot of work. You can listen to the album on their Bandcamp but you can't buy it yet. Go check it out, as it's supposed to drop on Tuesday.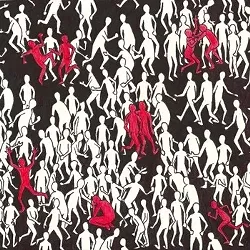 The other big release that day comes from Michael Gross & The Statuettes. The band (seen above -- photo courtesy of MG&TS) has had its lineup changes and slight tweaks to the sound over the past few years, but they've always shown growth and versatility in all their EPs and their full-length album Telepath, which came out back in the summer of 2010. Two years later with a few extra tweaks, the band is back with their second full-length album, Sunset Beach. This definitely has more of the California vibe going for it than in past records; not sure where the influence came from -- it's an interesting change of pace that's sure to get a mixed reaction from fans, but i'ts still got the MG&TS twist on rock rhythms that will hook longtime listeners. Keep an eye on their website to find out where to pick up a copy on Tuesday, as well as for tour dates on the way.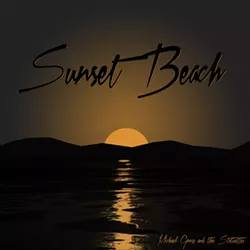 Love music, head out, buy local!