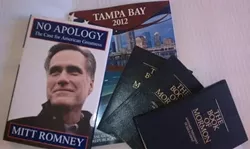 "You're from Utah?" asked the reporter. "Can I ask you a few questions about Mitt Romney?" ---
While a hurricane moved towards the Gulf Coast, a number of national journalists moved toward Utah delegates with a big question on their minds: "What does it mean to you, to the country, to possibly have the first Mormon president?" Of course, not all Utah delegates are LDS, and not all LDS delegates are from Utah. But the press figures that finding someone from Utah helps their odds of finding a Mormon.
Some delegates were surprised by this, and others came prepared. "I brought over 50 'pass along' cards," one delegate told me. These are little cards that tell about the LDS Church. Some even have the church's 13 Articles of Faith. This delegate said he has found it easy, when people ask what Mormons believe, what Mitt Romney believes, to simply give them a card. And from the airport to the hallways of meetings, he has found success sharing them.
For those who are into a little more reading than can fit on a card, I've come across a couple of delegates who came to Tampa armed with a few copies of the Book of Mormon. Their goal—to not come home with any.
I find many delegates with an interesting combination of missionary zeal and Romney zeal. Like many Latter-day Saints, they want to spread the good word. But there is an added motivation this time—to help the media and the country better understand Romney's religion, how Mitt's life has been impacted by it and to improve Mitt's chances to win. An Argentine media representative spent over an hour talking with delegates about the Mormon question last night. She was surprised by the many delegates who spoke Spanish, Chinese, German and other languages because of their Mormon missions.
New York Times reporter Ashley Parker has been assigned to follow Mitt Romney for over a year. Today, she was assigned to have "Omelets with Orrin" with the Utah delegation as they celebrated Utah's senior senator. She visited with Utah Gov. Gary Herbert and others at the event to probe about Mormon Mitt and his role in the 2002 Olympics. "It is not a myth," the governor said to reporters later in the day at a Newt Gingrich event, "Mitt Romney turned around the Olympics."
Fawn Johnson with the National Journal covered the Utah delegation service project, which was a Monday morning fun of assembling hurricane-hygiene kits. He was impressed by the "do-gooder party" of the Utah group using their day off to help. In the words of Merit Medical CEO Fred Lampropoulos, who donated the $10,000 of emergency supplies, "It's part of what I call our local tradition of helping communities."

After the service project, a different reporter muttered to Vernal resident Symoni Massey, "So, that's what we can expect."
"What do you mean?" asked Massey.
"While other delegations were partying on their day off, you guys were trying to help the potential hurricane victims," the reporter said. "That speaks volumes about Romney's faith and the community spirit that comes with it."
The only complaint at the service project was by us Ute fans who were bothered that Sean Reyes led the singing of the BYU fight song during the event (I know at least Kirk Jowers and I would have rather heard "Utah Man").
So, in the middle of this strange crossroads of religion and politics, I find that folks are not ashamed to bear their "Mittamonies." They testify that Ann Romney's husband is true, and declare their faith in him to vanquish their foes in November. This even is spilling over into the non-Utah delegations. The cheering and hollers from the audience of a sold-out showing of the new politically charged movie 2016: Obama's America here in Tampa was more akin to a religious revival meeting than an afternoon matinee at the mall.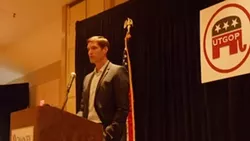 So, sing hallelujah and pass the campaign buttons! The formal convention is finally here, and Tuesday begins the political equivalent of General Conference.
(All photos by Mike Winder)

- - - -
Mike Winder is mayor of West Valley City and former candidate for Salt Lake County mayor (he came in second to Mark Crockett in the recent GOP primary race). He also made a name for himself recently writing under the infamous pen name of Richard Burwash, as a Deseret News writer, a lapse he hopes to atone for in his forthcoming reports from the RNC convention.