Forget being "under the radar" this week; all but one of this week's albums have release shows over the weekend. --- Let's check that one album off the list at the start: Officially out today is the latest album from Sinthesis. The hip-hop duo of Phaust and Phingaz.have been making music for years across several state lines, as one resides here and the other in Minneapolis. The two men have already put out three full-length albums (Product in 2005, Phree Cognition in 2006 and Movement 4:6 in 2007), as well as their most recent EP, Killing Time, in April of 2011 which received a mild response, only tempered by the fact that they had no live performances to speak of. But the duo are back with their fourth full-length album, Horseshoes & Handgrenades. The album is a definite step up from the previous venture, with obvious growth in the lyrical; it's worth at least checking out. You can download the album from the group's Bandcamp page.
Switching to releases, tomorrow we'll see the latest from Allred. The acoustic alternative-rock band out of Provo led by namesake front man John Allred took about about a year to comprise their latest venture. Aside from playing around the state in support of their 2010 full-length album All We Are, the group cranked out the Come Back EP in May 2011 and their fourth album, Covers, later that September. Not to shy away from the challenge of keeping a release coming every year they're together, the group (seen above, photo via Allred) have put together third official full-length album -- self-titled -- with the band lineup currently comprised of Trent Michael, Tate Law, Sheyn Love and Tanner Stevenett. The album shows some growth, but sticks to the Allred style of songmaking that's kept them slightly outside the folk-rock norm. You can snag a copy for yourself at their release show on Friday at Velour, as the band plays with VanLadyLove, Sam Lee and Littlebigheart. Just $6, starting at 8 p.m.
A lot of people are interested in the release at Liquid Joe's happening on Friday, but you know what? The guy releasing an album isn't from here. In fact, he's from Palm Beach. So, I'm skipping over that show and going to the one happening at The Urban Lounge with Settle Down. The five-piece hard-rock band are made up of local rock and metal veterans of SLC including Eric Rose, Jeremy Conder, Alex Johnson, Taylor Orton and Dreu Hudson. The band have only existed just over a year but have already earned one hell of a following from loyal fans of their previous bands. Now, the group have teamed up with fellow SLC rockers Sure Sign Of The Nail to put out a self-titled 7" split. Considering that the band sprung for vinyl, I'd pick up a copy before they fade away. You can purchase a copy tomorrow night, as the band will be playing with Cornered By Zombies and Gunner at Urban. Just $5, starting at 10 p.m.
Moving on to Saturday, I'll start with an interesting release over at the Rose Wagner with the latest album from Red Rock Rondo. The band are a six-piece chamber/folk ensemble hailing from different parts of the state. But don't let the music or the packaging fool you, these guys have seen success hitting national charts in their genre, and have even won regional Emmys for their work on PBS stations. The group's latest album, A Secret Gift, is a symphonic story said to be inspired by letters found during the Great Depression in response to an unknown "Santa" of sorts, who helped some people on Christmas Eve, 1933. You can see it performed live Saturday night at the Rose Wagner and pick up a copy, or if you can't make it, snag one at CD Baby.
Next up is a fine venture into local hip-hop from the nerdcore emcee Atheist. One of the rising names in the rap-battle scene, his debut album, Thanks For The Burgers, was essentially created after being asked too many times for music by fans and not having anything to give them. Rather than just throw something together, he went all out and collaborated with more local names and profiled producers than you could shake a sack of burgers at. The album includes Fisch Loops, Yze, Lauren Hoyt, Diggabeatz, Vitabit, Yung Rip, Mike Booth, Lefty 2 Gunz and Wes Thompson, to name a few. You can snag a physical copy at his release show at The Pickle Factory as he performs with Rotten Musicians, Show Me Island, Dine Krew, and Drew Danburry. Just $5, starting at 7 p.m.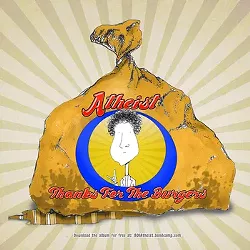 And then finally, in Provo, we'll see the debut album from Satan Came Tempting. The Lehi-based rock duo is comprised of Justin Robert Lindsay on guitar and vocals and Taylor Frank Carter on drums,and they have been playing around the Utah County area for the past year. The two men have been working hard to craft their debut EP, Dyslexic Diary, which you can essentially listen to most of it on their Facebook page already, as the band has little intention of selling it. You can pick up a free copy at Muse Music on Saturday, where they'll be performing with Erik The Red, BB Gun and The Weekenders. Just $6, starting at 8 p.m.
Head out, love music, buy local!!!