The letterpress community has really taken off in Salt Lake City over the past couple of years, as people have been seeking quality over price when it comes to their business or special occasions. --- But where most would consider doing the work in their basement and saving on the cost, we're seeing a lot more printing shops pop up across the city and become artistic hubs that brighten up some of the oddest locations in the area.
Take, for example, Ink Run Press, run out of the basement of an old church in the Avenues by artists Ashley Smith and Shannon Petty. Their combined efforts and unique designs have made them a favorite in the community, and also a well-publicized duo through events like Craft Lake City and the Farmers Market. Today, I chat with the duo about their business and artwork, plus thoughts on the craft scene. (Photos courtesy of Ink Run Press)
Shannon Petty & Ashley Smith
Gavin: Hey, Ashley and Shannon. First off, tell us a little bit about yourselves.
Shannon: I grew up in the Avenues of Salt Lake and went to West High, so it is nice to be back working and living here again. I love Utah and the outdoor recreation it has to offer: skiing, hiking, biking, water sports, etc. After getting my bachelor's degree, I lived in the UK, where I received an MA in Poverty and Development. I am very interested in the world, the people of the world and their plight in it.
Ashley: I grew up in Centerville, and ended up in downtown Salt Lake just after college. I am a graphic designer with an illustration background and have worked freelance since graduating with my bachelor's degree in 2007, honing my skills by working for various small businesses designing logos, branding, websites and, more recently, home-decor products. My love of painting and design led naturally to becoming quite obsessed with learning as much as I could about letterpress printing. It seemed like the perfect marriage of traditional techniques mixed with modern design.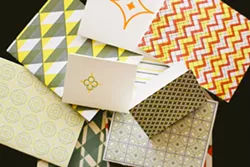 Gavin: How did each of you take an interest in art and crafts, and what were some early influences on you?
Shannon: Opportunities to be in a creative atmosphere was very important to my interest in art. I love hands-on experiences and learn the best in a hands-on environment. My mother is very creative and always had endless projects to do. And my junior high art teacher got me interested in a more formal setting by encouraging my creativity.
Ashley: I would say my family was the most influential in my artistic development. My grandmother was a painter, my father a writer and quite a few of my siblings are artistic and musical. We are a very artistic family. They all encouraged my interest in art and drawing and fully supported the uneconomical choice to be an art major. It's easy to choose what you love with that big of a fan club. Plus, I think they don't mind having a designer at their beck and call. Also, my husband, Robbie, is the best supporter of any artistic venture I want to pursue. I'm lucky to have that backup when things get rough. As far as influences go, my first painting influences were Rockwell, NC Wyeth and other Golden Age illustrators. As I geared more towards design, I became influenced by Paul Rand and his love for minimalism. I always feel like I need to simplify and his work inspires me to scale things back. Also, there are numerous contemporary designers that inspire me to do more and create more, like Jessica Hische, Kelli Anderson, Javier Garcia and Ryan Gury.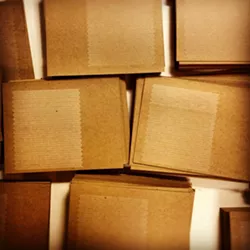 Gavin: Education-wise, which colleges did you each attend to learn your craft?
Shannon: I studied visual arts at BYU and got a BFA in studio arts with an emphasis in printmaking. We had to take all kinds of classes including painting, drawing, ceramics, sculpture and, of course, printmaking. I had the opportunity to study art and art history in London with professors Gary Barton, Jennifer Barton, Joe Ostraff and Mark Magleby, and to do lithography -- a type of printmaking -- with Wayne Kimball. Each of those professors had a large part in my development as an artist. I also took a letterpress class at the University of Utah.
Ashley: I received my BFA in illustration from BYU-Idaho and attribute my incredible professors there with teaching me the elements and principles of design. Although I have a formal education, I believe all artists are "self taught" in some way, shape, or form. College merely gives you the tools necessary to know how to continue learning for the rest of your life. I am constantly trying to improve my skills and hone my expertise.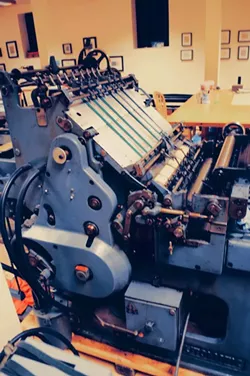 Gavin: What made each of you take a specific interest in letterpress, and how was it learning the trade?
Shannon: I am interested in all forms of printmaking. Letterpress is interesting because of its relationship to type and the development of producing the printed word, and how that evolved. Truly understanding and appreciating letterpress printing begins with understanding old machines and how they work and understanding how to set type. It is a long process. Letterpress today fuses art, design, type and the skill of printing. It makes it a great medium for producing unique handmade paper goods.
Ashley: As a designer, you can't turn around anywhere without something gorgeously letterpressed hitting you in the face. I think designers naturally gravitated to this form of reproduction because it gives them a chance to feel like they can break away from the sterile digital-ness that naturally accompanies most printwork. It also gives some form of hand crafted-ness to such a technology-based trade. I felt like it bridged my love of painting and drawing and my love of design and incorporated them into products that I can share easily with my family and friends. Shannon is definitely the stronger printer than I, with an eye for detail and a perfectionist attitude, which leads to beautifully executed prints, but I love the process and learning all the small details that really make a wonderfully printed piece successful.
Gavin: When did the two of you first meet each other and become friends?
Shannon: We met through mutual friends and from living in the same area. We became friends at the same time the idea to work together was presented to us. We talked about it casually once, and it wasn't until a year later when we knew each other a little more that it was a more serious consideration.
Ashley: We had a mutual friend who knew we both loved letterpress and thought we could help each other out. With Shannon's background in printmaking and mine in design, we naturally thought we would be a good match. Then it just became a matter of acquiring a press and taking a stab at our own designs.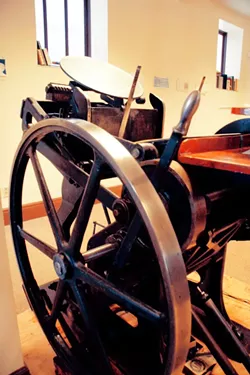 Gavin: How did the idea come about to start up a letterpress business together, and where did the name come from?
Shannon: It is interesting that both our little letterpress venture and our name originate from our big press we call "The Beast." And it really is a beast, but it is somewhat tamed now. The press is a Frontex Automatic. On the side of the press, it has settings "Ink," "Run," "Print," and "Press" so you know how high to move the lever to have it do what you want it to. I liked that the word Run is a play on words relating to printing, having a "run of prints" and also the personification that the printing and the images take on their own life and freedom as the ink runs to create the image.
Gavin: How did you come across the church in the Avenues, and what made you decide to set up shop there?
Shannon: We had a press in Ashley's garage, one downtown in Scrub Oak Bindery and one which had been recently purchased and was waiting to be pulled out of a basement where it had been for over 40 years, and all of them needed a new home at the same time. I had always wanted to go into the church, and when I saw a for-lease sign outside, we went to look at it. It is a beautiful space with stained-glass windows, but is also versatile, having a storage space, a kitchenette, and a bathroom with a utility sink. It was the utility sink that sold me.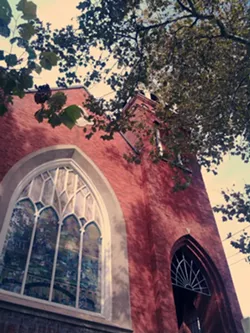 Gavin: What was it like for you starting up the business and what were your first few months like?
Ashley: The first was very difficult. Starting with acquiring "The Beast," we slowly worked our way through a cold and very dreary winter in my lowly lit basement garage. We experimented through reams of paper trying to master this machine and had more failures than successes. It wasn't fun and definitely had us second guessing this new endeavor. Things looked up when we acquired a second one, a Vandercook 3 hand-cranked press. The acquisition of the Vandercook, along with a much warmer spring and summer, brought us to participating in the SLC Farmer's Market during the summer of 2011, selling handcrafted one-of-a-kind paper goods every Saturday. After finding our third press, the yet-to-be-named Chandler and Price, we realized we needed a place and the search for a studio began. Hurried along by an unfortunate flood in my basement and a stroke of good luck, Shannon found the beautiful historic church in the heart of the Avenues, our ideal location for a studio space.
Gavin: What's the process that goes into creating your works, from initial concept to final press?
Ashley: We first start off with an idea or concept while discussing what kind of cards or prints we want to create. We both sketch and collaborate with ideas, then I bring our designs into the computer to finalize it. It is then sent off to a company that makes films or negatives of our design for us. These films are then brought to the studio, where we expose the films onto photo-polymer plates -- a process used to quickly create a new version of old metal designs or type. We then place this plate on the press, mix up our ink colors, ink up the press and then run high-quality cotton paper through it. The cotton paper is soft and pliable, making it the perfect foundation for the plate to leave its impression. The pressure of the press and the ink are what press into the paper creating that textural aesthetic that places letterpress apart from other printed goods or more modern digital methods. It's a highly rewarding, labor-intensive process which produces beautiful, artistic stationary and artwork.
Gavin: How much of your work is done traditionally, and how much has branched into modern press tools?
Shannon: It is the creation of the images that is not a traditional technique, but it, too, is becoming a lost art. There aren't many places left that will make the negatives we use to expose the photopolymer plates. We do use traditional typesetting and dingbats sometimes, as well as creating our own images. From there on, it is all traditional printing for the most part.
Ashley: Our process is an interesting mix of traditional techniques with modern technology and design. It is a way to continue to keep letterpress alive, all while maximizing efficiency. We are able to use each aspect to its strength. Computers for design, hand-drawn illustrations for quirkiness and vintage presses all blend into one-of-kind handcrafted stationery and art. I love that the innovations and strides made in this trade allows us to keep this form of printing going yet also be applicable to the modern consumer.
Gavin: The main item you specialize in is greeting cards. What made you choose those as your mainstay item, and how has it been for you creating different designs and patters with your own style and branding?
Shannon: Greeting cards are both utilitarian and design-oriented. They are something that people want and can use, but still an open-ended format for us to design. It sometimes gets overwhelming to try to get all of our ideas executed. I feel like we are just getting started. Sometimes we make things individually, and some of our designs are a discussion before and become a fusion of ideas after. There is some play in the printing, as well, and sometimes we aren't sure exactly how they are going to turn out until they are done.
Gavin: Being a letterpress shop, you also take in a lot of custom orders. What are some items you've created for people since starting, and what other letterpress materials are you able to make custom?
Ashley: We have done a lot of wedding announcements, as well as invitations and baby announcements. We love doing business cards and helping local businesses grow. We also recently did a family-motto typography piece, which springboarded a new line of typography posters that we will be soon selling at the farmers market. We offer design and printing, but if anyone comes to us with something they designed themselves, we are happy to print it for them. I would personally love to do some custom packaging or other more extensive letterpress projects, such as a book.
Gavin: What were your thoughts on the most recent Alt Press Festival and seeing others sell somewhat the same craft?
Shannon: It is fun to see what others are doing that is similar or the same medium in different ways. Often, we ask each other how something is printed, on what paper, etc. It is fun because even if you use a similar image or idea, things turn out different.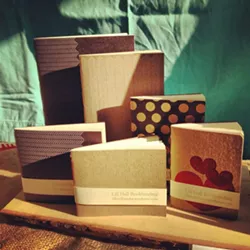 Gavin: Do you have any plans to expand beyond what you're doing now, or are you happy with what you've got going on?
Shannon: We just both have a lot of ideas of images and things we want to create. It is hard to break it down and decide what to do first. Right now, we are working on a series of posters. We would also like to get into selling our cards wholesale to both small and larger businesses that would like to sell them. I think we would both like to also spend more time on some personal projects. I think the ultimate goal has always been to use this as a way of giving us the freedom to work on our own fun projects. We have had multiple shows displayed in our studio and we will continue to do that. I also taught art classes to kids this summer and we will probably continue doing some classes for kids and adults in the future.
Gavin: Moving on to local things, what's your take on our local craft scene, both good and bad?
Ashley: Having been to a few art fairs in different states, I think the Utah craft and art scene is thriving. There are a lot of creative people here with great ideas. Utahns are an industrial and innovative people, which naturally leads to some of the best kind of ventures. Also, there is a community that seems happy to support local creatives and buy our work. I love that we get great turnouts when we have gallery shows or small weekend sales at the shop. I love Salt Lake City and the people here. I do think that there is room for growth including more frequent events like Craft Lake City or Alt Press Fest. Craft Lake City, for example, has become a great place to meet other local artisans and they do an excellent job at curating a great group of people, plus there is a fantastic turnout by the community. We would love to see more events like that.
Gavin: Is there anything you believe could be done to make it more prominent?
Shannon: I think there are a lot of different things going on that are really great, especially that promote the craft side of things. What I think is needed are more contemporary-art spaces and appreciation for it. There are some places that really promote local, national, and international contemporary art, but there could be more here in Utah.
Ashley: More acknowledgment by the local media would be great. A few radio stations and local publications advertise these local art events, but I think it could be expanded.
Gavin: Who are some other print artists and crafters you believe people should be checking out?
Ashley: Obviously, the local letterpress printers we like to promote. Tryst Press's Rob Buchert has been great in supporting us and helping us get started. Mandate Press's Ben has been so helpful and always been happy to help us troubleshoot or give us advice. Sycamore Street Press with their unique style and accomplishments. University of Utah Book Arts department has done so much to promote letterpress printing and bookbinding. Saltgrass Printmakers have a wonderful system that allows printmakers to work and collaborate together. We share our studio space with Lili Hall Bookbinding. She is a local, highly skilled bookbinder and book conservator who we collaborate with often. Her books are outstanding, and she is a very talented and skilled craftsman. Her husband, Michael, has also been very helpful getting our shop set up and maintaining it.
Shannon: Some other artists to check out ... Jean Richardson, an installation artist who also teaches at BYU; Erin Fox, who is working on a few documentaries including one about Fascinating Womenhood; Anna Laurie Mackay; Fidalis Buehler; Emily Fox; and Jared Lindsay Clark.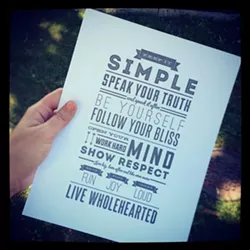 Gavin: What can we expect from both of you and Ink Run Press over the rest of the year?
Shannon: We are working on creating new lines of greeting cards, specifically, our upcoming line of Christmas cards. Along with the typography posters, we will probably branch into more large-scale projects and posters. We would love to get to the point that we can work on personal design and printmaking projects. We are excited to work on some new ideas with Ashley's husband, Robbie, Lili and Michael and our friend, Jean Richardson.
Gavin: Aside from the obvious, is there anything you'd like to promote or plug?
Ashley: We will be at the Salt Lake City Farmers Market this weekend along with Sept. 29, so come see our new products! We are also having a sale coming up on Saturday, Sept. 22 from 2-6 p.m. at our studio, 287 1st Avenue in SLC. We will be having another art show at the studio sometime in November or December, as well. If you would like to join our mailing list, e-mail us at inkrunpress@gmail.com with your name and e-mail and we will send periodic updates on events happening in and outside the shop. Also, our new website should be up and rolling soon! So, check back often for new products, local events and more!
| | | | |
| --- | --- | --- | --- |
| Follow Gavin's Underground: | | | |