Hello to all you pink-tie-wearing, pink-pants-donning, pink-shirt-stretching, pink-gum-chewing, you-think-there's-a-theme-here enthusiasts! --- If you hadn't noticed, today I'm changing things up a bit for this post with a different shade on the logo. Occasionally, you see organizations like the NFL do this in support of other causes like breast cancer, which is a great campaign that helps, but that's not what this one represents. Today is the Pink Dot Utah event at Jordan Park, and in recognition of their work, I'm thinking pink for the next 24 hours, on here and the social networks. Come join the cause later today at Jordan Park around 4 p.m., and remember to wear pink!
Getting on to other events, this Monday, the Salt City Indie Arts takes over Mo's Bar & Grill for an evening of slam poetry as we see the next installment of Put Your Mouth Where The Word Is! The month, the 2012 Grand Slam champion, Gray, will be on hand before he represents SLC in the Individual World Poetry Slam in Fayetteville, Arkansas, next month. And comedian Cody Winger will be on hand to host the open mic and next round of competition featuring Bill Galarza, Jesse Parent, K Lu Quibelle, Rebeca Mae, DeAnn Emett, RJ Walker, Dave Alberti, Nick Shifrar and Shem Greenwood. Just $5, kicking off at 8 p.m.
The middle of the week gets bogged down mostly with concerts, but then Friday it picks back up with the next Poor Yorick Open Studio -- one of the few chances you get every year to go check out over 50 artists in the private South Salt Lake studio space as the majority of its residents open their doors for you to check out the artwork inside. Sadly, this is only happening on ONE night instead of two this season, Sept. 28, from 6-10 p.m. Best head down and check it out while you can.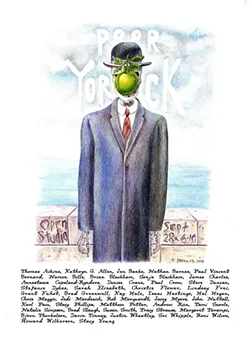 Moving to next Sunday, Sept. 30, The Garage will play host to the Rip and Tear Skateboard Rally. Skateboarders will gather at the "hottest bar in town" and ride to Oakley Park to hang out and show off their skills, then back to The Garage for a BBQ. Grab your board and enjoy one of the last skate events of the year before it gets too fuckin' cold to do anything!
Later that night over at Brewvies Cinema Pub, the Geek Show Podcast will take over the big screen for another installment of the Geek Show Movie Night. This month, and in fact this particular day, is panelist Shannon Barnson's birthday! And to celebrate, Barnson has picked out two of his favorite blaxploitation-parody films: Black Dynamite and Pootie Tang. The films are absolutely free, but the food and drinks are not, and remember to tip well! The first movie kicks off at 5 p.m. (Note: age 21+).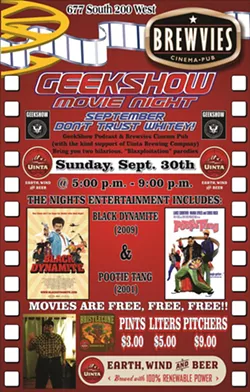 Headed into October, the start of the workweek looks a bit dull; in fact, there's not a lot of major non-concert things happening until we roll into Oct. 4, and that's up in Layton. The Hive Gallery will hold another one of its 24 Hour Art Shows and want as many local artists to participate as can. The rules are simple: You pluck down $15 for a 12x12" wood canvas and create a piece of art in that frame within a day, then bring it back to the gallery for an exhibition and auction. You can hit up its Facebook event listing for complete roles and guidelines. Good luck to those who participate!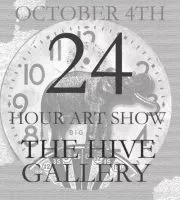 Then on Oct. 5, Provo becomes a hotbed for art and entertainment. I know, some of you are reading that and doubting, but check this out. The first Friday of the month is Provo's Downtown Gallery Stroll, where local galleries show off work just like ours did this past Friday. While that's happening, SceneSister.com will be presenting the Downtown Provo Dance Walk. Staring at 6 p.m. on the corner of State and University, the group will gather to dance around downtown. They'll bring the music and the water, you bring light clothes and the moves. Check out this entry from the Sister last month to get complete details on the event.
And once i'ts all finished, head over to the Provo Town Square parking terrace for the final Rooftop Concert Series showcase. This month, they're featuring one of Provo's most acclaimed projects, The Lower Lights, as well as The Folka Dots and Seafinch. As always, the show is absolutely free, with music kicking off at 7:30 p.m. This is the last one of the year, so head out and make it a damned fine one!!!
As for the blog: Over the next couple of weeks, I'll look at this past Gallery Stroll, have some local concert coverage, check out a popular podcast on the rise, chat with a local poet of national acclaim, examine some unique jewelry and preview the RDT season opener. At least, that's the plan. As always, we'll see what happens.
| | | | |
| --- | --- | --- | --- |
| Follow Gavin's Underground: | | | |