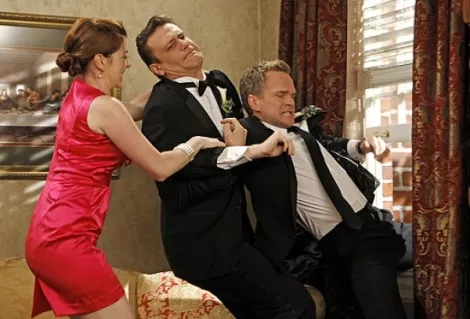 What's new on the overloaded tube tonight:
How I Met Your Mother (CBS) Season Premiere: Barney and Robin prepare to get married … what the shit? I stop paying attention for one season and this happens? And Victoria's back, too? Grrreeeaaat.---
Partners (CBS) Series Debut: Read all about it in True TV (Item 1).
Castle (ABC) Season Premiere: At the end of last season, Castle and Beckett finally did the nasty—now what? Probably nothing stupid like getting married (ahem, HIMYM).
Also new tonight:
Dancing With the Stars: Season Premiere (ABC); 2 Broke Girls, Mike & Molly, Hawaii Five-O: Season Premieres (CBS); The Voice, Revolution (NBC); Bones, The Mob Doctor (Fox); The L.A. Complex: Season Finale (The CW); The Real Housewives of New York City, Gallery Girls (Bravo); Major Crimes (TNT); Anthony Bourdain: No Reservations (Travel); Switched at Birth (ABC Family); Inbetweeners, Ridiculousness (MTV); Warehouse 13, Alphas (Syfy); Here Comes Honey Boo Boo (TLC); The Bad Girls Club: Mexico (Oxygen); WWE Monday Night Raw (USA)