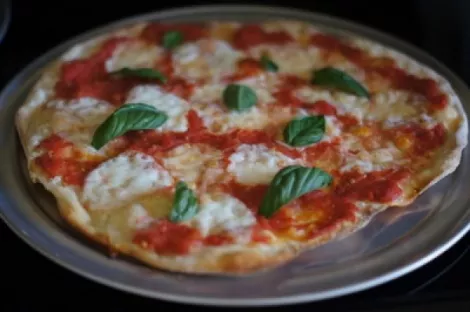 One of my all-time-favorite pizzas is the Margherita, which is so famous in Naples, Italy, and elsewhere, including France. Truly authentic Margherita pizza is quite simple --- and made with nothing more than flour, yeast, sugar, water, tomatoes, fresh mozzarella and fresh basil. This recipe is my attempt to capture those authentic Napoli-style flavors at home.
One secret to making ultra-crispy crust is to allow the pizza dough to sit overnight in the fridge. If you don't have time for that, you can make the dough the same day you plan to use it.
Also, a couple of specialty kitchen items are really helpful when making pizza at home: a pizza paddle, and a pizza stone for your oven. I highly recommend investing in both. You can find them at restaurant-supply stores here, like Bintz.
Ingredients:
1 1/2 cups unbleached flour, preferably the "00" flour used in Italy. You can find 00 flour at Caputo's and Zucca Market. All-purpose King Arthur flour also works well.
1 tsp. active yeast
1/2 tsp. sugar
1/2 cup plus 2 Tbs. warm water
1/2 tsp. kosher salt
28 oz. can of good quality Italian-style tomatoes, preferably San Marzano, whole or crushed. I especially like Strianese-brand crushed San Marzano tomatoes when I can find them.
8 oz. fresh mozzarella balls, cut into thin slices -- bufala mozzaarella is best, but any fresh mozzarella is good.
fresh basil leaves, 15-20
Extra-virgin olive oil
Method:
First, make the pizza dough. The recipe that follows makes two thin-crust pizzas, about 10" each. Note that you'll need to begin the dough a minimum of 6 hours before you plan to cook the pizza.
Mix the warm water with the yeast and sugar. Make sure the water is warm, not hot -- hot water can kill the yeast. Allow the yeast to proof for about 10 minutes until it bubbles and foams a bit.
Place the flour, salt and yeast mixture into the bowl of an electric mixture. (I also sometimes use a food processor when making the dough. Or, you could simply use your hands.) Mix the dough on the lowest speed for 2-3 minutes, until it forms into a mass. Don't overwork the dough.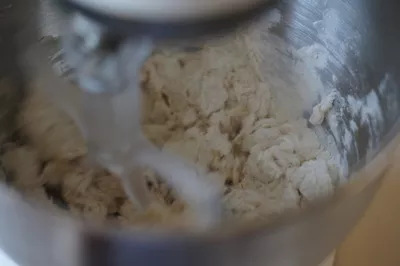 Shape the dough into a ball and place into a large bowl coated with olive oil.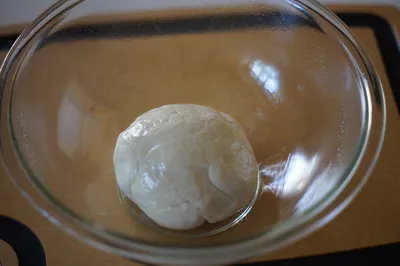 Cover the bowl tightly with plastic wrap and allow to sit at room temperature for two hours.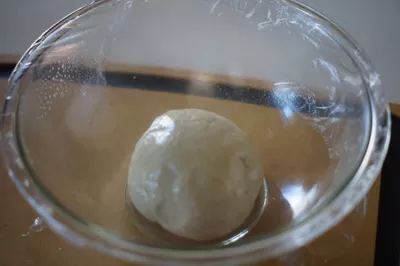 After two hours, the dough should have risen and plumped up considerably.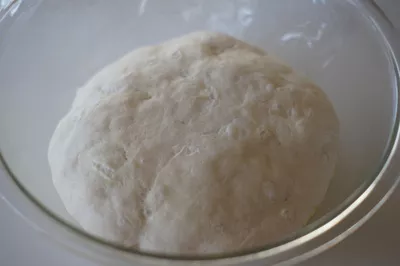 Punch the dough down, cover the bowl again with plastic wrap and place it in the refrigerator for at least two more hours. You can leave it in the fridge overnight or even longer for a super-crispy crust.
Two hours before you're ready to make the pizza, remove the dough from the fridge and punch it down again.
This would also be a good time to heat your oven -- as high as it will go. My home oven maxes out at 550 F., but that's hot enough to provide a good crust.
Also, I strongly suggest getting a pizza stone for your oven -- this helps with getting the crust crispy. For a few bucks, I had Home Depot cut a large piece of tile to fit my oven rack.
While the oven is heating, prepare the tomato "sauce." I simply drain the tomatoes and place them in a large container and then crush them in my hand, pouring off any excess liquid. The tomatoes will be chunky -- not very "saucy," but that's how you want them.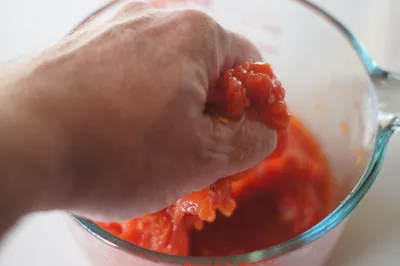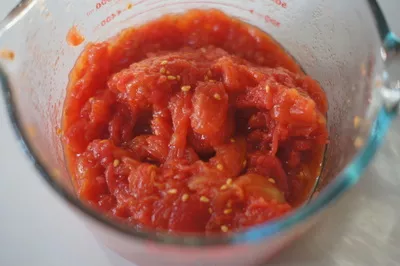 Divide the dough into two equal-size pizzas and reform them into balls.
On a large pastry board dusted with flour, roll one piece of pizza dough out until it's very thin, about 10 inches in diameter. Place the rolled-out dough onto a pizza paddle dusted with cornmeal. Don't worry if your pizza isn't perfectly round; mine never are.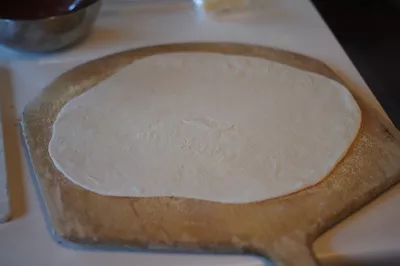 Spread half of the crushed tomatoes as evenly as possible over the pizza crust.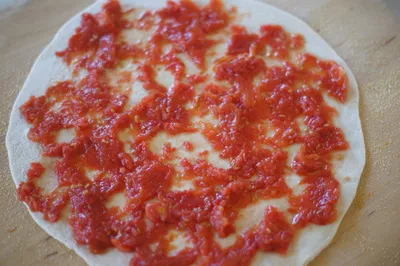 Next, distribute half of the mozzarella slices evenly over the pizza. Drizzle with a little olive oil
Slide the pizza onto a preheated pizza stone and cook until the crust is lightly charred and the cheese is melted and bubbly. Depending on the temperature of your oven, this normally takes 6-10 minutes.
When I cook pizzas outside on my Big Green Egg at around 950 F. the cooking time can be as little as 2 minutes or so.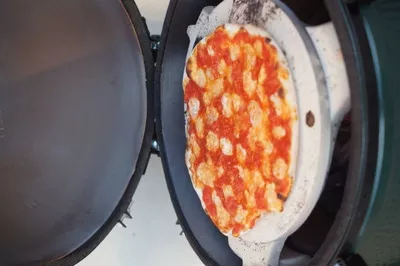 Remove the cooked pizza from the oven using the pizza paddle and distribute half of the basil leaves onto it.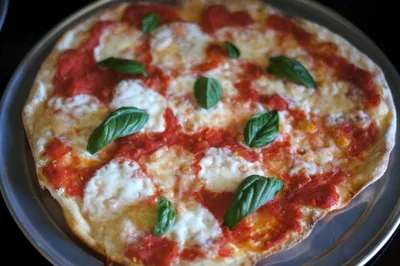 Repeat the process for pizza #2.
(Note: As I said, I like my Margherita pizzas very simple and straightforward. However, it's not unusual for folks to add garlic, oregano, or other favorite ingredients to the sauce. So, feel free to experiment.)
Mangia!
(Photos courtesy of Ted Scheffler)