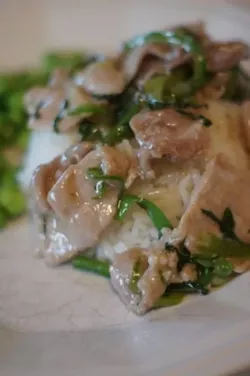 This is one of my favorite stir-fry dishes -- a quick-cooking melange of pork, peppers, scallions, basil, garlic and a few other ingredients. The entire cooking time is under five minutes. --- So, I recommend getting all your ingredients prepped and ready in advance because things happen very rapidly once you start cooking!
The recipe is a variation of one I learned many years ago in a cooking class with Martin Yan, the host of the PBS series Yan Can Cook. It's a keeper, a meal I make often since it's inexpensive, easy and fast.
Ingredients:
3/4 lb. thinly sliced boneless pork
3-4 garlic cloves, minced -- about 1 Tbs.
2-3 jalapeno or serrano chiles, stemmed, seeded and cut into thin slivers
3-4 scallions, cut into 1-inch pieces
1/2 cup chiffonade (cut into thin ribbons) basil leaves -- use Thai basil, if you can find it

1 1/2 Tbs. Thai or Vietnamese fish sauce (nam pla)
2 Tbs. water, chicken broth or vegetable broth
1 tsp. sugar
1 1/2 tsp. cornstarch dissolved in 1 Tbs. water
2 Tbs. vegetable, canola or peanut oil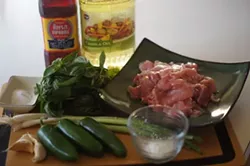 Method:
Heat a wok or large skillet over high heat until very hot. Add the cooking oil, swirling to coat the sides of the wok or pan. Add the chiles and garlic and cook, stirring, for only about 10 seconds. Be careful to not burn the garlic.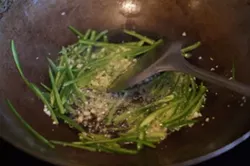 Add the pork slices and cook, stirring, until no longer pink, about 2-3 minutes.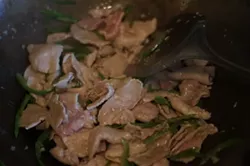 Toss the scallions and basil into the wok and continue to stir-fry, about 30 seconds.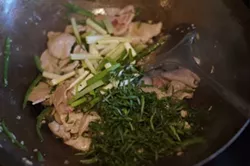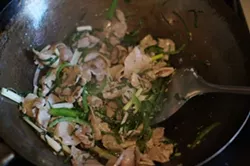 Add the sugar, fish sauce and broth or water and continue stirring.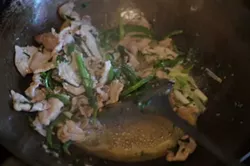 Add the cornstarch solution and mix well. Continue to cook until the sauce thickens, another minute or so.
Serve with cooked rice.

(Photos by Ted Scheffler)