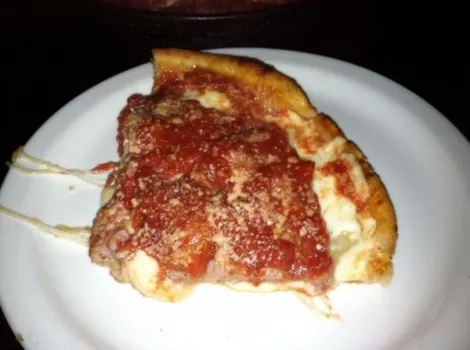 Chicago is a big city that can also be friendly and easygoing. There are multiple highlights when visiting, including some fantastic food ranging from the fast to the gourmet. Here's where "ya gotta eat!" ---
We were able to do our own impromptu food tour along Ontario Street, starting with the iconic "Chicago Dog" at Portillo's. What makes the Chicago version of the American classic unique is that it's served on a steamed poppyseed bun and topped with tomato, pickle slice and peppers to go along with bright-green relish and the other usual garnishes. As one local put it, "It's a hot dog with a salad on top."
Another local favorite is the Italian Beef Sandwich; we tried ours at Al's Beef. Order it "sweet" (the type of peppers) and "dipped" (dunked in beef juice) and sit down to eat it since it's a delicious concoction that requires at least five napkins to finish.
Chicago's best known food is deep-dish pizza, and two legendary spots to find it are at Gino's East, which you can find on Ontario Street and other locations, and Lou Malnati's, where the dish is so deep it takes 35 minutes to cook, but is well worth the wait as you bite into layers of cheese, sausage, tomatoes and a buttercrust at the bottom.
The city is famous for the gangster exploits of Al Capone and others during the Prohibition Era, but when it was over, the first post-prohibition liquor license in the city was issued to Berghoff's German restaurant. They have the license, with the No. 1, on display to enjoy while munching on the sausage and schnitzel four generations of the family-run business have been serving since 1898. They also make a variety of their own in-house beers, which can be ordered by the glass, pint or even in a flight.
There can hardly be anything better on a Sunday morning than hearing a gospel choir sing a classic like "Ain't Nobody Do Me Like Jesus," which makes you want to shout, "Hallelujah!" The only thing that's better is if you can eat a great buffet featuring Southern classics like fried chicken and grits while you're listening. The magnificent combo of food and music is found every Sunday at the House of Blues Gospel Brunch.
If you're looking for a unique experience, Chicago is loaded with options like Lawry's The Prime Rib. After Lawry's was established for decades in Beverly Hills, the family's first venture outside of California was in Chicago in 1974. What's fun about this restaurant is that the menu is very focused and sends the message, "Here's what we do better than anybody else -- let us do it for you." Practically everything is prepared and served table-side, from the carving of the Prime rib to the salad in the restaurant's famed "spinning bowl" to even a hot-fudge sundae made to your specifications for dessert.
Chicago is a big and bustling city, but it serves plenty of great food -- from hot dogs to high end -- that makes you want to sit down and enjoy yourself.
The Travel Tramps write regularly about their treks near and far in City Weekly and host the Travel Brigade Radio Show.