Repertory Dance Theatre's season is in full swing, but for the next production, the company will be taking a few steps back to highlight the very art that got it where it is today. ---
Time Capsule: A Century Of Dance
takes a narrated look at 100 years of dance, examining various forms and performances for most of the 20th century and into the modern era from legendary choreographers and performers of our time.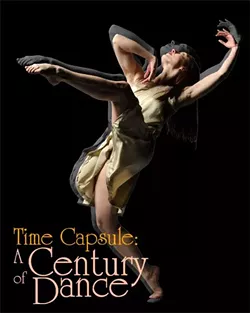 Today, I chat with a couple old friends of ours, dancers Aaron Wood and Sarah Donohue, about the production and their work on it, as well as their thoughts going into tomorrow-night's opening performance. (All pictures courtesy of RDT.)
Sarah Donohue & Aaron Wood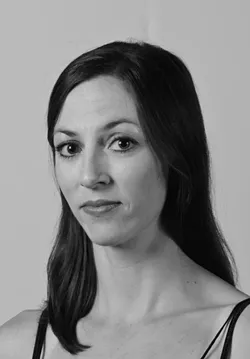 Gavin: Hey, Sarah and Aaron. First off, how have you both been since we last chatted?
Aaron: I've been well thanks; busy teaching, choreographing, and dancing.
Sarah: Doing just fine. We have had a very busy fall with lots of teaching, choreographing, and dancing -- the perfect dancing life!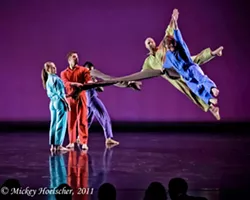 Gavin: What projects have you been involved with over over 2012, and how has this year been for you?
Sarah: Two wonderful projects that I was involved with, as a member of RDT, were The Snowy Range Dance Festival in Laramie, Wyoming, where we taught and choreographed with some excellent young students for over a week. The other was The Arts Across Nebraska project, from which we just returned. Nick, Aaron, and I were sent to Lincoln in July to work with high school and university dancers from four different Nebraska towns, including Lincoln. Together, we choreographed a piece based on Merce Cunningham's principles of chance mechanisms. It was a completely new experience for the students and just culminated in a two week tour with RDT, where we traveled to each town and the student dancers performed the piece as a part of our Time Capsule concert. It has been incredibly rewarding to work with such gracious people.
Aaron: Throughout 2012, I've been continuing to co-direct the RDT Community School, teaching and choreographing at different workshops, choreographing and presenting The Yellow Wallpaper for My Turkey Sandwich with Sarah, and living life to its fullest.
Gavin: When did the two of you first hear about Time Capsule, and what were your initial impressions of the show?
Aaron: The first time I heard about Time Capsule was when I auditioned for and joined RDT. My initial response was, "Awesome!" and, "I can't wait to perform it." This show is unlike any other dance show I have seen or have been a part of. As both a dancer and an educator I find it extremely rewarding to learn and perform the works of the historical dance figures we study about in dance-history courses. It is one thing to read about historical repertoire and another to embody its movement vocabulary. Having had the opportunity to perform this show has given me a deep appreciation for the gifts our modern-dance founders have given our art form.
Sarah: I first heard about the Time Capsule concert when I moved to Salt Lake in 2004. I had heard that one of the Salt Lake dance companies -- RDT -- "did this history show." I have always been intrigued by dance history, and when I first saw it, I was blown away. My initial thought was that every dance program, and there are many in Utah, should have their students see this show. It is a treasure!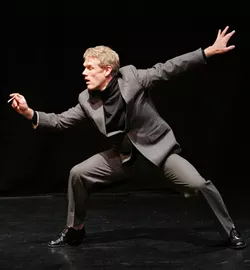 Gavin: Tell us about the dances selected for this show.
Sarah: There are about 15 dances in this show that were choreographed by 15 different modern-dance choreographers over a span of 100 years. The pieces range from solos, duets, and trios to full company pieces. It has such variety that it is truly a show for all ages and backgrounds.
Aaron: Well, there isn't enough writing room in one article to discuss all of the dances selected for this show; however, I can say that Time Capsule stretches from the early year innovators such as Isadora Duncan, Ruth St. Denis, and Ted Shawn to present day innovators such as Susan McLain, Shapiro and Smith, and Zvi Gothiener. The dances selected represent a time continuum of modern dance. As audience members, you have the chance to witness the transformation and progress that is modern dance.
Gavin: This show, more than many others, kind of takes a step back and looks at the progression of dance over time. What is it like for you as dancers to see these variations and learning about the art form?
Aaron: Learning and performing these dances have given me a wealth of dance knowledge that I am grateful to be able to share with future generations of dancers. It is challenging to keep the movement vocabulary of each choreographer pure. For example, Denishawn is vastly different from Cunningham and Cunningham is very different than Yvonne Rainer.
Sarah: It is incredibly interesting to see the progression of modern dance and how it has reflected and commented upon the current events of the given time. You can feel the history of our country in the movement of these pieces. Of course, it makes you immediately wonder where we are headed, not just dance as an art form but our country and global community. With the proliferation of TV "talent shows," one can't help but think that the arts may be less of a reflection of current events, but instead that life will start to imitate art -- for better and for worse. As art makers, we are no doubt effected by our surroundings, and, as always, we have the ability and responsibility of influencing those who experience the arts.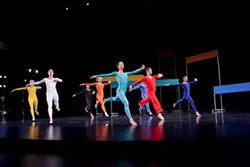 Gavin: How has it been for you learning the performances and working with the rest of the dancers?
Sarah: I feel like this is a concert for which we hold a lot of respect. There are very few dancers who will ever have the opportunity to perform these historical pieces and I feel it is a great honor to do so. It is also the concert that we perform year after year. With this comes the challenge of keeping it fresh and not just falling into muscle memory. Remembering that it is such a unique and valuable concert is beneficial for all.
Aaron: Time Capsule is unique in that the dances are shorter in length and for the most part consist of smaller casts. The show really only has two full-company works: a section from José Limón's "Laugh and Dance," and a section from Susan McLain's "Karyo." I enjoy the challenge of being true to each technique and respectful of the represented time period.
Gavin: The choreography itself comes from 15 different creative minds over decades of time, several I'm sure you've grown up performing in various forms. Is there any particular one you enjoy the most that you have come to appreciate since this show started?
Aaron: I have always liked the works of Martha Graham. However, it wasn't until last year when I saw Rosy perform the Graham solo that I truly developed a genuine appreciation for the complexity, elegance and drama that makes Graham so gut-wrenching. Yes, Graham is a difficult technique and Rosy does it superbly, but she also brings an easeful clarity and a multifaceted human experience, making it a stand-out moment in Time Capsule.
Sarah: It is really difficult to pick a favorite because what I enjoy about performing this concert is the progression of dancing from 1905 to 2012. So, I'll pick two: "Valse Brillante" by Isadora Duncan because it symbolizes and feels like the freedom that modern dance made possible. When early modern dancers took off their ballet shoes and corsets, the rush of movement possibilities must have been an awe-inspiring freedom. I feel that when I dance this piece; and "Holy Rollers" by John Butler is fantastic. If it were choreographed today, it might be called "Physical Comedy." It is a mastery of timing, musicality and wit that usually gets the audience into a good belly laugh!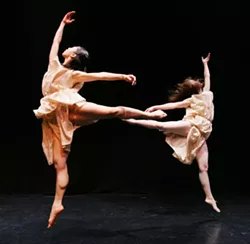 Gavin: In a slight change of pace from regular performances, Linda will be narrating between pieces for the audience. How is that for you to have that element added to the performance?
Sarah: When I'm on stage, I don't usually hear Linda, just because I am concentrating on what I am doing, but during the transitions and pieces that I'm not in, I love listening to the story that she tells about the history of modern dance, and within that, the history of our country. Her narration helps transport me to the time and place of these different dances. She has been narrating this show for many years now, but she makes it fresh and new every time.
Aaron: As my family has said, they appreciate the knowledge and descriptions that Linda provides. I feel it is important for an audience to understand why the dance was created and from what societal events spurred its creation and this is what the narration gives us. This show isn't just a historical representation of dance, it is also a historical discussion of social happenings; art represents the society to which it belongs.
Gavin: For both of you personally, what has been your favorite piece from Time Capsule?
Aaron: One of the works that I have really been enjoying performing is Daniel Nagrin's "Strange Hero." It has a dramatic sensibility that has taken me out of my comfort zone. The character is a streetwise gangster from the 1950s, which, if you know me, is far from who I am.
Sarah: Okay, "Valse Brillante," "Holy Rollers," and "#3: Soaring" by Ruth St. Denis and Doris Humphrey. It is just one of those beautiful pieces that features a huge white scarf that covers the stage. It brings me back to being a little girl who danced because it felt pretty and magical.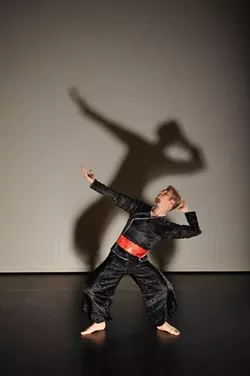 Gavin: What are your thoughts going into opening night and about the entire performance itself?
Sarah: We will perform eight shows during the week of Nov. 12, and we just finished performing this show four times on tour. My goal is to bring energy and freshness to each performance, to really be in each moment in history onstage. It is a true pleasure to share this gift with so many audiences.
Aaron: My thoughts going into opening night are that of being as honest in my performance as I can be. I have great respect for our history and I hope I can convey that through my performance.
Gavin: What can we expect from both of you over the rest of the year and going into next?
Aaron: The rest of our season is filled with a lot of touring, arts in education outreach projects, and did I mention touring?!? Also, our final season show, Women Of Valor, will be unlike any show RDT has done before. In our continued efforts to support the various communities that make up Salt Lake City and Utah, we have dedicated this show to the women who have served and are currently serving in our armed forces. The pieces selected for Women Of Valor are exhilarating, rich with humanity, and give reverence to the passion and drive exemplified by our armed forces. I am very much looking forward to Salt Lake City audiences seeing this show.
Sarah: After this show, we have some time off before we start back next year, and I am beyond excited for our spring concert. Works include "Commonplace" by the inspiring and wonderful Susan Hadley, "Bolero" by Shapiro and Smith (one of the most exciting and physically difficult pieces I've ever done), "When Summoned" by Bill Evans, and three brand new pieces by Susan Hadley, Abby Fiat and Lynne Wimmer. It is going to be a concert to remember!
Gavin: Aside from the obvious, is there anything you'd like to promote or plug?
Sarah: The RDT Community School continues to hold many fantastic classes -- SOMA, Zumba, modern, flamenco, ballet, African, and prime movement -- every week. These classes are taught by excellent teachers and are a great way to meet people, build community and, of course, get your groove on!
Aaron: I also want to extend an invitation to anyone out there who has wanted to take, or thought about taking, a dance class and join us at the RDT Community School. We have a wide range of adult dance classes in modern technique, as well as Zumba, flamenco, African, and prime movement (the latter, which I teach, is open to adults 40 and over). So, come down to the Rose Wagner and take a chance on dance.
| | | | |
| --- | --- | --- | --- |
| Follow Gavin's Underground: | | | |