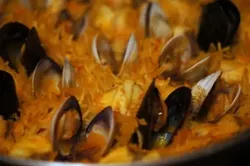 When I lived in Spain, I discovered that there are an infinite number of paella types. When Americans hear the word paella, most of us think of the classic Spanish rice dish. --- However, there's another type of paella from Valencia made with a short pasta similar to vermicelli called fideua (or also fideus and fideo) You can find packages of fideo pasta in many supermarkets (look in the Mexican food section) and Mexican markets.
Ingredients:
3 Tbs. extra-virgin olive oil
12 oz. to 1 lb. monkfish, cut into 1-inch chunks
18 small clams (such as Manila) or mussels or a combination of both, cleaned and debearded
1/2 onion, minced
2 garlic cloves, peeled and minced
2 tomatoes, seeded and grated* (or 1 cup tomato puree)
1 tsp. salt
2 7-oz. packages of fideo
4 cups seafood, chicken or vegetable stock (homemade seafood stock is preferable, if possible)
1 tsp. paprika
a pinch of saffron threads
*To grate tomatoes, cut the tomatoes in half horizontally. Then, scoop out the seeds using your fingers (discard the seeds). Next, place a box grater over a bowl and grate the tomato halves, pressing until only the skin is left in the palm of your hand. Discard the skins.
Method:
Add the paprika and saffron to the stock and heat to a simmer in a saucepan over medium heat.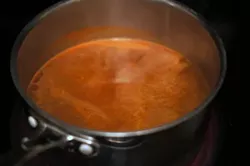 Heat the olive oil over medium-high heat in a paella pan or large (12"-14") ovenproof skillet. When the oil is hot, add the monkfish and cook, stirring, for about 3-5 minutes or until golden.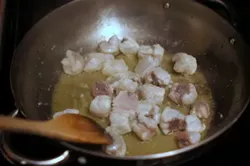 Reduce the heat to medium and add the grated tomatoes, garlic, onion and salt. Stir and cook for 5 minutes.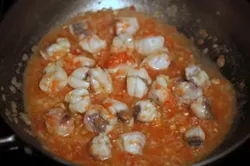 Add the fideos to the monkfish mixture and stir.
Add the simmering stock to the monkfish mixture in the pan and stir well.
Submerge the clams and/or mussels, hinge end down, into the fideo mixture.
Cook without stirring over medium heat for about 25 minutes, or until the fideos are tender and the shellfish open.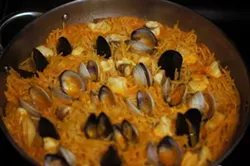 To finish the fideua, place under a broiler for a few minutes to toast a little.Discard any clams or mussels that haven't opened after broiling.
Fideua is best served at room temperature, so I allow it to cool down for 15 or 20 minutes before serving.
Photos by Ted Scheffler