Hello to all you cart-pushing, deal-finding, how-much-more-could-we-amp-up-the-holiday-ridiculousness enthusiasts! --- If you're like me, and chances are since you're reading my blog, you share just a smidge of reason, you've done everything in your power to avoid the shopocalypse that was Black Friday and Cyber Monday and Regretful Transgression Tuesday. Of course, that didn't stop the rest of you from turning the east end of downtown into a parking lot over the opening of Trader Joe's. Oh, you stood in line to get some Cinnamon Tempest Tea and organic apple juice with dehydrated-fruit snacks? Fuck you. I almost had my ass run over by some douche in a Lexus trying to find parking on the sidewalk. I don't use the term "hipster" a lot in this blog, but if you just couldn't help but stand in line at an out-of-state food outlet yesterday, you're a hipster sheep and your flock needs thinning! In lieu of a 337 update (which hasn't happened in nearly six months) here's some random art from downtown SLC.
First up on the list of events you should be checking out is Velour's Battle Of The Bands on Monday. This competition has become one of the more highly ,regarded battles in the state as it is mostly in the hands of the audience. Twenty bands will perform over five nights, four apiece throughout the week, with a nightly winner chosen. Those five will compete on Saturday in front of a packed crowd and judges will determine who is the best. I myself will be one of those judges on Saturday, and from personal experience, I can tell you that these shows are phenomenal. Every band brings their A-game; it's not just a night of "playing through the motions." You wanna see some great live music from locals? This is the week to do it.
Moving to Thursday, Stoneground on 400 South will play host to a new exhibit. Local painter Anji Smith will have a series of her works hanging on the walls of the downtown restaurant, and Dec. 6 will mark the opening reception. Head over and grab a bite while checking out her works on the walls and next to every booth.
On Friday, aside from Gallery Stroll happening on the first Friday of the month, there will be a holiday event worth donating to for those with a harder rock edge. The eighth annual Sub For Santa concert will take place over two days -- one on Friday night at Kafeneio Coffee on 3300 South, and the second on Saturday, Dec. 8 at Club Sound. The benefit is to raise money for those who can't afford a Christmas this year. Bands set to play include One Choice, Cool Your Jets, Despite Despair, Hitchhicker and more. Check out the details on both shows below:
While we've moved on to Dec. 8, those of you not quite into the harder music could always go to Bar Deluxe for its second-annual Rockin' Christmas Charity Event. The Blue Moon Bombers, Utah County Swillers, Mason Lee & The Rock N' Roll Space Studs will all take the stage along with the Voodoo Darlings for an evening to benefit Toys For Tots. Tickets will be just $10 with a toy donation.
Moving on to Thursday, Dec. 13, the SLC Main Library will play host to a documentary called Salt Lake City: A Downtown Story. The city's Planning Division will be showing this film in the main auditorium to showcase the history of the city. For those of you who plan to live here for years to come, or want to see where this city has been, this will be an interesting look into the past.
On Friday, Dec. 14, Salt Lake Acting Company will put on Click, Clack, Moo; an adaptation by James E. Grote of Doreen Cronin's book as its yearly kids production. The show will run until Jan. 5; for those of you looking for a fun evening with the kids, this may be the show for you to see.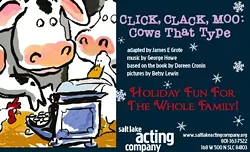 And then finally, in two weeks, the People's Market returns in the dead of winter to present its Holiday Market. For eight hours at the south end of Trolley Square, the market will have dozens of local crafters and gift makers with their wares for you to purchase at affordable prices and give you a chance to spread some local holiday cheer by keeping money in the local market. We don't have a complete list of who will be there, but, hell, you should just go check it out anyway.
As for the blog: %uFFFDWe're entering the home stretch of the year and there are some interesting things popping up. I'll check out a podcast on the other side of the U.S. making waves in Utah, have a concert recap from Urban, check out the works of one illustrator and a collage artist, check in with a show at UMOCA and preview the latest production from Ririe-Woodbury. At least, that's the plan, provided I don't get plowed by a Toyota over the next couple of weeks. As always, we'll see what happens.
| | | | |
| --- | --- | --- | --- |
| Follow Gavin's Underground: | | | |