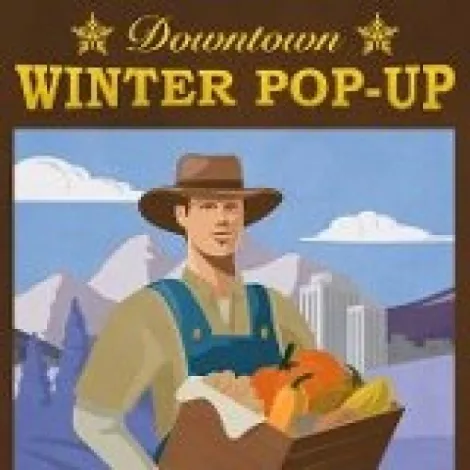 Holy smokes! The Downtown Alliance's second "Pop-Up" Winter Farmers Market is absolutely packed with local artisans, producers and vendors. The location for December's market will be at the Gallivan Center --- (50 E. 200 South), Dec. 15, from 10 a.m. to 3 p.m . The winter markets are held monthly at different downtown locations.
Here is the extensive tentative vendor list for this Saturday's Winter Farmers Market, which also includes food trucks:
Creminelli Fine Meats -- Handcrafted Italian cured meats.
Rico Foods – Salsas, handmade tortillas, burritos, and authentic Mexican food.
Pierre Country Bakery -- Holiday specialties, pastries, breads and baked goods.
Love Muffins Bakery – Gluten-free baked goods.
Hell's Backbone Grill and Farm -- Squash, garlic, jams, and more.
SugarDaddy Sweet Shoppe – Delectable desserts using local ingredients.
Blue Spring Farm – Local, organic vegetables.
Parker Farms – Squash, onions, and other veggies.
Mololo Greenhouse and Nursery – Variety of local produce.
Paul's Vegetable Farm – Chemical-free produce and free-range eggs.
Chad's Produce -- Produce, greens, squash, more.
Pyne Farms -- Apples and other tree fruit.
Zoe's Natural Garden – Organically grown greens and veggies.
Clifford Family Farm – Pork, chicken, eggs, honey and winter greens.
Amour Spreads – Artisan jams and marmalades.
Chocolate Conspiracy – Raw artisan chocolate and hot chocolate.
Dessert Bites – Bite-size and individual-size treats.
Laziz, LLC – Authentic Lebanese hummus and spreads.
Millcreek Olive Oil – Extra-virgin olive oils.
Yummy Products – Fresh salsa and other yummy products.
Sugared – Artisan confectionary.
Tankinz Noodle Mfg, LLC – Fresh pasta in Tuscan and Asian styles.
Tequenos Factory – Gourmet cheese sticks.
Terrapin Station Smokin' Co. – Smokehouse products, BBQ sauce, and roasted nuts.
Tree Hugger Foods – European-style granola.
Blue Star Juice and Coffee – Fresh-squeezed juice and coffee.
Chow Truck – Haute Asian Cuisine.
Off the Grid – Food truck serving savory and sweet waffles and more.
WakiPaki Food Truck – Pakistani street food.
Lewis Brothers Food Services – Eclectic street food.
Street Sweets and Eats – Sweet treats from Utah County Food truck, paninis.
World Dog -- Killer hot dogs from around the world.
In addition to the market, 2-for-1 ice skating passes to the Gallivan Ice Rink will be given to folks who bring donations of goods or cash for local nonprofit charity Candy Cane Corner, a holiday store providing dignified and empowering opportunities for low-income families and individuals to select new holiday gifts for their families.
Upcoming market dates and themes include "Healthy New Year" on Jan. 12 and "Chocolate and Cheese" on Feb. 9.
For additional information, visit the Downtown Alliance.