The Joshua Payne Orchestra -- which ranges from
a trio to around 10,
depending on the gig -- was developing a wilder sound, as a trio, at their weekly Sunday gig at Bar X. If anything,
Ra Ra Ra
captures that imaginative, bold spirit. Payne talks about three tracks from the forthcoming album.---
Payne says that Bar X lets the trio play whatever they want, and he feels encouraged to be playful because he's always surrounded by close friends. But on one random Sunday, a surprise guest dropped in, one who happens to be one of Payne's guitar heroes. "Nels Cline and Wilco came in one night and listened to us play for three hours. I about died when I saw Nels. Nels asked me how I was making some of the sounds, and it was a real pleasure to hang out with him," Payne says.
Cline clued in on something important to Payne's trio sound. It was morphing into something with a mind of its own. As such, this summer, the trio, with Ron Harrell on upright bass and Dan Thomas on drums, went into Man vs. Music Studio to capture this new, full-throttle approach during two all-day sessions, when they recorded 30 songs.
"It was really intense. At times, our minds were completely gone, but in a good way," Payne says. "I feel like our raw soul was able to shine through." For Ra Ra Ra, the trio narrowed it down to 12 tracks -- six originals and six re-imagined covers -- and as a package, it is noisy, bombastic and experimental in all the right ways.
Payne is adamant when saying that this is album is all Salt Lake City. "Ra Ra Ra was conceived, composed, rehearsed, developed, produced, recorded, mixed, and mastered all in downtown Salt Lake City. Everyone we know contributed so much to the overall vibe of the album."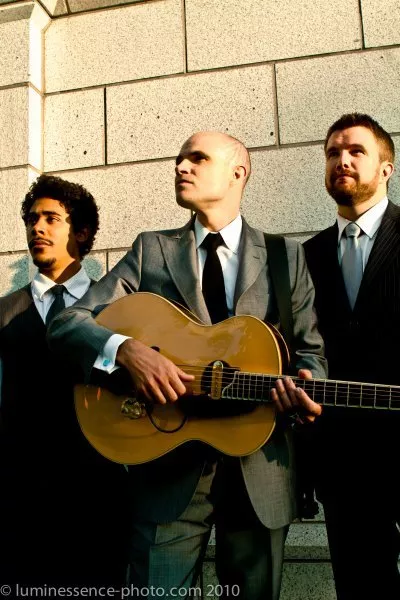 The Joshua Payne Orchestra CD Release show will be at Zest Kitchen & Bar Dec. 20, 8 p.m.
Payne talks about three tracks from the album:
"Front Row"

I wrote Front Row for a special gig we had at a new club on the west side called Front Row. We were really excited because they were going to let us play every single Friday night if things went well. On the way to the gig, we all got stuck behind a train. We arrived late and were fired on the spot. This song has been one of our oldest and most favorite to play for a long time. We recorded this song last after an intense day of recording. I think we were able to capture a nice, laid-back, almost worn-out type of a feel. My Ringtone pedal by Zvex was behaving really cool on this track. At times, it acts kind of like a tremolo. These pedals kind of have a mind of their own, especially when they are almost broken.
"Dodo"

I wrote this song during a period when I was trying to write songs that were very "guitaristic." I was trying to take advantage of things a guitar could only do. I guess I was influenced by my metalhead students and wanted to write something they might like. The chords at the beginning were meant to sound like a train. The solo section is meant to be filled with little sounds and noises only. Noise music is my favorite. At the end of the solo section, we all shout "Ra, Ra, Ra." This became the title of our new album.
"Pixie"

I really love the kick drum on this song -- so simple and so powerful. My favorite album right now is the Daft Punk soundtrack for Tron. I wanted to write a song that sounded kind of like that. I sang some things into my T-Pain App on my iPhone and held it up to the pickups. You can kind of hear some neat auto-tune vocal stuff during the solo section.