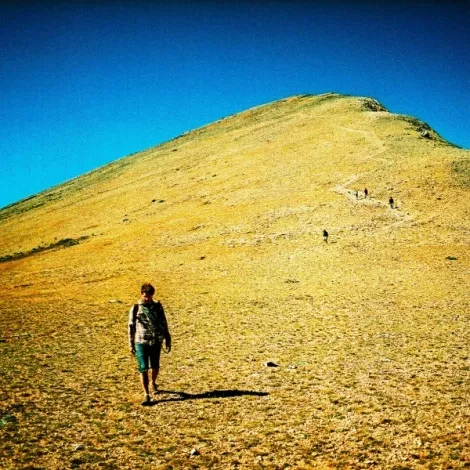 After releasing an album last year under the pseudonym Damien Fairchild, singer/songwriter Drew Danburry is back with a personal collection of tunes under his own name.---
A lot has changed in Danburry's life since he started playing shows and touring many years ago. He now owns and operates a barbershop in downtown Provo (It is legit, I can testify.), and no longer performs live. And now, on The First Pillar, he employs the use of incredibly long titles for his songs, and he goes deep on the emotional spectrum, as well.
"There's a lot of feelings that go unsaid and remain pent up; this EP kind of represents those feelings and thoughts in the best manner I am able. It's very defensive and reactionary to a sensitivity that I've never seemed able to shake throughout my life and constantly struggle with," Danburry says.
He says that the last track on the EP is an obvious simplification of the overall theme of the EP.


There will not be a release show. You can download the album here for free.

Danburry talks about two songs from The First Pillar:
"Jennifer Connelly, or Fools Mock but They Shall Mourn"

Of all the songs that I prepared for the up-and-coming, full-length-album release (coming this September) this one was the hardest to pull from off said record. Jay Henderson helped produce some of the songs ,and on this one in particular he made a noticeable difference; it was actually a lot noisier initially and probably off-putting. He laid down some electric guitar that really sounds nice, and Jesse Quebbeman-Turley and Tyler Osmond played drums and bass and, in my opinion, they really made this song what it is. There are generally so many people who deserve credit for how a song ends up sounding that never get it. Michael Greene mixed it beautifully and Carl Saff mastered it.
"Jerry Spinelli and Patricia Polacco or Every moment of every day we are faced with the decision as to whether we will continue doing what we are doing or choose a different way to do things. This, essentially, means that it is also our fault when..."

My voice has never had a harder time hitting the right notes, I'm a bit nervous that this particular song will be misinterpreted; not that I can help it, of course. Lyrically, this song touches on a lot of how I feel and what I think about humanity. One aspect of that is how we objectify and dehumanize others rather than take the time to try and talk things through.