The mink coats, furry boots, pantaloons and spray-on tans of the Sundance Film Festival are on display on a new Tumblr.---
For many, one of the best things about Sundance is the people watching, from celebrity spotting to fashion faux pas. Now, you don't even have to leave home.
At PeopleOfSundance.Tumblr.com, one local has begun uploading photos of the movie stars and celebrity stalkers in Park City. It's in the vein of PeopleOfWalmart.com, but not so overtly tongue-in-cheek; actually, there are no descriptions whatsoever. "I've been purposely not putting text on the page, because some people might think it's pretty cool to look like that," says Cole D. Lehman, 27, freelance copywriter, who launched the blog two days ago.

Lehman was at Whole Foods in Park City when a women in fur boots gave him the idea, and people started following the blog immediately. Folks are hungry for this sort of voyeurism. Lehman says that the editor in chief of Tumblr was the first to follow.

"It's just funny to look at all of these strange people in town. Now, it makes going to Starbucks kind of fun. These people are everywhere," Lehman says. Street shots, dining shot, glam shots—the sky is the limit.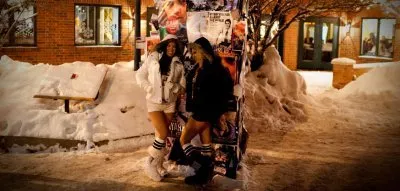 Anyone with a Tumblr account is encouraged to upload their own People of Park City photo. Check the page for updates and follow on Twitter: @SundancePeople.

Pictures courtesy PeopleOfSundance.Tumblr.com.