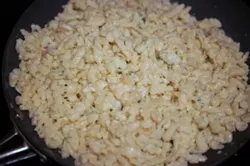 When I lived in New York City, my favorite "big splurge" restaurant was Lutece, the lauded townhouse-turned-restaurant of celebrated chef and owner Andre Soltner. --- Soltner was born in the Alsace region of France, a place where the tiny dumplings called spaetzle (or spatzele) is a common side dish at meals. 
For last week's Monday Meal, I featured choucroute garnie, another iconic Alsatian dish, accompanied by spaetzle. Last year, I included my own recipe for spaetzle in this blog, and you can see it here. However, I'd forgotten how wonderful Andre Soltner's spaetzle is. It's lighter and fluffier than my own recipe, which incorporates milk; Soltner's doesn't. 
Soltner also uses parsley in his spaetzle. I prefer minced chives, but you could use either, or both.
Here then, is spaetzle a la Soltner.  
Ingredients: 
2 cups all-purpose flour, sifted
3 large eggs
1 tsp. salt
a pinch of grated nutmeg
3/4 cup cold water 
1 Tbs. minced fresh chives or parsley
1 Tbs. peanut oil
6 Tbs. unsalted butter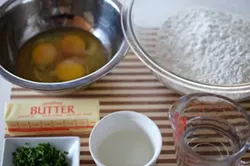 Method: 
Place the sifted flour in a large mixing bowl.
In a separate mixing bowl, beat the eggs with the salt, nutmeg and cold water.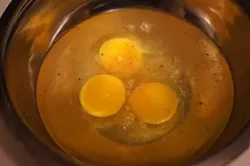 Using a wooden spoon or spatula, stir the egg mixture into the flour.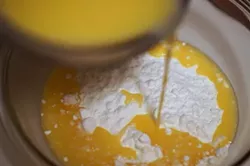 Whisk vigorously until the flour is smooth. If the spaetzle mixture is too stiff, add more water, a tablespoon at a time. The mixture should be about the consistency of thick pancake batter.
Stir the chives or parlsey into the spaetzle batter.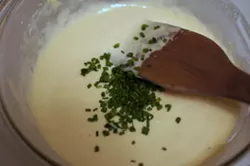 Prepare an ice bath to cool down the cooked spaetzle.
Bring a large pot of water to a boil and add the peanut oil.
Using a colander with large holes or a spaetzle machine placed over the boiling pot of water, pour some of the batter into the colander or spaetzle machine. The batter will drip through the holes into the water. When the spaetzle floats to the top of the pot, remove it to the ice bath.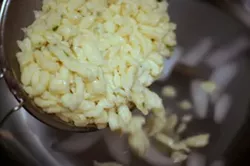 Continue cooking the spaetzle in batches until you've used up all the batter.
Drain the spaetzle from the ice bath into a colander and set aside.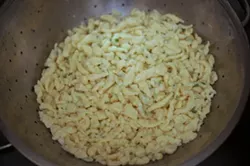 In a large skillet, melt the butter over medium-high heat until it begins to brown.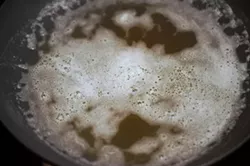 Add the spaetzle and saute in the butter, stirring frequently, until slightly crisp, about 10 minutes. 
Serve with salt and pepper, to taste.