Hello to all you promotional-writing, bio-filling, song-covering, enthusiasts! --- This post is coming at you a little late because the majority of my day was spent listening to music for the
Utah Arts Festival
as part of its music jury. Been a long while since I heard so many bands do so many covers for no particular reason. Don't get me wrong, I love being a part of the jury and hearing what music may get to be a part of the festival in advance, but why the hell anyone would willingly cover Journey's "Don't Stop Believing" and submit that song as a reason to get in is beyond me! But, at least I got to play with some of the art while I was there.
Getting right into events, first up, the Salt Lake Finest Coalition will be putting on a small showcase on Sunday featuring several SLC performers, as well as highlighting information for Revolution United (with whom we've chatted before) and Raise The Roof, an organization that builds schools in Africa. Check out the show and get some info on the organizations.
On Tuesday, The Complex will play host to Comedy Roadkill, a free evening of comedy from some of SLC's finest performers, followed up by an open mic for anyone daring enough to take the stage. For this evening's performance, you'll see Tommy Milagro hosting with Brian Pope, Steve McInelly and Gina Barke. Show kicks off at 8 p.m., and you must be 21 and over to enter.
Thursday is the day many of us will be ignoring as best we can. But, if you have to acknowledge Valentine's Day, why not do it with some awesome music? Zest will be throwing a small dance party in the middle of its romantic dinner time for anyone who was smart enough to book a table in advance, or those just popping into the bar looking for a place to rest their lonely heart. Head on over and check out the music.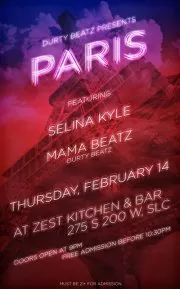 While we're on the Valentine's kick, next Saturday, Duchess Burlesque will present Valentine's Vixens, an 18-and-over show at the Post Theatre, featuring several performers along with the music of Juana Ghani and others. Check out their Facebook for further details on the show.
There haven't been a lot of plans made for next week other than the Radio From Hell Film Festival (which I already mentioned two weeks ago) that will happen at the Tower Theatre on Wednesday, Feb. 20. An opening reception with music and food will start at 6 p.m. with the festival kicking off at 7. Watch the entries with the show's host and see who walks away with the cash prize
As for the blog: I'll check out the latest in theater, a local stand-up comedian, a visit to Gallery Stroll, a local hi- hop show, a LGBT organization and a local-business coalition. At least that's the plan; truth be told, a lot is up in the air this week. As always, we'll see what happens.
| | | | |
| --- | --- | --- | --- |
| Follow Gavin's Underground: | | | |