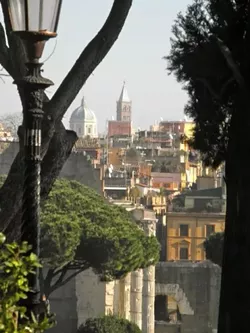 Whether as part of a European vacation or as a stand-alone trip, a Roman Holiday is one of those must-dos. Few, if any, cities have such a dense concentration of history and culture, together with shopping unrivaled for quality, quantity and, at the right time of the year, bargains. ---
We just returned from four days in the Eternal City, just after the holiday crowds had subsided and the store discounts surged -- a perfect combination, and, with Rome's Mediterranean climate, January remains sweater and jacket weather.
Rome's Fumicino Airport is over 20 miles from the city and the train costs 16 euros per person to reach the central station. If traveling as a family, save yourself the trouble and hire a taxi through your hotel, expect to pay from 50-80 euros, but it is worth it, particularly after a transatlantic flight.
Having paid a hefty sum in cab fare, don't do it again until you leave. The way to achieve this is to book a hotel in the center of the city. We stayed at, and enjoyed, the Trevi Hotel, just two slow minutes on foot from the Trevi Fountain. It's nothing fancy, a collection of old rooms in a Roman palazzo, but worth it. Several similar hotels at similar rates are on offer nearby, as well. While we are on the subject of value, make certain that you have breakfast included, because a hardy continental breakfast will go a long way. Expect a room for four with breakfast to run about 100 euros per night.
We found that locating ourselves at the Trevi Fountain meant that all of the main sites were at most a 30-minute walk from our hotel. Aside from the Trevi Fountain, which was just a few steps away and a most magnificent combination of sculpture and water, the Pantheon was in a square 15 minutes away. The Pantheon is the grandfather of all domed structures and it is truly magnificent. Since you have walked there, your next stop should be at the Café San Eustacio for the best coffee in Rome (and therefore, possibly in the world). Make the Pantheon the hub of your first day, but allow yourself to wander in wonder through the narrow streets, where ancient, baroque and modern cohabit in taste and style.
If you have had a good breakfast, most likely you can manage on that most Italian of snacks, a slice or two of pizza. This is simply good economics, because you have too much to see during the day and better to save your Euros for a fine dinner and for shopping. We followed this simple formula throughout our trip, and it saved our budget, which we then spent on shopping.
The next day you need to concentrate on the Roman Forum, the Colosseum and the various sites in the area. Not to be missed are the Capitoline Hill, Trajan's Column, the Arch of Constantine, and the Arch of Titus, all on foot from the Trevi Fountain and easily combined for the day. The kids might like a picture with a Roman soldier or Pinocchio. Also, for a respite from Roman traffic, stop and shop at boutiques along the way.
Tired from two day's hard touring, dinner beckons. Near the Trevi are small alleys filled with restaurants of every taste and budget. With rowdy kids in tow and January weather in mind, we settled for an indoor option, taking a meal at La Fontana di Venere, three minutes away on cobblestoned streets. The staff speaks English and are kid-friendly. Try the bucatini Amatriciana, a "typical Roman meal." For wine, a carafe of the house version is great and also easy on the wallet; a bottled version could hit you hard and dwindle your valuable shopping budget. We had a fine meal for four for 50 euros.
The next day, perhaps culture takes a back seat and the shops' seductive vitrines take over. Give in -- the quality, experience, and prices merit it, and you have come this far so you deserve it. Again, within walking distance are any number of boutiques and chains, and at the first of the year, they are in full sales mode. Plenty of streets are dense with shops, but for the more avant garde and boutique buys, try the shops along the Via del Governo Vecchio. You will not regret it.
Having spent for good value, treat yourself to a gelato on the way back to the hotel for the evening.
The next day the Spanish Steps beckon. Take your pictures and do the climb, and stay on high ground to view the splendors of Rome from a slight altitude. Going along the Villa Medici, descend to the Piazza del Popolo, one of the larger squares in an Italy known for its squares (Bonus Question: What Italian city has the largest square? Answer in my next article). Here, too, is Church Santa Maria del Popolo, of Angels & Demons fame. Follow your guide map to the Tiber River, cross it, and go to the Castel Sant'Angelo, after which, walk along the Tiber to The Vatican - absolutely overwhelming in its majesty, shimmering in the distance. It is up to you whether to pay for the tour inside; with small kids, we opted for some photos in St. Peter's Square, while I struggled to explain to my son that Vatican City is a separate country, and that the border is St. Peter's Square.
After four days of intense tourism, you are pretty tired, so take yourself slowly across the Tiber towards the Trevi Fountain and your base, with liberal stops for coffee, gelato, lunch or all of the above. Retire for a quiet dinner, and book your taxi for your return to the airport. Four days of intensity and pleasure have passed.
Alex Billinis is a writer currently living in Serbia. He writes for numerous publications about travel, current events, and economics. A Salt Lake City native and co-owner of a Utah-based real estate company, he is the author The Eagle Has Two Faces: Journeys Through Byzantine Europe. His Web site is www.alexanderbillinis.com.