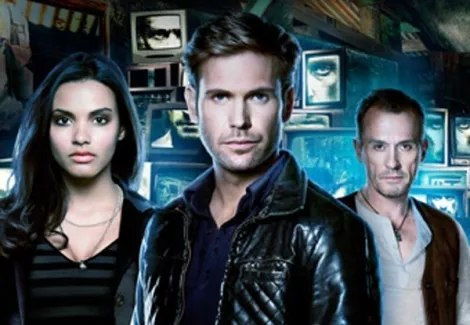 What's new on the 'lectronic brain reducer tonight:
Cult (The CW) Series Debut: Cult is a TV show about a TV show called Cult … wha? This is already too complicated for The CW. ---A good-lookin' journalist/blogger (The Vampire Diaries' good-lookin' Matt Davis) investigates crimes that seem to mirror those on a popular drama about a charismatic cult leader (Prison Break's Robert Knepper—not so good-lookin'), and CW viewers are called upon to follow two storylines while chewing gum and texting. The show-within-a-show blurred-reality concept has that not-so-fresh feeling (Cult was originally developed for The WB waaay back in the day, after all), but at least it's not Emily Owens M.D. (rest in pieces).
Body of Proof (ABC) Season Premiere: Dana Delany is back as Lady Quincy! (Wiki it.) Body of Proof has proven to be a solid, if un-flashy, crime procedural—hey, works for Castle these days—carried by the MILF power of Delany and costar Jeri Ryan; the supporting cast, not so much. Answering that, Season 3 brings aboard proven utility player Mark Valley (Fringe, Human Target) and jettisons some dead weight—unfortunately, none of it belonging to Windell D. Middlebrooks, who inexplicably plays a large, sassy woman trapped in the lab coat of a large, sassy man. Take it to RuPaul's Drag Race, honey child!
Justified, Archer (FX) Not only do you get to watch the excellent FX drama Justified for free on the big screen at Brewvies Cinema Pub (677 S. 200 West; 21+) at 8 p.m. Tuesdays, you now also get new episodes of the even excellent-er FX comedy Archer at 9 p.m., courtesy of True TV and Brewvies. You're welcome.
Also new tonight:
The Taste, The Bachelor (ABC); NCIS, NCIS: Los Angeles, Vegas (CBS); Betty's White's Off Their Rockers, Go On, Smash (NBC); Raising Hope, New Girl, The Mindy Project (Fox); Hart of Dixie (The CW); Pretty Little Liars, The Lying Game (ABC Family); Top Gear (History); Tosh.O, The Jeselnik Offensive (Comedy Central); Storage Wars Texas, Southie Rules (A&E); The Ultimate Fighter (FX); Snooki & Jwoww (MTV); Total Blackout, Face Off (Syfy); The Joe Schmo Show (Spike); Real Husbands of Hollywood (BET); The Bad Girls Club (Oxygen); Cougar Town (TBS)