At least once each ski season, my wife and I make it a point to indulge in Deer Valley Resort's stupendous Seafood Buffet. --- For lovers of seafood of all sorts, it just doesn't get much better than this.
In the evenings, Deer Valley's Snow Park Lodge is transformed into a fine-dining restaurant, albeit it an all-you-can-eat buffet. The Seafood Buffet operates during ski season, Thursday through Monday, from 6:30 to 8:30 p.m.
What you'll discover there is a mind-blowing smorgasbord of seafood and more, including a large selection of cooked items like prime rib, roast duck, seared ahi tuna, a selection of salads, seductive desserts and more.
We like to begin with a cocktail from the fully stocked bar. I especially like Deer Valley's award-winning signature cocktail, the Blueberry Mojito.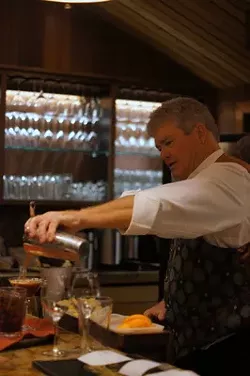 From there, we'll peruse the wine list, order a bottle of wine, and proceed to the buffet. I normally indulge in a half-dozen or so freshly shucked West Coast oysters on the half shell, for starters.
Then, I move on to the chilled peel-and-eat Pacific white shrimp and the fresh Dungeness and Opilio crab.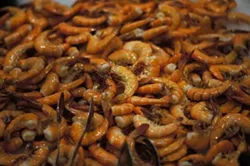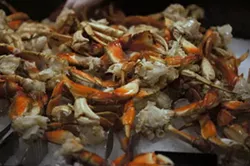 Of course, I can't ever pass up the rolls, tekkamaki, unagi and poke tuna, at the sushi station.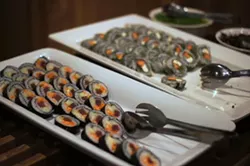 Next up: steamed mussels and clams, along with some panko-crusted shrimp with ponzu, and a tempura soft-shell crab or two.
Pacing, obviously, is critical at the Seafood Buffet. Eat too much of one good thing and you'll be too stuffed for the others.
There's a carvery station offering up (selections vary) items like roasted Double R Ranch Prime rib of beef and cherry-glazed Muscovy duck breast.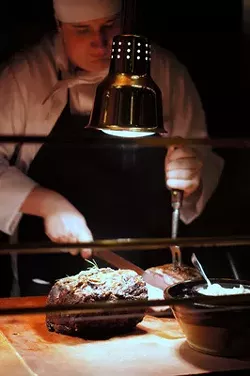 At the hot-entree station, you'll find a wide selection of choices, from honey-soy glazed scallops and seared Pacific yellowfin tuna to seared mahi mahi with lemon sauce and butternut squash and goat cheese ravioli, just to name a handful of the many hot options.
It's a cliche, but you really will want to save room for one of (or three of, or all of) Deer Valley's decadent desserts. Executive Pastry Chef Letty Flatt and her crew create an incredible array of sweet things, including vanilla-bean creme brulee, brown-sugar Pavlova, phyllo fruit tarts, coconut passion fruit panna cotta, chocolate-coffee-walnut bread pudding, milk-chocolate peanut-butter cake, white-chocolate banana cream pie and more.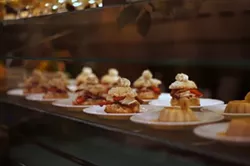 Finally, by request and at an additional cost, you can also order Maine lobster (available at market price by pre-order, 48 hours in advance.
SEAFOOD BUFFET
Snow Park Lodge
2250 Deer Valley Drive South, Park City
435-645-6632
Adults $64; Children 11 and younger $34; prices do not include beverages, tax or gratuity