Elder Francoise Paulette, an indigenous Canadian activist who has campaigned against the tar-sands mining that has devastated his homeland, brought a message to Utah officials who have approved the first tar-sands mine in Utah and the nation. "People that are raping the land and people that are destroying the land—I see these people as having a very low spiritual IQ," Paulette said.---
The Idle No More protest brought Paulette to the Utah State Capitol, where more than 75 people rallied and joined in a traditional round dance in the Capitol rotunda.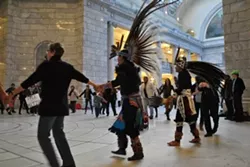 The event was organized by activist groups Peaceful Uprising, the Utah Tar Sands Resistance and Before it Starts.
In January, state regulators gave the go ahead for the approval of the first tar-sands mine in Utah and the nation, on land adjacent to the scenic Book Cliffs in eastern Utah. The permitting for the mine did not require a full-blown groundwater test, which advocates say is disturbing since the mining process is new to Utah and the nation, as City Weekly reported in 2012.
Tar-sands mining in Alberta, Canada, has massively scarred the land and contaminated the water, albeit through a different extraction process than is to be used in the Utah operation. Paulette nevertheless sounded a warning. "Our people, especially the [women] that are expecting are told not to drink the water from the river, not to eat the fish from the river, not to eat the moose that are living along the river," Paulette said. "We have never experienced this in our entire history."
Since tar-sands mining has wreaked havoc with the land that Paulette's tribe of 30,000 in northern Canada has lived on for generations, he has taken to traveling the world and speaking out against tar-sands mining and rallying opposition.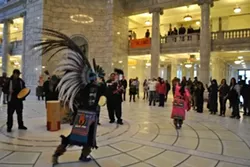 "My friends, all the people that work in this building, the politicians, your church people, the traditional people, the people that pray, the indigenous people, the people that love and care for nature—you must come together," Paulette said.