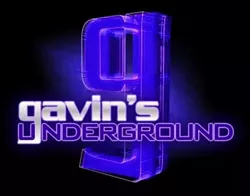 Is it all that shocking that Utah is the biggest state for erotica-novel sales in the country? --- All you need to do is say the words "repressed sexuality," and in a heartbeat you'll understand why these books fly off the shelves at the box stores and why websites like Amazon and Barnes & Noble rank Utah as the biggest downloading state for erotica content on their devices. So, naturally, those who write the content here were certain to do well.
One of those riding the wave is author Aubrey Brown, whom I spoke to a few years ago after her career had started taking off. She currently has two books deals with different publishers, a brand-new book called Ravenous coming out today, with more on the way from both companies throughout the year. Just to show you how popular the industry is, I catch up with Brown today and talk about what she's been up to and her new book. (All pictures courtesy of Brown.)
Aubrey Brown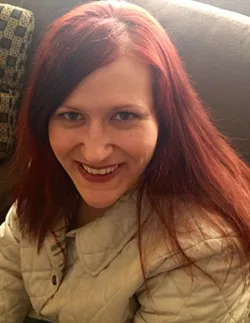 Gavin: Hey, Aubrey. First thing, how have things been for you since the last interview?
Aubrey: My life has been going smoothly. I am still writing novels for various audiences. I have stayed in the genre of erotica, but now I have moved to writing paranormal, or vampire and monsters that go bump in the night, if you prefer. My days are still filled with typing and creating. It is a very competitive market, and you need to always be better than your last novel. That is why I feel comfortable saying that this new novel is my best work.
Gavin: Last time we chatted, Vanessa Gets Her Man had been out for a bit. How well did the book do, and what kind of a response did you receive from fans?
Aubrey: The response from the book has been phenomenal. I still have women and men asking about my previous works, and where they can find them. Since the books are only available in hard copy, I always tell them to go to Amazon and search for a used copy. I realize if my fans do that, I will not receive a royalty compensation for it, but it is my opinion that if my readers can find a better deal, they should take it. It will compel them to buy my current work at digital value, since there is no "hard copy." I am mostly focused on my digital work now rather than paperback copies.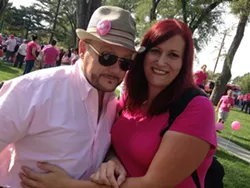 Gavin: During this time, you worked on several other projects that haven't yet been published. How have those been working out?
Aubrey: Those projects are actually being considered by Siren Book-Strand, and most likely will end up for purchase on their website. When you are a writer or an author, you need to garner your best contract deal. You do most of the hard work of creating the story. You need to understand every aspect of a contract that you are given. Yes, signing your first book deal can be extremely exciting; however, you need to make sure you understand the percentages you personally earn for each individual book sale, and knowing what rights to the work that you maintain after publication. I struggled to find a publisher that could offer me what I felt my work was worth. Writing a whole novel, especially, a specialized piece such as mine, can take months of research before you ever pen a word. So, in conclusion, consider all your options and make sure you sign a contract you feel comfortable with.
Gavin: When did you first take an interest in Wattpad, and what influenced writing a novel on there?
Aubrey: Okay. I must first state that I love Wattpad. It is a very good website that lets aspiring authors test their work with a group of their peers. However, I never sought the website out; I was dared to write a novel without the help of a publisher and editor. I am a fairly successful author, and I receive questions about writing and publication, which I am not averse to answering, but if you send me a manuscript and ask me to read your work and send it to my publisher, I cannot do that. So, I normally politely refuse to read their work and explain to the person I cannot recommend their work. However, I do give them suggestions for sending in their stories. Names aside, I had a fan who became irate and ended up daring me to write for Wattpad without help. The terms were that I needed 500 reads within one month. I am the type of girl who cannot refuse a challenge like that. So, over the summer I wrote some works for Wattpad.
Gavin: What was it like for you writing that in such short time, and what kind of a response did you see?
Aubrey: The experience was very freeing. You can upload a chapter at a time and watch an instant response from followers. Time passed, and I received my 500 reads. I actually just checked my reading tally for both works today, and my first novel has almost 10,000 and the second has over 5,000. On the website, you can vote for the works and follow the writer. I have almost 100 followers, and I receive follow requests every day. So in the end, I am enriched by my experience with them, and I will continue to compose work, and give others a chance to view my writing online for free. However, let me just say I would appreciate some bought work, which is how I am able to put food on my table, for one cannot live on art alone. I am used to what I call "push writing." Every novelist has a deadline, and usually they are constrictive. So, writing quickly and concisely is second-nature to me. I have been known to write four chapters in one day. My fingers seem to move faster than my brain can formulate the scene, and I end up with surprising work that I love.
Gavin: How did the opportunity come about to work with Siren, and what were the early conversations like?
Aubrey: The opportunity presented itself after I wrote some work for an entirely different publisher. I was contacted by the publisher, who I will not mention, to write two novels, both historical: one with a paranormal twist, and the other a holiday book. I made the mistake of writing without having a contract in place. DO NOT EVER DO THAT! I presented my work, and was given the terms. I was not offered what I thought I deserved. And in the end, we could not come to a contractual agreement. So, I had two new novels and no publisher. Feeling slightly deflated, but not deterred, I sought out a publisher who would let me retain my creativity and give me acceptable percentages. That is how I found Siren. They are an erotica-exclusive sight, who pushes the boundaries of mainstream works and deal in digital-only downloads. This means I receive a higher percentage for each book sold because it is paperless. I sent them my works, and they loved them. The conversations were open and fresh, and they really cared about my opinions and creativity. They did not want to change a word in the novel and immediately went to draw up a contract. We decided to first publish, Ravenous, because the holiday season was over and my Christmas book would wait until next November. They helped me every step of the way, and did not complain when I changed the title of the book three times!
Gavin: Where did the idea come from for Ravenous, and how was it for you putting the book together?
Aubrey: The idea, as I stated earlier, came from an entirely different publisher. However, in the sense of writing the work, it came to me from old European vampire lore. I have always found the Romantic period enchanting, and the added twist of vampires made it twice as erotic. Before I started writing, extensive research was done, so I could honestly say I tried to stay true to the time period. There are many distinctive opinions and theories about vampires, werewolves, zombies and ghosts that it is enough to make one's head spin. I wanted to write a "different" paranormal erotica. As I said before, it is a competitive market, and you need to make your work stand out. So, I did, by adding dimensions of the hero having to function within 19th-century society as a nobleman with two adoptive children. And there is nothing sexier than a man who is centuries-old and looks to be in his 30s with dark hair, chocolate-brown eyes, sinfully sexy skin and a thirst for your blood. I believe that the idea of spending eternity with your incredible lover and never aging is highly appealing. And that is why they are so popular. That is why I read them.
Gavin: The book comes out today. What's the early reception been like from reviews and advanced readers?
Aubrey: The early reception of the book has been such a blessing. Since I am basically starting all over again and having to garner a new fan base, and hope my old fans follow me, I have been heavily promoting the work on Facebook and Twitter. Yesterday, in fact, I had a huge surge in likes on my fan page, and pre-orders have started to come in. I have met many other authors, romance reviewers and bloggers who have sent me e-mails, telling me they're excited to read my work and if an interview might be possible. My Facebook account has been dinging at me all day yesterday and most of today. It has been amazing. My fan page likes have doubled, and my book-release party, set for this evening, has exploded. I just want to thank the authors, reviewers and bloggers for bringing my work into their circle and helping me with promotions. It is heartening to watch your news feed and see my novel's link posted to someone's time line because they felt compelled to share it on the merits of the wonderful cover, the synopsis, story excerpts, and lastly, the adult excerpt.
Gavin: The last time we talked, you were opposed to going totally digital. However, this book is totally digital. How has your opinion shifted over the past few years, and how do you expect this book to do locally in a market that still buys physical books?
Aubrey: My opinion was brought over by best-selling authors Lyla Sinclair and Nana Malone. I have been rallying against all-digital for my works. However, as we all know, everyone has an e-reader. And it is much more convenient to download a book than it is to go and purchase one off the shelf. My works were being overlooked because most of the works that are purchased now are downloaded; eighty percent, in fact. My percentages per novel sold are higher because there is no paper. I will reach a much broader audience, and now my work can be sold all over the world! It is hard not to keep up with the changing technological world, but as time shifts and purchasing practices change, so must I. I expect this book to thrive in the current market. I am fully confident that the work is solid, and those who know my work and have purchased my paperback copies before will follow me to exclusive downloads. I have received multiple e-mails from all kinds of wonderful people who are excited to read the novel the day it downloads and cannot wait until today. It is humbling and gratifying all at once.
Gavin: You are one of the few authors in Utah who currently have two book deals with two different companies. How is it for you balancing those relationships and producing different works for Siren and Random House?
Aubrey: It's not easy. You have to produce two works that are written entirely differently. Siren does not use what is called purple prose, flowery words that are used to describe a body part. Siren wants highly explicit material with content that is meant to entice and pleasure, while the other publisher depends on purple prose. It is two entirely different styles of writing. Balancing? It is more like juggling, but both companies are working with me on deadlines. As long as I distinguish my books with my two pen names, I am safe.
Gavin: Without giving too much away, what are you currently working on?
Aubrey: I am working on the sequels to Ravenous. Hunger is my current project, and as soon as I finish writing that, I will start Crave. The book follows the original characters from Ravenous, but the hero and heroine are the children of the original couple.
Gavin: What can we expect from you over the rest of the year?
Aubrey: You can expect to see Hunger, Crave, and the holiday novel I mentioned earlier with Siren Book-Strand. I hope to also finally see my name among other authors on the USA Today and the New York Times best sellers list this year. And I can only do that with purchases and comments. Whenever you purchase a novel, please make sure to leave a star rating and comment. If you really enjoyed the work, let others know. People primarily buy works based on reader's comments.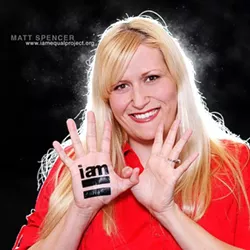 Gavin: Aside from the obvious, is there anything you'd like to promote or plug?
Aubrey: Go to Siren Book-Strand, not only to purchase my work, but others', as well. There is a wide range of stories available for purchase, not just the straightforward male-and-female love stories, but gay, lesbian and all kinds of ménages. It will be an experience like no other. Siren will be the only place you can download the book from for the first four weeks before it hits Amazon, but Amazon will add fees so Siren will be cheaper. It'll work with ANY e-reader or computer you have. And I, once again, would like to thank X96's Radio From Hell show, for without them I would have never had the chance to gain an audience as ranging as I have now or participate in this interview.
| | | | |
| --- | --- | --- | --- |
| Follow Gavin's Underground: | | | |