When it comes to selling art in a local business, the two fields are usually kept separate, as the artists create on their own and then sell to a business for resale. --- Very few run their own retail outlet and put their own work on the front line as they're creating. Which helped influence Obsessed Artist, a retail shop that works directly with local artists and designers to sell their works, no matter what the style or genre, as well as helping create art through clothing, screen-printing and custom printing.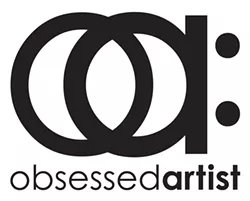 Today, I talk to the founder of the business, Matthew Greyard, about the work he and the company are doing in the art community and the business in general, along with some thoughts on the art scene in Utah. (All photos courtesy of OA.)
Matthew Greyard
Gavin: Hey, Matthew. First thing, what got you interested in art, and what were some early influences on you?
Matthew: Comic books were the initial inspiration for my love of art. When I was a kid, my grandmother bought me a comic book every time we went grocery shopping. I'm severely dyslexic and comic books let me experience stories through art. When I was in elementary school, I spent time at art camps at the local university. At age 11, I was shipped off to boarding school, where I started taking high school art classes. My teacher, Bill Parson, was a huge influence in my life. I spent my days painting in a barn with Bill and some select students from the age of 11 to 18.
Gavin: Prior to college, you were an intern with Warner Bros. Records. How did that opportunity come about?
Matthew: I was going to photography school in Santa Barbara and would drive to Hollywood to see Jimmy Kimmel Live. I was a poor 18 year old and it was a way for me see some of my favorite shows for free. The Warner Bros. street team was there supporting bands and I spotted their director, Scooby. Every time I saw her, I bugged her about an internship until eventually she caved and brought me into the office. I entered in the marketing-promotions department.
Gavin: You received your BFA in graphic design from Bridgewater College in Virginia. What made you choose Bridgewater, and what was your time like there?
Matthew: I dropped out of art school and I was in the photography program. We were doing pretty much nothing but film and I couldn't afford the cost of film equipment. I saw that the industry was changing with the introduction of digital. I didn't believe it was worth my time and especially money to continue down the film path. I started doing graphic design at the age of 11, so it was something I was comfortable with already. My grandfather, who helped raise me, developed cancer, so I moved back home to Virginia and attended a small college near him where I could focus on my studies and spent the last couple of years of his life with him. I stayed until my grandmother passed away from cancer, as well, and got my degree from Bridgewater. The main things college taught me were discipline and how to structure and finish projects, but that's it. That's pretty much all I learned in the classroom. During my personal time, I studied mostly contemporary Dutch design, which influenced my design. I have mixed feelings about college, especially as an artist, because I think I would be a lot farther today if I had spent my time not chasing a degree.
Gavin: Over the past few years, you've been involved with several organizations, but have jumped from one to the other for several stints. Why do you jump around through various organizations, and what have you learned during your time with them?
Matthew: One of the things I've learned in life is to focus on your strengths. I've come to the realization that I have ADHD, so I've structured my life in a way to support that. I do better work when I juggle multiple projects at a time. Because I've experienced a wide variety of organizations, I've learned which aspects I admire and which I don't. This enables me to take bits and pieces from each organization and incorporate them into my own business plan. I also find joy in knowing that I played a part in helping each organization grow.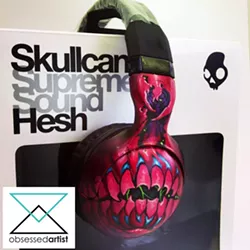 Gavin: Why do you spend your time volunteering for Music Makes Music?
Matthew: Music is a form of creativity and has always influenced me. It's made me who I am today, so I think it's important for kids to experience it. Creativity is a major factor in problem solving, which will benefit them throughout their lives. Art and music are awesome. Enough said.
Gavin: How did the idea for Obsessed Artist come about, and what kind of services do you provide?
Matthew: We have a retail location, selling clothing and artist prints. Services we provide include graphic design; web design; custom artisan printing and framing; screen-printing; street art/graff wall murals for private homes and businesses; and still/portrait photography. We also are building a art/music festival company within the corporation.
Gavin: How did you come across the location on 700 South, and what made you decide to move in and start a shop there?
Matthew: We partnered with a company called Art & Frame last year. It was a cost-effective and great business opportunity to work with another local business. We are located right downtown, with a private gated alleyway and courtyard for some of our mini art fests.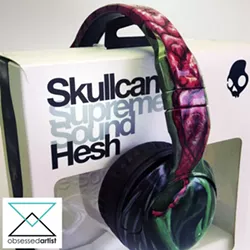 Gavin: Since starting up in 2009, who are some local artists you've been able to collaborate with?
Matthew: Man, local, as here in Salt Lake City? Vic Back, John Lang, Agro and Stevon "Royce," just to name a few locals, but we have worked with plenty of local artists. We appreciate all the artists who we have worked with and support them.
Gavin: Who are some local companies you've been working with, and what are some of the better-known pieces to come from those partnerships?

Matthew: Music Makes Music, Skullcandy, Party Sober Clothing, and SLC Concerts are some local companies we work with still to this day. We designed the stage design for the Music Makes Music tour, which has around 3K new eyes on it everyday. That's pretty cool, and we got asked again to design next year's tour, as well.

Gavin: You had a hand in many events over the past year. How has it been working with venues and other promoters to put on events like the Snow Angels Pageant or the Art Bazaar?

Matthew: Everyone has been very cool and supportive of what we are doing. The guys at Metro are mad chill, and In The Venue is a great business that I will be working more and more with for future events. Projects/Events have started over the last year to kind of just come our way. If we find a connection with an idea and trust the other people involved, then we usually try and do as much as possible.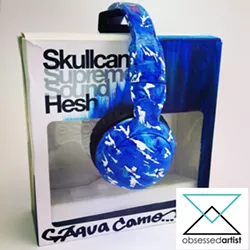 Gavin: Looking down the road, what kind of projects are you hoping to help create and partake in?
Matthew: BIGGER; we are just going to keep the grinding going and develop our events. One day, we will have a full-on 5,000 hard-ticket art/music festival. We are just building those contacts, reputation and sponsorship the old-fashioned way through hard work, patience and good business.
Gavin: Do you have any plans to expand in the near future, or are you comfortable where the business is at now?
Matthew: Always! We have developed a lot of skills and services to offer to the community. Now, we are just putting all the ideas that worked and were successful to finalize a business model. Private home and corporate office muraling is an area I see a lot of amazing things coming from in the future.
Gavin: Going local, what are your thoughts on our art scene, both good and bad?
Matthew: I have lived in most of the major cities in the States and SLC has its own unique vibe. There is a strong appreciation of the arts here. The religious views of this state obviously impact the community. Is this good or bad? I don't know. There are people in this community who do not support each other and have these weird egos. I just ignore those things and keep pushing for a positive creative environment for others and myself to be inspired.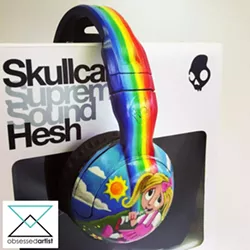 Gavin: Is there anything you believe could be done to make it more prominent?
Matthew: The community just needs to work together, which will bring a lot more business to everyone -- seeing that younger person who has that spark in their eye and lending them a hand; everyone deserves a chance and a break. I personally would not have been able to get where I am without both.
Gavin: Subsequently, what's your take on the local craft scene and the work coming out of it?
Matthew: I really like the jewelry that comes out of Utah. I see the other vendor tents at festivals and always take notice of all the sick gems. I am a science nerd, so minerals and such really fascinate me.
Gavin: Who are some local artists you like checking out or recommend people should look for?
Matthew: Vic Back, John Lang and the artists at 27 are amazing. There's a lot, man, and in different mediums.
Gavin: What can we expect from Obsessed Artist and yourself over the rest of the year?
Matthew: A lot of growth. We will be focusing a lot on expanding on our events and also our services. This is going to be a big year. We will be having an all-ages outdoors mini fest April 13 at our store's location. You can find all that information on our
Facebook page
.
Gavin: Is there anything you'd like to plug or promote?
Matthew: SLC Concerts, Bench Press, Art & Frame and anyone who has supported OA.
| | | | |
| --- | --- | --- | --- |
| Follow Gavin's Underground: | | | |