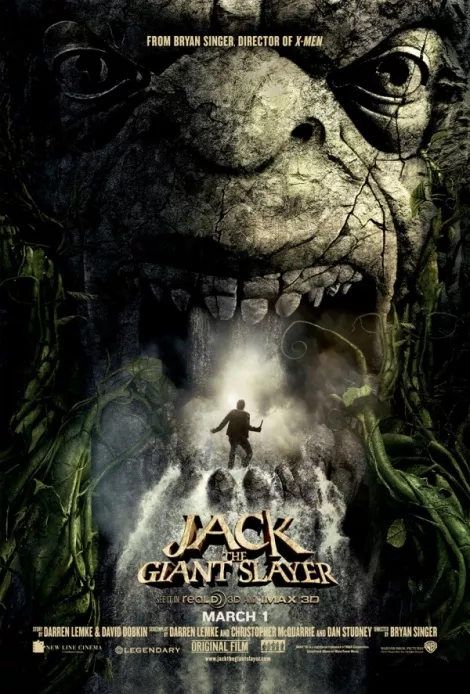 If you guessed that the new fantasy Jack the Giant Slayer would generate an epic collection of fee fi foe fumbles, you've "bean" paying attention to the Hack Stamp. ---
There's something about familiar stories that has film critics cranking up the lazy meter, and they brought out clunky references to the old beanstalk fairy tale by the score. How many variations on "fee fi foe fum" could there be? Not enough to make any of them clever.
"Fee-fi-fo-fun! … Jack still has one bean left." – Victoria Alexander,
Film Festival Today
"Fee Fi Fo Fum, I smell the stink of a horrible bomb! … won't be slaying any box office records." – Willie Waffle, WaffleMovies.com
"Fee! Fi! Fo! Fum! I smell a hit with the little ones!" – Kam Williams, AALBC.com
"Fee-fi-fo-fum, this fairy-tale retread is pretty dumb." – Justin Chang, Variety
"For everyone…, including cynical grown-up critics who didn't think they'd ever give a Fee, a Fi, a Fo or a Fum about this movie, it's a terrific adventure." – Richard Roeper, Chicago Sun-Times
"Fee-fi-fo-fum, I smell the hot blood of a big hit." – Bruce Kirkland, Jam!
One version of the reference in particular seemed almost too painfully obvious -- which naturally meant a handful of Hack Stamp-ers would all use it.
"Fee fi, ho hum." – Robert Denerstein, Movie Habit
"Fee Fie Ho-Hum." – Laura Clifford, Reeling Reviews
"More 'ho-hum' than 'fee-fye-foe-fum.'" – James Verniere, Boston Herald
"Not awful, not wonderful, Jack the Giant Slayer is a midrange fairy tale epic that's a lot more ho-hum than fee-fi-fo-fum." – Peter Rainer, Christian Science Monitor
But what if you somehow dodged the fee fi foe fumm-ing? Well, there are always bean references...
"… a gentle giant, a short and sweet climb that's fun all the way up the bean stalk." – Justin Craig, Fox News
"… this sprightly fairy tale reworking is full of beans." – Linda Barnard, Toronto Star
"Finally… a movie where the problems of three little people actually amount to a hill of beans." – William Bibbiani, Crave Online
"If Jack the Giant Slayer isn't in line for technical wizardry awards in 2014, it would be a bigger injustice than trading a horse for a handful of beans." – David Kaplan, Kaplan vs. Kaplan
"There's no magic in this beanstalk, and viewers foolish enough to spend money on tickets are likely to feel as cheated as Jack when told he's been swindled out of a horse and cart for a few worthless beans." – Steve Bidrowski, Cinefantastique
This week's winner, though, managed to pull it all together in one big pile of cliche:
"Fee fi ho hum … not worth a hill of beans, magic or otherwise." – Steve Persall, Tampa Bay Times